Spotlight on Students: Meet SAVMA Purdue Secretary Sarah Wunderlich
Friday, April 5, 2019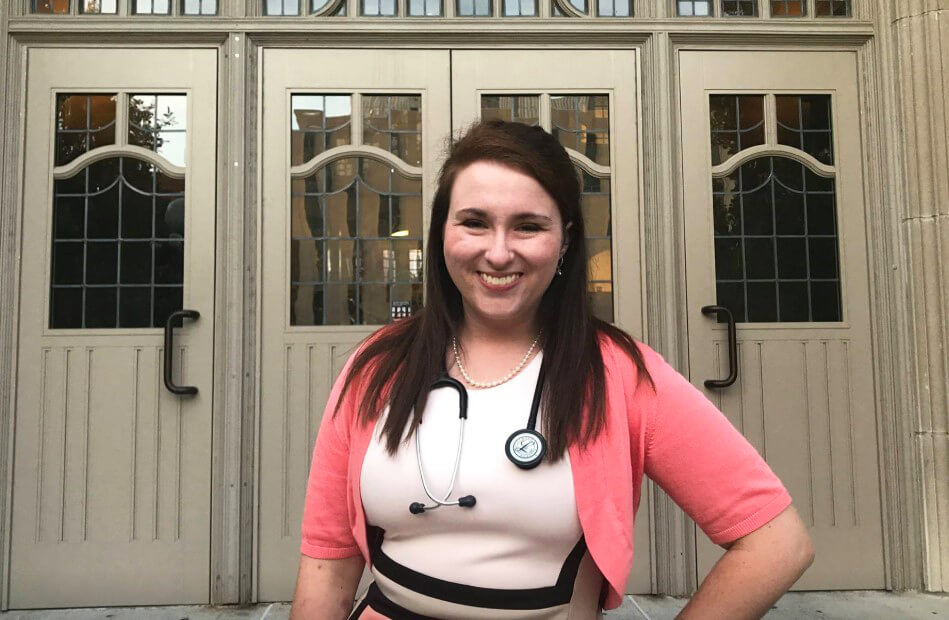 The Vet Gazette continues its "Spotlight on Students" feature this week by focusing on Sarah Wunderlich, a veterinary student who serves as secretary for SAVMA Purdue. She is a second-year student from Rochester, N.H.
Sarah's love for pets drove her toward a career in veterinary medicine. She remembers rescuing a starving cat on her street and nursing it back to health with her mom. Sarah said, "Being a part of saving the cat's life made me realize how animals need a voice and it is up to us to give it to them." At home, Sarah is surrounded by her own pets that have inspired her to care for animals just like them. She has a shelter cat and two Miniature American Shepherds. Sarah said her career path in veterinary medicine has allowed her the opportunity to care for animals while also helping those who are attached to them.
Sarah said she chose to come to Purdue to pursue her DVM degree because she was touched by the family feel of the College of Veterinary Medicine during her interviews. She mentioned how it was unlike any other veterinary school she had visited. Sarah knew she wanted a veterinary school with smaller classes and a strong community sense, where she would have the ability to gain practical hands-on experience. As an out-of-state student, Sarah also was concerned about the price of tuition. She said she was impressed by Purdue's dedication to lowering student debt, the offering of DVM scholarships, and the help afforded through the financial advising process. She knew that Purdue Veterinary Medicine would provide her with an outstanding education and a good financial future.
Sarah has a primary interest in small animal general practice. She also is interested in ophthalmology, clinical cytology, surgery, and nutrition. She said nutrition is her newest and most unexpected interest, which grew out of her role as a Royal Canin veterinary student ambassador. Sarah said she loves seeing how a complex medical disorder can be helped by changing diet. Aside from veterinary medicine, Sarah loves creative writing, cooking, baking, sewing, and playing music. Among her accomplishments, she has written four unpublished novels and plays five instruments. After graduating, Sarah plans to head back to New England to go into veterinary practice. She hopes to work in a small animal general practice and would love to do community outreach to educate young people about zoonotic diseases, the veterinary profession, and animal safety. Her dream job is to be a small animal practice owner or work as a clinician in a veterinary teaching hospital. She said she is excited to see where her career takes her.

Writer(s): Amanda McCormick, PVM Communications Intern | pvmnews@purdue.edu