PVM Researcher Shares Insights about African Cancer Research on Global Cancer Information Website
Friday, February 21, 2020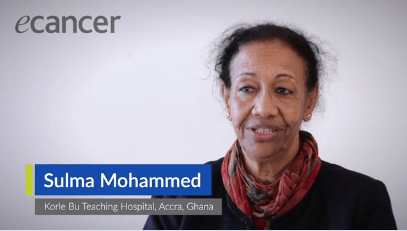 The online platform ecancer, which seeks to raise the standards of care for cancer patients across the world through education, recently posted a video of an interview with Dr. Sulma Mohammed, professor of cancer biology in Purdue Veterinary Medicine's Department of Comparative Pathobiology. Dr. Mohammed discussed the state of cancer research in Africa and explained her passion for African cancer research that has led her to play an active role over a dozen years in a major conference addressing cancer on the continent.
Her video is part of ecancer's coverage of the 12th International Conference on Cancer in Africa, which was hosted by the African Organisation for Research and Training in Cancer (AORTIC) in Maputo, Mozambique last November. With the theme, "Cancer in Africa: Innovation, Strategies, Implementation," the 2019 AORTIC Conference focused on cancer control in Africa, and featured an in-depth scientific program with local, African, and internationally-renowned keynote speakers. Dr. Mohammed chaired a session during the conference entitled "Cancer Biology from the Bench to Bedside."
During her interview with ecancer, Dr. Mohammed noted that the conference was primarily patient-oriented. "I'm an advocate for cancer research in Africa. We know that in Africa we don't have much cancer research," Dr. Mohammed explained, adding that she is advocating to have basic science research in every country on the continent. She pointed out that currently, all the medicine is being developed and tested on people in more developed areas of the world, where people live different lives than people in Africa. "We need to identify our own markers, like in our indigenous people. And accordingly, we can develop our own medicine that can fit our own people."
During her interview, which was posted on the ecancer website February 5, Dr. Mohammed also described current challenges facing cancer research in African countries, where she said treatment is valued more than investment in science. Noting that many of the 2019 AORTIC Conference attendees were clinicians, Dr. Mohammed expressed her hope that more research scientists from around the world will participate in the future. Last year was the 12th year that Dr. Mohammed led a session at the conference.
Click here to view Dr. Mohammed's ecancer interview. Click here for more information on the AORTIC Conference.
Writer(s): Kevin Doerr | pvmnews@purdue.edu