PVM Professor Emeritus David Waters Receives Outstanding Professor Award
Friday, February 19, 2021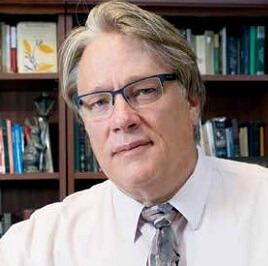 Purdue University's Center on Aging and the Life Course (CALC) has presented its Outstanding Professor Award to Dr. David Waters, a professor emeritus in the College of Veterinary Medicine's Department of Veterinary Clinical Sciences. A CALC faculty associate, Dr. Waters teaches biology of aging and received numerous student nominations for the award, which recognizes exceptional teaching and mentoring of emerging scholars in aging.
Dr. Waters earned his DVM degree at Cornell University in 1984 and his PhD at the University of Minnesota in 1992.  From 2000-2014, he served as professor of comparative oncology and associate director of the Center on Aging and the Life Course at Purdue University. He now serves as director of the Center for Exceptional Longevity Studies at the Gerald P. Murphy Cancer Foundation.
Since 2008, Dr. Waters has led the research team conducting the first systematic study of exceptional longevity in pet dogs. The research hinges on the idea that pet dogs with extreme longevity – equivalent to humans who live to be 100 years old – offer a valuable scientific opportunity to uncover important clues to understanding what it takes for pets and people to age more successfully and avoid cancer. His expertise as a One Health-minded translational researcher is evidenced by publication of more than 100 peer-reviewed scientific papers in high-impact journals, including Aging Cell, Journal of the National Cancer Institute, Journal of Gerontology, Carcinogenesis, Cancer Epidemiology Biomarkers and Prevention, and Free Radical Biology and Medicine.
Dr. Waters also is an expert on the comparative aspects of prostate cancer in men and dogs and was selected as one of the 100 scientists who formulated the scientific direction of the prostate cancer research agenda of the United States in 1997. In 1999, under the mentorship of Dr. Ken Ferraro, Distinguished Professor of Sociology and director of CALC, Dr. Waters received a prestigious Brookdale National Fellowship for Leadership in Gerontology and Geriatrics. He is the only veterinarian – one of 130 scientists worldwide – to be recognized as a Fellow in the Biology of Aging by the Gerontology Society of America.
An award-winning teacher, Dr. Waters has served as faculty for the NIH's National Cancer Institute Summer Curriculum on Cancer Prevention since 2011, providing instruction on principles of cancer prevention to more than 500 scientists-in-training from 35 countries. In 2017, as part of a creativity project with collaborators in Australia, Dr. Waters published a manuscript exploring how cultivating an attitude of language precision can catalyze creative excellence in scientific discovery and education. His 2013 TEDx talk, "The Oldest Dogs as Our Greatest Teachers: Get the Words Out of Your Eyes," highlights the innovation of studying the oldest living pet dogs, and underscores how our use of language limits scientific discovery and influences how we respond to new information.
Dr. Waters currently teaches the CALC-required course Biology of Aging.  Click here to view a complete article about Dr. Waters receiving the Outstanding Professor Award, including an interview in which he shares his teaching philosophy and methods.
Writer(s): Purdue Veterinary Medicine News
Source: Center on Aging and the Life Course: purdue.edu/aging/awards