PVM Graduate Student is Finalist in Three Minute Thesis Competition
Friday, April 12, 2019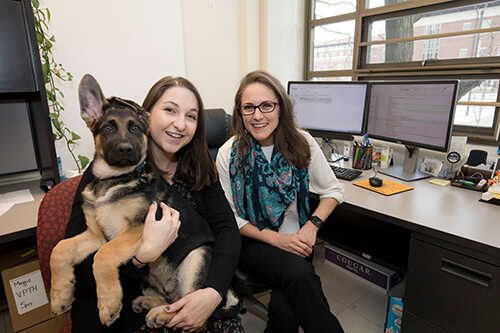 Congratulations to Kerri Rodriguez, graduate student of human-animal interaction in the Department of Comparative Pathobiology, who is one of ten finalists in the Three Minute Thesis (3MT®) competition at Purdue.  Developed by The University of Queensland, 3MT is a research communication competition designed to enhance academic, presentation, and research communication skills and support the development of students' capacities to effectively explain their research in language appropriate to an intelligent but nonspecialist audience.
Purdue holds its annual 3MT competition each spring as a celebration of the discoveries made by graduate students and to allow the broader community to learn about ongoing research at Purdue.  It is free and open to the public. 
The Final 3MT Competition will be this Tuesday, April 16, at 7:00 p.m., in the Loeb Playhouse in Stewart Center. Cash prizes will be awarded to three winners, including the "People's Choice Award" recipient, who will be selected by audience members using clickers. The other award selections will be made by a panel of judges. Evaluations are based on communication style, comprehension, and engagement. The winners will be announced at the conclusion of the program, which will be followed by a reception sponsored by the Purdue University President's Council.
In addition to Kerri, the other finalists who will be making presentations are:
Megan LaFollette, Animal Sciences, College of Agriculture
Jacob Pecenka, Entomology, College of Agriculture
Erin Sorlien, Biochemistry, College of Agriculture
Punyashloka Debashis, Electrical and Computer Engineering, College of Engineering
Mohamadreza Moini, Civil Engineering, College of Engineering
Mychaela Coyne, Health Sciences, College of Health and Human Sciences
Svetlana Beilfuss, Economics, Krannert School of Management
Nivedita Shetty, Industrial and Physical Pharmacy (IPPH), College of Pharmacy
Mingding Wang, Chemistry, College of Science
Currently enrolled graduate students in all disciplines at Purdue University are eligible to participate in 3MT.  The research presented must have been conducted at Purdue University, not from a previous degree, and should be in the final stages.  Click here for more information about 3MT at Purdue.
Writer(s): Kevin Doerr | pvmnews@purdue.edu