PVM Alumnus and Professor Emeritus Mark Hilton Honored as 2021 Mentor of the Year
Friday, January 14, 2022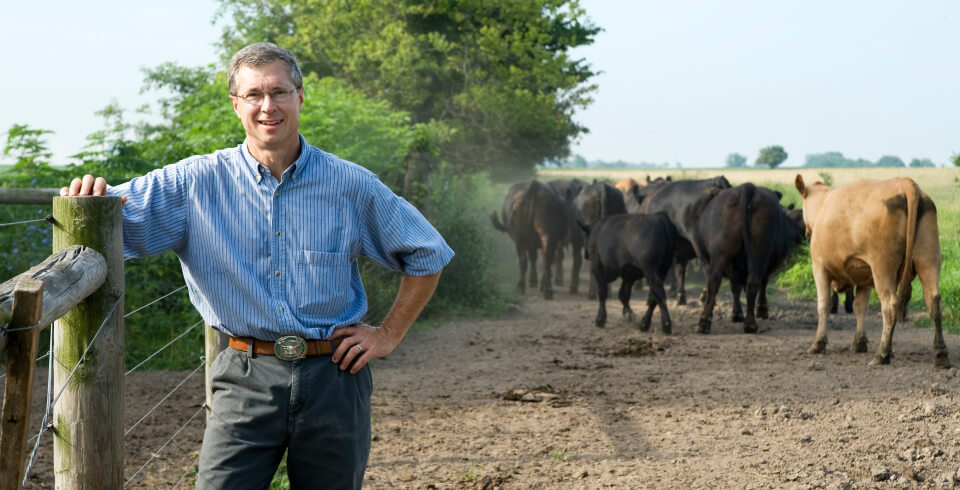 Merck Animal Health teamed-up with the American Association of Bovine Practitioners (AABP) to recognize Dr. Mark Hilton (PU DVM '83), a Purdue Veterinary Medicine graduate and retired faculty member. Dr. Hilton, clinical professor emeritus of veterinary clinical sciences, received the Mentor of the Year Award at the AABP Annual Conference in October in Salt Lake City, Utah.
Presented jointly by the AABP and Merck Animal Health, known as MSD Animal Health outside the United States and Canada, a division of Merck & Co., Inc., the annual award recognizes an individual who goes above and beyond in educating, supporting, and advancing the careers of future bovine veterinarians. "Dr. Hilton has worn many hats during his time in the industry, but the impact he's had on the next generation of bovine practitioners might be the most profound," said Dr. Justin Welsh, executive director of livestock technical services for Merck Animal Health. "Not only has he taught countless students the necessary skills to be proficient in their careers, but he's also put in the extra time and energy to truly help them thrive and make a difference in this field. That's an effort worth recognizing and celebrating."
Born and raised on a swine and beef farm in central Indiana, Dr. Hilton earned both his bachelor's degree in animal sciences and his DVM degree at Purdue University, graduating in the College of Veterinary Medicine's Class of 1983. He then joined the DeWitt Veterinary Clinic in Iowa where he spent 15 years as a partner in the predominantly food animal practice before returning to the Purdue University College of Veterinary Medicine where he taught beef production medicine for 18 years and accompanied students on food animal ambulatory calls. He was designated a professor emeritus when he retired in 2016, at which time he joined the animal health industry as a technical consultant for Elanco Animal Health, assisting beef cattle veterinarians with production medicine support.
"The mark of a good mentor is someone who is willing to challenge you to rise above the norm and go for your goals," said Dr. William Ware, associate veterinarian at Veterinary Agri-Health Services in Longview, Alberta, Canada. "Dr. Hilton will always be the first person to pat you on the back and tell you, 'Good job,' when you've achieved your goal, but in the same breath will say, 'So what's your next goal, and how do we get there?'"
While at Purdue University, Dr. Hilton developed the college's Advanced Beef Cow-Calf Production Medicine rotation, a first-of-its-kind, intensive three-week rotation for veterinary students. A diplomate of the American Board of Veterinary Practitioners in the beef cattle specialty, Dr. Hilton has actively served the veterinary medical profession in a variety of roles. He is a member of the AABP, American Veterinary Medical Association, Academy of Veterinary Consultants, American Board of Veterinary Practitioners, and the Indiana Veterinary Medical Association and is also a past president of the Western Veterinary Conference (WVC). He has received numerous awards, including SAVMA's national teaching award in 2000, WVC's Continuing Educator of the Year Award in 2009, and the Merial and AABP Excellence in Preventive Medicine Award for Beef in 2012. In addition, he was named by Bovine Veterinarian as one of the 20 Most Influential Bovine Veterinarians in North America in 2013.
Congratulations Dr. Hilton! Click here to view a complete news release from Merck Animal Health about the award presentation.
Writer(s): Kevin Doerr | pvmnews@purdue.edu