PVM Alumna Kelly Metcalf Pate to lead MIT's Division of Comparative Medicine
Friday, March 12, 2021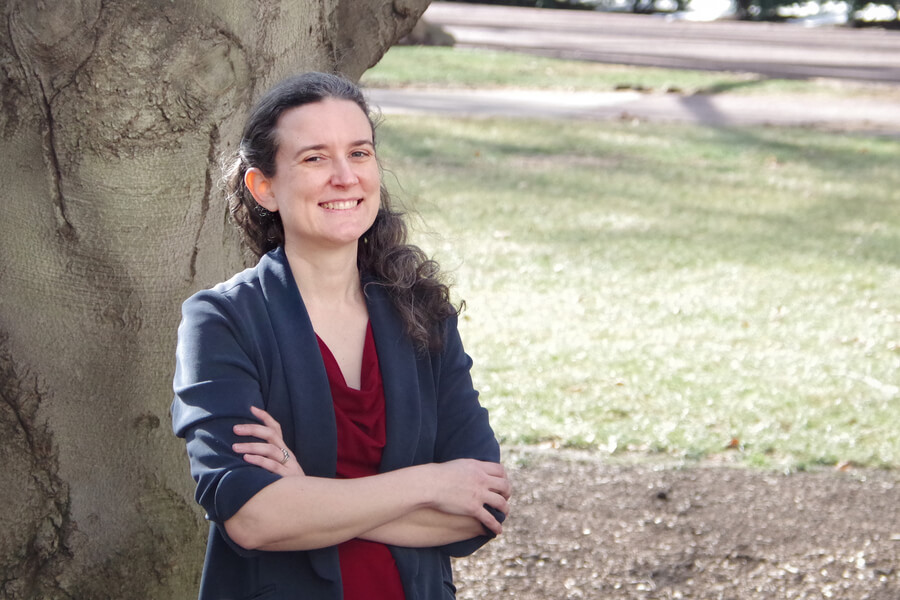 The next giant leap for Purdue Veterinary Medicine graduate Kelly Metcalf Pate (PU DVM 2007) came March 1 when she assumed the role of director of MIT's Division of Comparative Medicine. A specialist in platelet immunology and veterinary medicine, Dr. Metcalf Pate succeeds Dr. James Fox, who is retiring after 45 years of service in the position. In conjunction with her new position, Dr. Metcalf Pate also joined the faculty of the Department of Biological Engineering.
Dr. Metcalf Pate most recently served as an assistant professor of veterinary medicine at Johns Hopkins University School of Medicine where she also held the position of associate director of academic training for the research training programs for veterinarians in the Department of Molecular and Comparative Pathology. She also launched and directed the Boehringer Ingelheim Veterinary Scholars Program, a summer research program for veterinary students. Her research has focused on how platelet cells interact with other immune cells during viral infections such as HIV and cytomegalovirus.
"My core passions lie in teaching and research," Dr. Metcalf Pate said in a February 25 article by Anne Trafton in the Massachusetts Institute of Technology publication, MIT News. "I am looking forward to continuing to work with veterinarian trainees and veterinary students, and in continuing to do research that not only answers the unknown questions in platelet immunology, but also helps us to figure out better ways to work with animal models." 
The Division of Comparative Medicine includes more than 175 researchers, animal care and veterinary technicians, veterinarians, and administrative staff, who oversee animal care at MIT. Its mission includes maintaining the health of the animals as well as performing biomedical research and training students in research and veterinary medicine.
"I am thrilled to welcome Kelly as our new DCM director," said Maria Zuber, MIT's vice president for research. "She brings a strong research program, enviable managerial skills, a collaborative nature, and a lot of ideas for how DCM can provide even more value to our researchers."
Originally established in 1975 as the Division of Laboratory Animal Medicine, the division was renamed in 1980 to reflect growing involvement in research and teaching. Dr. Fox has directed the division since its inception, and under his leadership, the DCM has greatly expanded MIT's medical research program and added new on-campus facilities for animal care and research.
Dr. Metcalf Pate, the Dorothy W. Poitras Associate Professor of Biological Engineering at MIT, told the MIT News publication that she plans to maintain and build on the structure that Dr. Fox has established over the past 45 years. "I am honored to be inheriting such an amazing legacy and team in DCM. Dr. Fox has built something at MIT that is unrivaled in providing excellent care for the animals while working collaboratively with the research teams. It also benefits from strong support from the leadership and the MIT community, for which I am thankful. I hope to preserve and build upon this during my own time as director."
Dr. Metcalf Pate noted that researchers in the DCM already have extensive collaborations in place with other departments around MIT, and she hopes to further expand these collaborations, as well as increase DCM's research and training partnerships with other institutions in the Boston area. One of her longer-term goals is to explore the possibility of establishing a center to focus on "refinement research" — the practice of looking at how animal models are used to try to maximize both the quality of data and the welfare of the animals.
Joining the MIT community is something of a homecoming for Dr. Metcalf Pate, who grew up in Massachusetts and earned her bachelor's degree from Boston University in 2003 before enrolling in the Purdue University College of Veterinary Medicine, where she earned her DVM degree in 2007. She also holds a PhD from the Johns Hopkins University School of Medicine.
"I am delighted that Kelly Pate will be assuming the position of director of DCM, with a tenured faculty appointment in BE," Dr. Fox said. "Kelly embodies the tradition of veterinarians from Johns Hopkins, in being committed to conducting first-rate peer reviewed research, an enthusiastic mentor and teacher, and fulfilling the critical responsibility of directing an indispensable, centralized campus-wide animal resource program. She will undoubtedly foster, enhance, and continue the tradition of excellence that has become the trademark of DCM."
Click here to view the complete MIT News article about Dr. Metcalf Pate's new appointment.
Writer(s): Anne Trafton, MIT News Office, and Kevin Doerr | pvmnews@purdue.edu