Purdue VOICE Chapter's Inclusive Excellence Week Features Vets on TV
Friday, February 11, 2022
The Purdue Chapter of Veterinarians as One Inclusive Community for Empowerment (VOICE) kicked-off the spring semester last month with a virtual version of its Inclusive Excellence Week. The annual event that coincides with the week surrounding Martin Luther King Jr. Day featured an array of lectures, presentations, and Q&A sessions with guest speakers who have a wealth of a veterinary-related experiences and perspectives to share.
This year one of the special presentations was a Q&A session entitled, "Vets on TV" that featured Drs. Terrence Ferguson and Vernard Hodges, of the National Geographic show "Critter Fixers: Country Vets." Through the informal Q&A format, students were able to ask questions and learn about these veterinarians' experiences practicing veterinary medicine in front of TV cameras for the television program. Attendees also were able to gain valuable advice and inspiration for their own careers.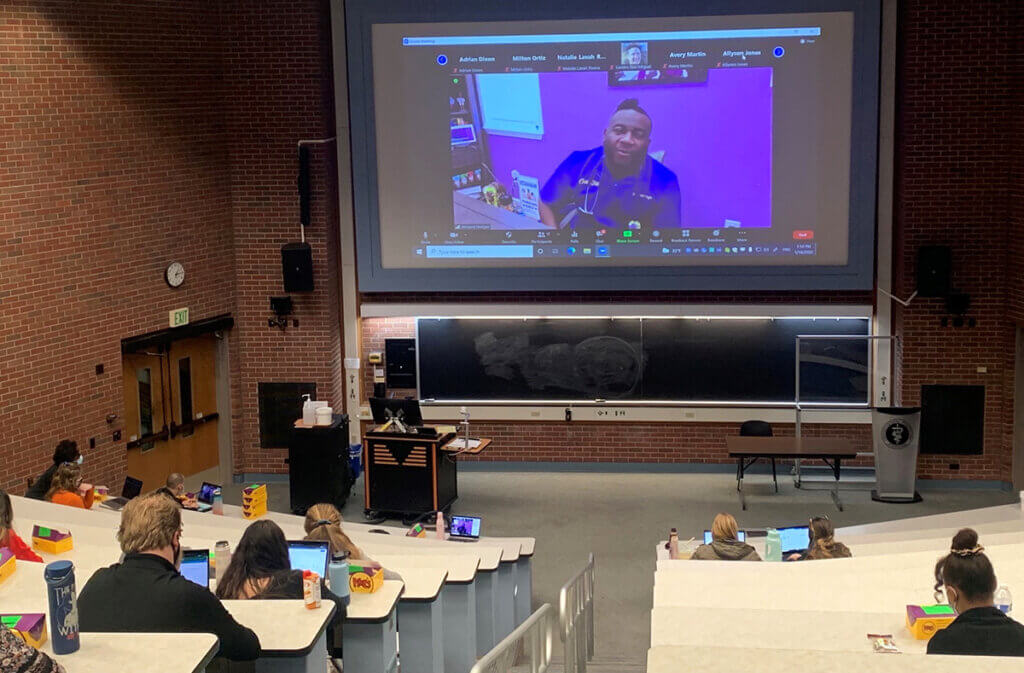 Highlights of the session included a discussion of the advice that Dr. Hodges and Dr. Ferguson said they wish they had received while they were in veterinary school. Dr. Ferguson encouraged students to learn about business ownership and the requirements of running their own veterinary practice. More broadly, Dr. Hodges advised students, "don't sweat the small stuff" in their coursework and remember that learning is the ultimate goal.
Another major piece of advice shared by both doctors was the importance of finding a role model or advisor to guide and support their journeys through veterinary school. Both doctors emphasized that their mentors were essential to their success in building their careers and becoming the accomplished veterinarians they are today.
Both doctors also recommended that students care for their mental health by participating in hobbies that are entirely removed from the field of veterinary medicine. They said having activities that serve as a break from the intense studies in veterinary school is an important part of maintaining work-life balance.
Another Q&A session focused on the topic, "Vet Med Around the World" and featured Dr. Lajoya Wilburn (PU DVM 2017), a PVM alumna who serves as USDA export veterinary medical officer in Austin, Texas; Amber LaRock, a veterinary nurse in Thailand who volunteers around the world; and Dr. Heather Fowler, director of producer and public health for the National Pork Board, who has a particular interest in global public health issues. The special guests emphasized the importance of setting boundaries and having a good support system. Dr. Wilburn also advised the students to be open to gaining varied experience with multiple species, noting that her first job involved working along southern border ports, regulating trade of Mexican cattle and horses coming into the U.S. from Mexico. She also stressed the importance of understanding your job and having self-confidence, recalling her own experience as a minority woman in a male dominated culture.
The Inclusive Excellence Week concluded with a movie night Friday, January 21, featuring the movie King Richard, about the rise of tennis superstars Venus and Serena Williams with coaching from their father, Richard Williams.
Purdue VOICE Chapter president Tyra Jenkins said the successful week provided an important way to focus attention on diversity and inclusion in the College of Veterinary Medicine. "We are grateful to be able to provide such constructive and important programming for PVM students by PVM students," Tyra said. "Inclusive Excellence Week is our largest event and during that week we saw a great turnout and powerful conversations. Our chapter is humbled to have received the [national] chapter awards recognizing the work we do here at PVM."
Writer(s): Hailee Rolofson, PVM Communications Intern, and Kevin Doerr | pvmnews@purdue.edu