Purdue Veterinary Technology Program Ranked #1
Friday, February 23, 2018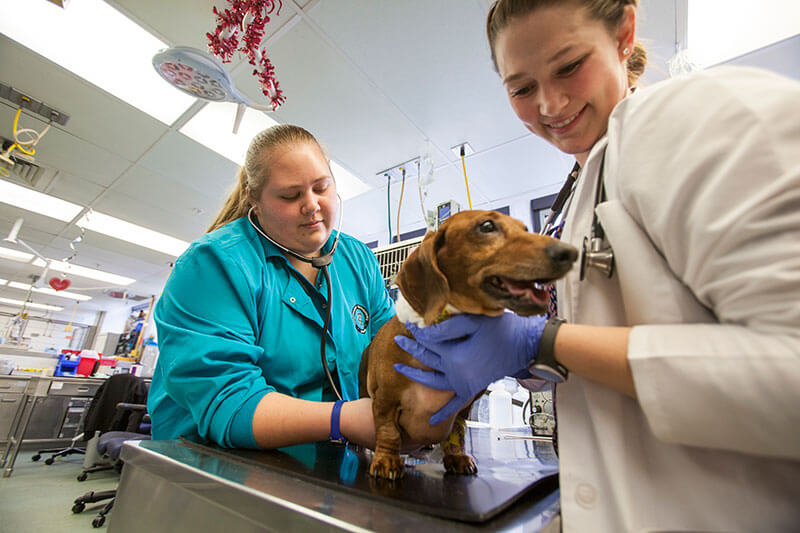 The Purdue University College of Veterinary Medicine's Veterinary Technology Program has been ranked #1 in the nation in a listing of the Top 50 Veterinary Technician Programs for 2018 published by TheBestColleges.org.  The website says to determine the best veterinary technology programs, they looked at the factors important to prospective students, especially common predictors of future success and a school's commitment to online programs.  "This boils down to admissions rate, student loan default rate, retention rate, graduation rate, and the percent of students enrolled in online classes," the website states.
The Purdue University Veterinary Technology Program was recognized for offering on-campus education that includes hands-on experience working with animals and leads to the Bachelor of Science degree, the Associate of Applied Science degree, and provides a Bachelor of Science completion option.  The website also highlighted the Veterinary Technology Distance Learning program that offers the Associate of Applied Science degree and incorporates 27 didactic courses and 18 clinical mentorships.
Purdue Veterinary Technology Program Director Bianca Zenor (PU DVM 2001) said the #1 ranking represents an outstanding accomplishment. "We have a great team and they've worked hard to achieve this," Dr. Zenor said.
The website says all of the data points are taken from information provided by colleges and universities to the National Center for Education Statistics.  Each factor is weighted evenly in order to give an objective view and determine the 50 best veterinary technician programs.  The website also states that, in calculating the rankings, they look at a school's ranking when organized by a single factor, and then average each category's ranking to find an overall score based on a formula in which the final score is equal to the admissions rate (20%) plus default rate (20%) plus retention rate (20%) plus graduation rate (20%) plus percent of students enrolled in online classes (20%).
The Purdue Veterinary Technology Program was established in 1975 and has graduated nearly 1,400 alumni, including nearly 900 Associate of Applied Science degree recipients, about 420 Bachelor of Science degree recipients, and 78 graduates of the Veterinary Technology Distance Learning program.  In the past year, 100% of the on-campus program graduates and nearly 90% of the Distance Learning program graduates achieved a passing score on the Veterinary Technician National Exam (VTNE), which is required in most states for a veterinary technician to be credentialed.  The Purdue program also is one of only four veterinary technology programs in the country housed at a college of veterinary medicine.
In addition to Purdue, the other top five veterinary technology programs in TheBestColleges.org ranking are at: the University of New Hampshire; the SUNY College of Technology at Alfred, N.Y.; the SUNY College of Technology at Delhi, N.Y.; and Johnson College in Scranton, Pa.  The website points out that figures from the United States Department of Labor Bureau of Labor Statistics show increasing demand for veterinary technicians and technologists, with employment expected to grow 20% over a ten year period ending in 2026.  Veterinary technicians and technologists work in such settings as private clinics and hospitals, laboratories, and zoos, assisting in the diagnosing of injuries and illnesses of animals under the supervision of a licensed veterinarian.
Writer(s): Kevin Doerr | pvmnews@purdue.edu