Purdue Veterinary Student Wins Prize in Veterinary History Essay Contest
Friday, June 26, 2020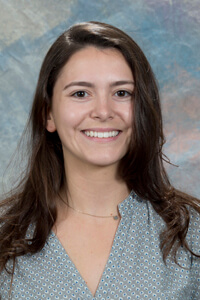 A string of strong performances by Purdue veterinary students in a national veterinary history essay contest continued this year with four entries being submitted, one of which placed second. Congratulations to Anna Adams, of the DVM Class of 2021, who won second prize in the Smithcors Veterinary History Essay Contest for her essay entitled, "For the Love of Bastet: A History of Cats in Ancient Egypt." As a result, she has earned the publication of her essay in the Veterinary Heritage Journal and a scholarship.
Dr. Jessica Zeiger, a 2018 Purdue DVM graduate who serves as chairperson of the contest, said each of the four Purdue veterinary students who entered this year's contest received strong praise from the judges. "Professor of Veterinary History David Williams has done an excellent job with the curriculum for his students," Dr. Zeiger said. Last year, Dr. Brooke Fourthman, of the DVM Class of 2019, won fourth place in the competition, and the previous year, Dr. Zeiger, who was a fourth-year student at the time, won first place.
Established in 1991, the annual J. Fred Smithcors Student Veterinary History Essay Contest provides a unique opportunity for veterinary students to learn about the heritage of their new profession by researching and writing about a veterinary history topic of their choice.  The contest is named in honor of the late J. Fred Smithcors, DVM, PhD, for his many contributions to veterinary history as founder of the American Veterinary Medical History Society (AVMHS), author of several books on veterinary history, educator, editor, and publisher.  Winners of the top four entries receive cash prizes donated in memory of Elizabeth Atwood Lawrence, VMD, PhD, who served twice as AVMHS president and was a contest judge for many years.
Participation in the essay contest is open to all DVM students currently enrolled in veterinary colleges in the United States, Canada, and West Indies. Students remain eligible to submit one or more essays during each of their four years of study until graduation. Click here for more information about the essay contest.
Writer(s): Kevin Doerr | pvmnews@purdue.edu