Purdue Veterinary Medicine Well-represented on Purdue COVID-19 Vaccine Allocation Task Force
Friday, February 12, 2021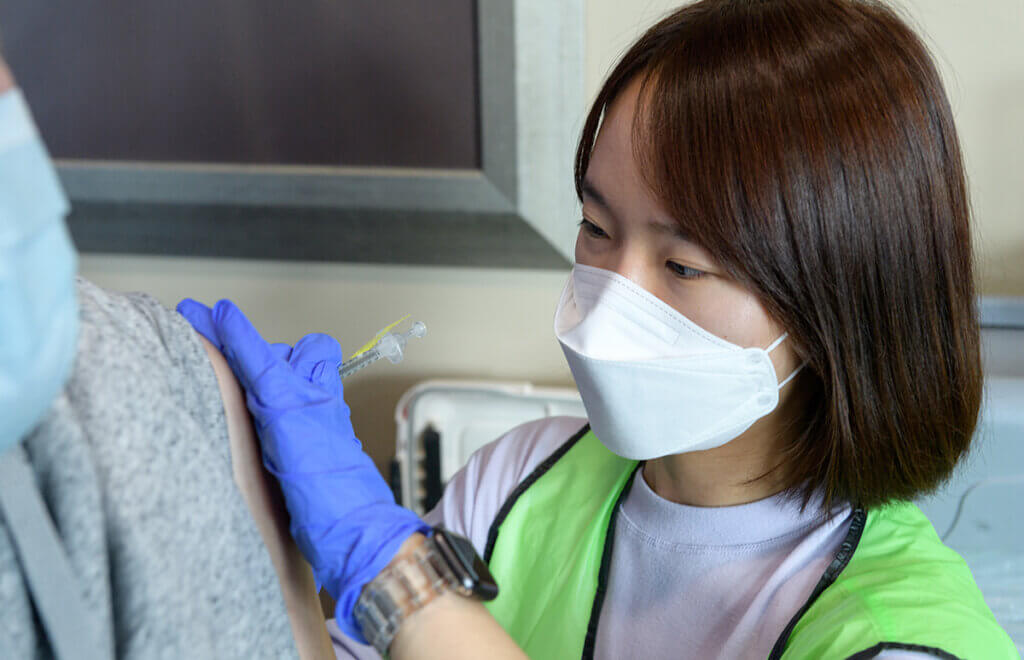 Assembled in October 2020, the Purdue COVID-19 Vaccine Allocation Task Force is an eleven-member team of scientists, medical experts, and campus leaders headed by Purdue Veterinary Medicine Dean Willie Reed, who serves as the task force chair. The team has been working in conjunction with the Protect Purdue Implementation Team to:
Determine and recommend Purdue's response to the CDC's and the state of Indiana's phased and evolving approach to COVID-19 vaccination;
Gather and provide valuable information on available vaccines, including safety and efficacy;
Serve as a trusted body for the campus community, build confidence in vaccination, and help dispel misinformation.
"As a scientist and someone who genuinely cares about the Boilermaker community, I encourage everyone to receive the COVID-19 vaccine as soon as they are able," said Dean Reed. "It is safe, it is effective, it is the right thing to do to protect yourself, protect others, and protect Purdue."
Joining Dean Reed from the College of Veterinary Medicine on the task force is Dr. Harm HogenEsch, professor of immunopathology and associate dean for research. Other members include:
R. Ethan Braden, senior vice president of marketing and communications;
Jen Hodges, executive vice president of operations, One to One Health;
Richard Kuhn, Krenicki Family Director of the Purdue Institute of Inflammation, Immunology, and Infectious Disease;
Richard Mattes, Distinguished Professor of Nutrition Science, head of the Department of Public Health, and director of the Ingestive Behavior Research Center;
Nicole Noel, director of Purdue University Pharmacy;
Candace Shaffer, senior director of benefits in Human Resources;
Lisa Smith, medical director, One to One Health;
Scott Stienecker, medical director for infection prevention and co-director for antimicrobial stewardship, Parkview Regional Medical Hospital and Affiliates;
Gail Walenga, director of the Purdue University Student Health Center.
There are two safe and highly effective COVID-19 vaccines now available in the United States. The Indiana Department of Health determines who is eligible to receive the vaccine, and continues to update that guidance on the state's COVID-19 website. The university does not determine who is eligible to receive the vaccine and has no immediate control over the distribution timeline.
Groups of individuals across Indiana who are currently eligible include:
First responders (fire, law enforcement, emergency medical services, reservists, and volunteers) who have in-person contact with the public.
Licensed and unlicensed health care workers who have in-person contact with patients or infectious material in any health care setting.
Individuals who are 40 years of age or older (as of March 22).
Pre-K – 12 educators and support staff (as of March 15).
Individuals with certain high-risk conditions.
Native Americans, Native Alaskans, Native Hawaiians and other native groups living in Indiana age 18 years of age and above (a special registration process is required).
To find vaccine clinics and make an appointment for yourself or on behalf of an eligible senior, visit vaccine.coronavirus.in.gov or call 211. There is no cost to receive the vaccine.
All Boilermakers, especially the most vulnerable, are strongly encouraged to receive the two-dose vaccine as soon as they are eligible as part of their continued commitment to the Protect Purdue Pledge.
Purdue also is preparing to be a vaccine distribution site and do its part to move Tippecanoe County toward immunity as soon as the Indiana State Department of Health gives its approval and makes a supply of vaccine available. To protect the Purdue campus "bubble," the vaccines distributed on campus will only be available to the Purdue community: students, faculty, staff, and the dependents and spouses of Purdue employees.
For more information, click here to visit the Protect Purdue Vaccine Information webpage.
Writer(s): Purdue Marketing and Media | pvmnews@purdue.edu