Purdue Large Animal Surgeon Wins $10,000 Prize for Equine Research and Earns PhD
Friday, December 2, 2022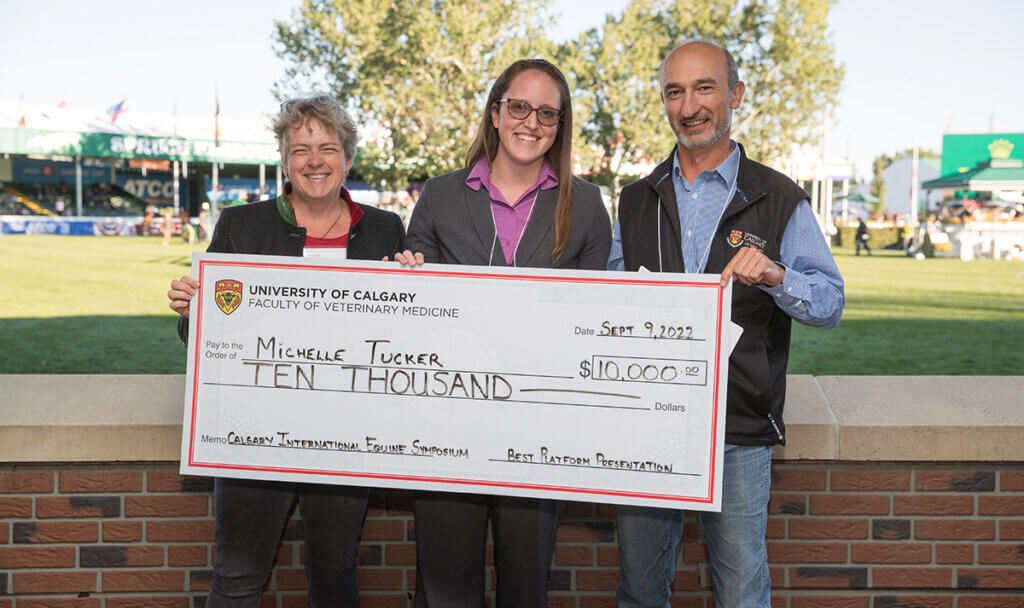 Graduate study at the Western College of Veterinary Medicine in Canada came to a surprisingly successful conclusion this fall for Dr. Michelle Tucker, assistant professor of large animal surgery in the Purdue University College of Veterinary Medicine. She not only was one of 17 graduate students at the college who received their graduate degrees at the University of Saskatchewan's Fall Convocation on November 9, she also won the $10,000 grand prize at the University of Calgary Faculty of Veterinary Medicine International Equine Symposium two months earlier on September 9.
Dr. Tucker received the prize for giving the Best Platform Presentation at the symposium, which was held at the University of Calgary's Spy Hill campus. The symposium is described as a global celebration of equine health with the theme for 2022 being The Equine Athlete. Sponsored by the Faculty of Veterinary Medicine at the University of Calgary and Spruce Meadows, the event wrapped-up with a Friday evening awards ceremony ringside at the renowned Spruce Meadow Master Tournament, an international show jumping competition in Calgary.
"I presented a portion of my PhD work entitled, 'Computational Fluid Dynamic Analysis of Upper Airway Procedures in Equine Larynges,' as a 20-minute podium presentation," Dr. Tucker said, adding that the conference is focused on innovations in equine research. Her talk detailed research on benchtop and computational models of equine larynxes and won top marks from judges. "I was incredibly humbled and just elated. They had to call my name a couple of times before I realized they were calling my name," Dr. Tucker was quoted as saying in an article by writer Jessica Colby published November 10 by the Western College of Veterinary Medicine.
For Dr. Tucker, pursuing a career as an equine surgical specialist followed previous studies at the University of Kentucky where she earned a degree in biosystems engineering and biology.  She then went to the Texas A&M School of Veterinary Medicine and Biomedical Sciences and earned her DVM degree in 2014. After graduation, Dr. Tucker completed an internship at Equine Medical Associates Inc., and Kansas State University, before moving to Saskatoon where she began a large animal surgery residency at the University of Saskatchewan – Western College of Veterinary Medicine. After completing the residency and becoming board certified by the American College of Veterinary surgeons in 2020, she entered the direct PhD program route – supervised by an equine surgical specialist in the Western College of Veterinary Medicine's Department of Large Animal Clinical Sciences.  She joined the Purdue faculty in October 2021.
"Moving to Canada was one of the biggest adventures of my life so far and I really grew a lot from it," Dr. Tucker, who grew up in Kentucky, was quoted as saying. "I got to work alongside some wonderful people."
As explained in the Western College of Veterinary Medicine article, Dr. Tucker's research focused on a condition known as recurrent laryngeal neuropathy (RLN) — also known as "roaring" in horses. The condition involves the degeneration of the recurrent laryngeal nerves, causing audible, abnormal breathing sounds during exercise. As part of her PhD, she studied two different models of multiple upper airway surgeries for recurrent laryngeal neuropathy.
Dr. Tucker said the most exciting part of her research was being able to explain some of the phenomena that veterinarians see in their patients associated with RLN surgery and why those happen from a fluid mechanics perspective. "There's still so much that we don't know about that part of the equine airway, and a lot of exciting technology [is] on the horizon."
Dr. Tucker said winning the Calgary symposium's grand prize in September meant a lot to her. "As any PhD student can tell you, there are so many days it feels like you are the only one who sees the value in what you are doing," Dr. Tucker was quoted as saying. "To win was just amazing and was an encouragement that others can see the value in what I am doing."
Click here to view a news release by the University of Calgary about the research prize.
Writer(s): Kevin Doerr | pvmnews@purdue.edu