Purdue Day of Giving – A Huge Success for Purdue Veterinary Medicine!
Friday, September 11, 2020
In its 7th year, Purdue Day of Giving raised an incredible $42,197,298 received through 20,217 gifts – once again an amazing showing of generosity and support for the university and its persistent pursuit of the next giant leap!
"This has been an incredible event, especially during such a trying year for everyone. We are so appreciative to have a family of generous and loyal donors, alumni, faculty, staff, students, clients, and friends who remain dedicated to our college and the future of veterinary medicine," said Amanda Dunkle, director of development operations and donor stewardship. "The enthusiasm of the event has been uplifting, and the impact these donations will have on our college and, specifically, the new Veterinary Hospital, is really exciting to think about."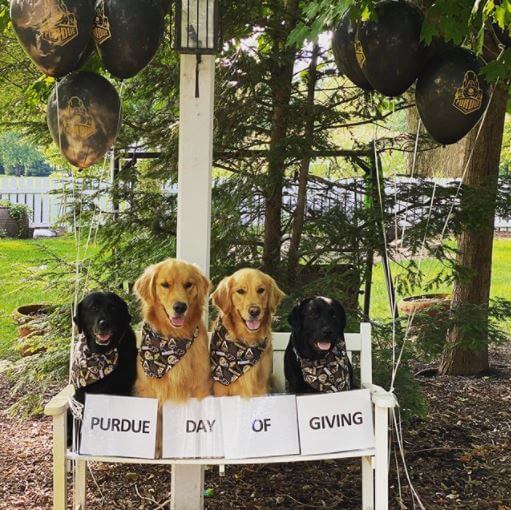 Gifts contributed during the Purdue Day of Giving to the College of Veterinary Medicine this year totaled $1,226,863, positioning us in the 8th position for donations received across campus and earning the college an additional $3,000 in bonus funds! The efforts of others who took the time to participate in hourly challenges, take photos, and spread the word made an impact on our overall success as well, resulting in the college winning an additional $2,000 in bonus funds for receiving the 1,869th gift during the event and winning the Most Creative Pet Photo challenge.
"To see the community of our college come together in such a challenging year was truly humbling," said Tanya Finkbiner, chief development officer for the College of Veterinary Medicine. "Every single gift is a valuable part of our mission to advance global animal and human health and well-being. Seeing the steel beams going up for the new hospital today, it is the perfect metaphor of how people, including our clients, donors, alumni, faculty, staff, and students, are what keep our college strong – together."
For more information and results from Purdue Day of Giving, visit dayofgiving.purdue.edu.
Writer(s): Amanda Dunkle | pvmnews@purdue.edu