Purdue and Illinois Summer Researchers Convene at Lynn Hall
Friday, July 12, 2019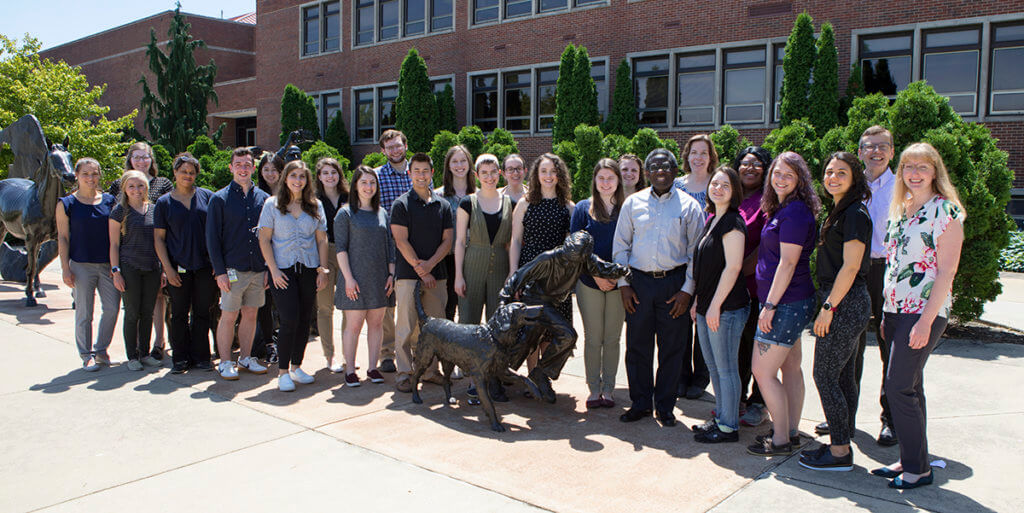 As the dog days of summer took hold on the Purdue University campus, veterinary student scholars from Purdue Veterinary Medicine and the University of Illinois College of Veterinary Medicine met at Lynn Hall last month for a one-day symposium. The students are participants in each college's Summer Research Program.
PVM's Summer Research Program got underway in May, as 10 Purdue veterinary students and six undergraduate students from Purdue and four other universities were paired-up with faculty members on the basis of shared areas of interest. The Summer Research Program provides the students with the opportunity to work on independent research projects and explore non-practice careers by working with their faculty mentors.
The University of Illinois offers a similar program for its veterinary students. Eight Illinois students joined-up with 15 students in PVM's program to attend the 9th Annual Joint Symposium of Purdue and University of Illinois Veterinary Scholars, which was held in Lynn Hall June 26. The agenda for the day-long meeting included tours of the Purdue Veterinary Hospital; a scientific presentation by Dr. Deborah Knapp, Dolores L. McCall Professor of Comparative Oncology and director of the Purdue Comparative Oncology Program; and a session entitled, "The Art of Scientific Abstract Preparation," taught jointly by Dr. Harm HogenEsch, PVM associate dean for research, and Dr. Lois Hoyer, associate dean for research and advanced studies at the University of Illinois College of Veterinary Medicine.
The Purdue Summer Research Program participants will continue working on their projects through the end of this month.  The 11-week program will wrap-up with a Research Poster Presentation Wednesday, July 24 from 12:00 to 1:30 p.m. in the Veterinary Medical Library.  PVM faculty, staff, and students are invited to attend and visit with the Summer Research Scholars.  Then, Purdue veterinary student participants will attend the national Boehringer Ingelheim/NIH Symposium at Worcester State University July 25-28. 
Special thanks to Dr. HogenEsch and Dr. Eli Asem, professor of physiology in the Department of Basic Medical Sciences, who organize the PVM program by matching students and faculty. The program is sponsored in part by Boehringer Ingelheim.
The 2019 Purdue Summer Research Program participants and their mentors include:
DVM Students
Claudine Auld – Dr. Tiffany Lyle
Taylor Bolinger – Dr. Laurent Couëtil
Lauren Dorsey – Dr. Nancy Boedeker, Dr. Audrey Ruple
Adrianne Glaser – Dr. Abby Cox
Blair Hooser – Dr. Kari Ekenstedt
Ben Kinnamon – Dr. Arun Bhunia (Department of Food Science, Purdue University College of Agriculture)
Amanda Martin – Dr. Audrey Ruple, Dr. Kenitra Hendrix, Dr. Lynn Guptill
Cecilia Silva – Dr. Andrea Santos
Jaime Uren – Dr. Hsin-Yi Weng
Christopher Williams – Dr. Marxa Figueiredo
Undergraduate Students
Virginia Behmer (Case Western Reserve University) – Dr. Maggie O'Haire
Jeannine Diab (Purdue University) – Dr. Riyi Shi
Serena Harris (Southern University and Agricultural and Mechanical College) – Dr. Kenitra Hendrix
Tracy Harvey (Purdue University) – Dr. GuangJun Zhang
Alexandra Reddy (Liberty University) – Dr. Tiffany Lyle
Anna Shi (Rutgers University) – Dr. Mike Childress, Dr. Deepika Dhawan, Dr. Jose Ramos-Vara
Writer(s): Kevin Doerr | pvmnews@purdue.edu