Prospective Students Welcomed for First DVM Class of 2023 Interview Day
Friday, January 25, 2019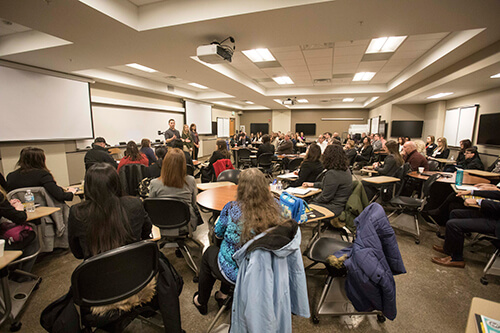 Today marks the beginning of the first of two interview days for prospective Purdue DVM students. Almost 300 students will be visiting the College of Veterinary Medicine in hopes of being accepted into the DVM Class of 2023. These prospective students are being warmly greeted by staff and volunteers involved in the interview days. The second round of interviews will be held next Friday (February 1).
The prospective DVM students will have the opportunity to get better acquainted with Purdue University and the College of Veterinary Medicine throughout the interview days. In addition to the interviews, there will be opportunities to tour Lynn Hall and the Purdue campus, participate in discussions with topics ranging from "Life as a DVM Student" to the different tracks of study. Each interview day will conclude with a banquet in the Purdue Memorial Union North Ballroom. The banquet program will include a student panel providing interview day guests insights into what it is really like to be a DVM student.
These potential students have traveled from across the U.S. to participate in the competitive interview portion of the admission process. Thank you for welcoming our guests on this exciting day. If you have any questions about the interview process, please feel free to stop by the Student Services Office (Lynn, Rm. 1185). Click here to view the Interview Day Itinerary.
Interview days also are planned for students applying to the Veterinary Nursing Program. Prospective incoming freshman will participate in interviews on Friday, February 8, and transfer/change of degree objective (CODO) students will complete interviews with the Veterinary Nursing Program on Friday, March 8 and Saturday, March 9.
Writer(s): Amanda McCormick, PVM Communications Intern | pvmnews@purdue.edu