Partnership with VetBloom Provides Access to Veterinary Nursing Distance Learning Program
Friday, August 9, 2019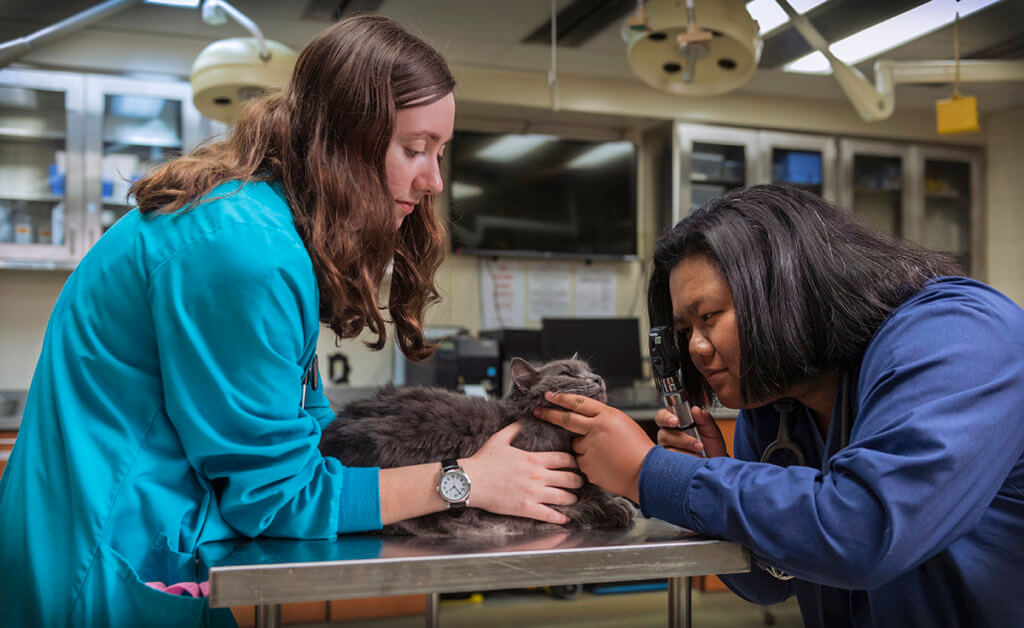 The Purdue University College of Veterinary Medicine has entered into a partnership with Ethos Veterinary Health and VetBloom, an innovative veterinary learning ecosystem, to create a pathway that allows members to earn an online veterinary nursing degree through Purdue University. The new partnership will allow VetBloom members to enroll in Purdue Veterinary Medicine's Veterinary Nursing Distance Learning program, whose graduates earn an associate in applied science degree and receive the preparation necessary to seek state credentialing as a Registered/Licensed/Credentialed Veterinary Technician.
"This partnership will allow VetBloom member practices to grow their talent and give their team members a pathway that not only improves their career opportunities but helps fill a critical need for well-trained veterinary nurses," said Dr. Patrick Welch, Ethos chief knowledge officer and founder of VetBloom. Dr. Welch explained that VetBloom and Ethos are committed to providing training and educational opportunities to the veterinary community, and the partnership with Purdue Online is an extension of this commitment.
"One of our goals is to facilitate and accelerate the learning, growth, and engagement of individuals and teams throughout the veterinary industry," said Dr. Welch. "This partnership with Purdue provides us with another opportunity to achieve that goal and help to facilitate a culture of continuous learning and growth within our member practices."
Dr. Bianca Zenor, director of the Purdue Veterinary Nursing program, said the partnership with Ethos and VetBloom will benefit all students as it helps to raise awareness of Purdue's Veterinary Nursing Distance Learning program.  "This partnership provides access for those who have worked in the veterinary field to be able to grow in their careers with a nationally recognized, AVMA accredited program," Dr. Zenor said.
The VetBloom and College of Veterinary Medicine partnership was facilitated by Purdue Online, which supports colleges and corporate partners to create new opportunities for workforce development that amplifies pathways for employee careers. For more information, visit Purdue Online.
The Purdue Veterinary Nursing program has been AVMA accredited since the mid-1970s and is one of four AVMA accredited veterinary nursing programs in the country affiliated with a veterinary school or college.  Purdue's veterinary nursing students have a high first-time pass rate on the Veterinary Technician National Examination (VTNE). The Veterinary Nursing Distance Learning (VNDL) program enables students to work at their own pace in an online format to gain the knowledge, information, and skills necessary to practice as a veterinary nurse.  Click here for more information about the Veterinary Nursing program.
Writer(s): Kevin Doerr | pvmnews@purdue.edu