OHAIRE Research Group Highlights Benefits of Social Distancing with Pets
Friday, April 3, 2020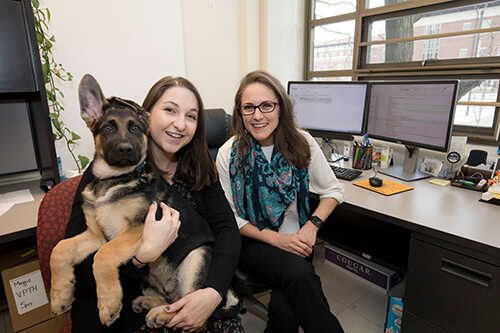 As the coronavirus pandemic is forcing people all over the world to practice social distancing and stay home – some of their housemates might be making the transition easier: their pets. Scholars with the Organization for Human-Animal Interaction Research and Education (OHAIRE) in the Purdue University College of Veterinary Medicine have expertise regarding the support and stress relief that pets are able to provide during challenging times, especially like the present circumstances.
The OHAIRE Research Group, led by Dr. Maggie O'Haire, associate professor of human-animal interaction, is part of the Center for the Human Animal Bond. Dr. O'Haire and colleague Kerri Rodriguez, a graduate research assistant, say pets can provide a source of social support during stressful times and that interacting with companion animals can provide stress relief that can be measured biologically.
A study led by Rodriguez and Dr. O'Haire last year showed how service dogs can have measurable positive effects on the health and well-being of individuals with physical disabilities. The OHAIRE Research Group also is conducting research regarding how psychiatric service dogs may help veterans with PTSD.
"During a time when many people are practicing social distancing from their human support networks, animal companionship may be an increasingly important source of social support," Dr. O'Haire said. "Evidence from the field of human-animal interaction highlights the often profound capacity of pets to provide interaction, joy and comfort."
Writer(s): Abbey Nickel, Purdue News Service | pvmnews@purdue.edu