New Staff Member Joins PVM Student Services
Friday, March 13, 2020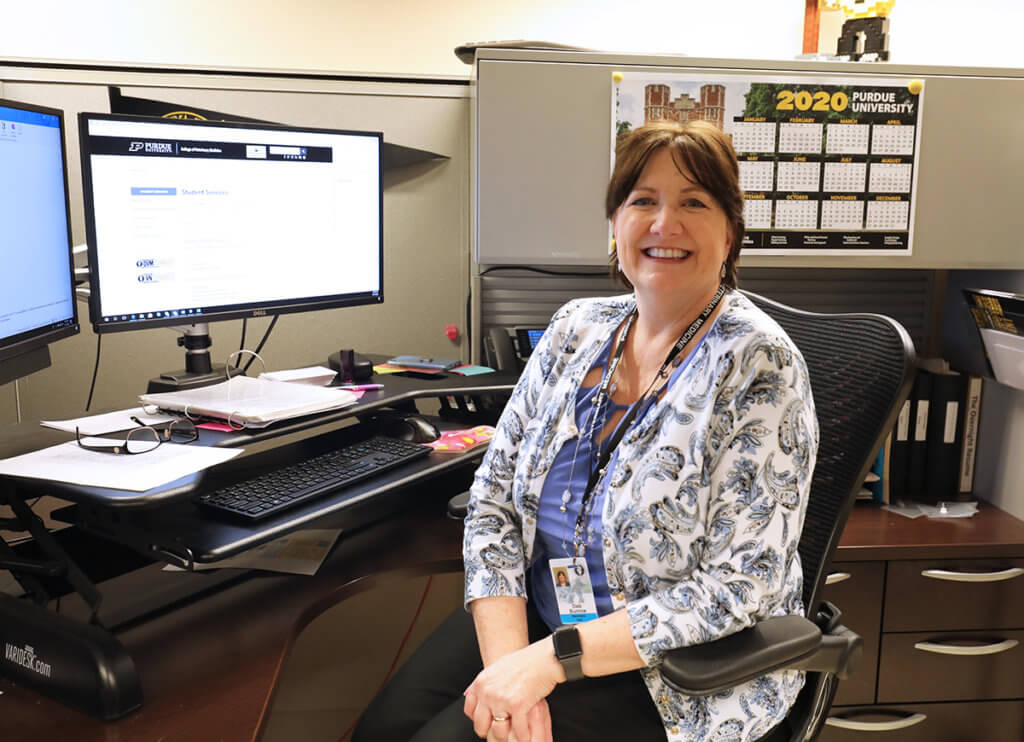 Purdue Veterinary Medicine is pleased to welcome Deb Burrow to the Student Services Center team. Deb started Monday, March 9, as the office's administrative assistant, with responsibilities that include acting as the front line for PVM visitors, handling communications between the office and students, and helping organize events like the annual Stethoscope Dinners and the Vet Scholars Pizza Party.
When asked what she is looking forward to in her new position, Deb said, "I am excited to meet the rest of the PVM family and get around Lynn Hall without getting lost!" Deb graduated from Purdue University in 1988 with a bachelor's degree in computer technology. She began her career at Purdue in 2006 when she became the business manager for the Departments of Child Development and Family Studies and Consumer Sciences and Retailing. She also worked as a business manager in various other departments until 2015, when she accepted the position of administrative assistant for Civil Engineering. She said she loved being able to interact with students in that position and looks forward to now making those kinds of connections in the College of Veterinary Medicine.
"We are excited to welcome Deb to the Student Services team! Deb brings a great deal of experience from other Purdue departments," said Dr. Jim Weisman, PVM assistant dean for student affairs. "I know she will bring enthusiasm and energy to our office. Please stop in and welcome Deb to our College."
Deb is from northern Indiana, where she grew up on a farm and learned the value of working hard and playing hard throughout her childhood. She met her husband in high school and they will be celebrating their 30th anniversary together this summer. As someone with a green thumb, Deb loves to garden in the summer and refers to it as "dirt therapy." In the colder months, her crafty side comes out and she works on scrapbooks and greeting cards. Deb said the Burrow household hosts frequent game nights and she is known to invite students to these events. Deb also said she is always looking for new board games to play, so if you have any suggestions, stop by Student Services to share your favorite game with her. Deb is located in Lynn 1185 and can be reached at extension 47893 or dburrow@purdue.edu.
Writer(s): Maya Sanaba, PVM Communications Intern | pvmnews@purdue.edu