New PVM Chief Development Officer Named
Friday, November 30, 2018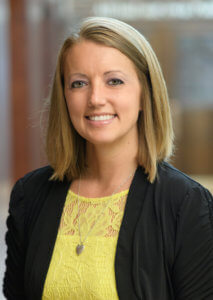 Tanya Finkbiner has been appointed as the new chief development officer for the Purdue University College of Veterinary Medicine.  Her appointment, which took effect November 26, was announced jointly by PVM Dean Willie Reed and the University Development Office.  For the past three years, Tanya has served as a major gift officer for the College, first as director of development and most recently as senior director of development.  Prior to joining the PVM fundraising team, she worked in the School of Mechanical Engineering as the director of development operations and donor relations.
"I look forward to working with Tanya in this new capacity," said PVM Dean Willie Reed. "Tanya has done a phenomenal job during the past three years for our College, and I am confident that she will provide strong leadership for our Development Office.  Please join me in congratulating her on this new career opportunity."
Tanya succeeds Chad Rohlfs, who left the University to pursue a new career opportunity.  He was honored Monday, November 12, at a special going away reception in the Continuum Café.  Chad came to the College in 2014 from the Sanford Health Foundation in Sioux Falls, S.D.  Since 2014, Chad personally raised more than $12.5 million, and the PVM development team raised more than $29 million for the College, as of the end of the 2017-2018 fiscal year June 30.
At the farewell reception, PVM Associate Dean for Academic Affairs Kathy Salisbury thanked Chad for his service to the College and commended him for his fundraising success.  "You will be missed but we wish you all the best as you move on to this next phase of your career," Dr. Salisbury said.
Writer(s): Kevin Doerr | pvmnews@purdue.edu