New Director of Purdue Veterinary Medicine Extension Named
Friday, January 15, 2021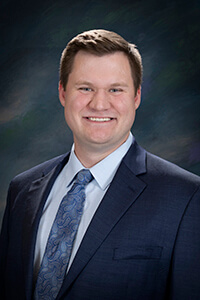 Dr. Geoff Lossie, (PU DVM 2014; MS 2017), clinical assistant professor of pathology and avian diagnostician, is assuming a new responsibility as the new director for Purdue Veterinary Medicine Extension. Dr. Lossie succeeds Dr. Jonathan Townsend, who stepped down when he left the college at the end of November to pursue a new career opportunity.
As director of PVM Extension, Dr. Lossie will represent the college at university and state extension meetings and lead the PVM Extension Team. The mission of the PVM Extension Service is to advance the delivery of practical applications of research from Purdue University and around the world to Indiana citizens who own production agriculture animals. PVM veterinarians involved in Extension strive to help the farmers in Indiana produce healthy and productive agricultural animals in a sustainable fashion.
Dr. Lossie earned his Purdue DVM degree in 2014 and then stayed on to complete an avian diagnostic medicine residency program before joining the Department of Comparative Pathobiology faculty. He also serves as avian diagnostician for the Animal Disease Diagnostic Laboratory. Previously, Dr. Lossie served as a faculty instructor and poultry health specialist at The Ohio State University. He is a diplomate of the American College of Poultry Veterinarians.
Congratulations Dr. Lossie!
Writer(s): Kevin Doerr | pvmnews@purdue.edu