Meet Cooper, the Super Trouper!
Friday, April 9, 2021
Model Patient Shows Orthopedic Surgery is Not Just for Young Pups
Cooper is an 11-year-old yellow Labrador Retriever who has endeared himself to his medical team at the Purdue University Veterinary Hospital ever since he was first seen in May 2017 because of instability in his right shoulder. The surgery to stabilize his shoulder proved successful, to the delight of his owners, Rick and Mona Hansen of Fishers, Ind.
Thus began a long-term relationship reflecting the power of the human-animal bond and the best of compassionate specialty veterinary medical care and treatment.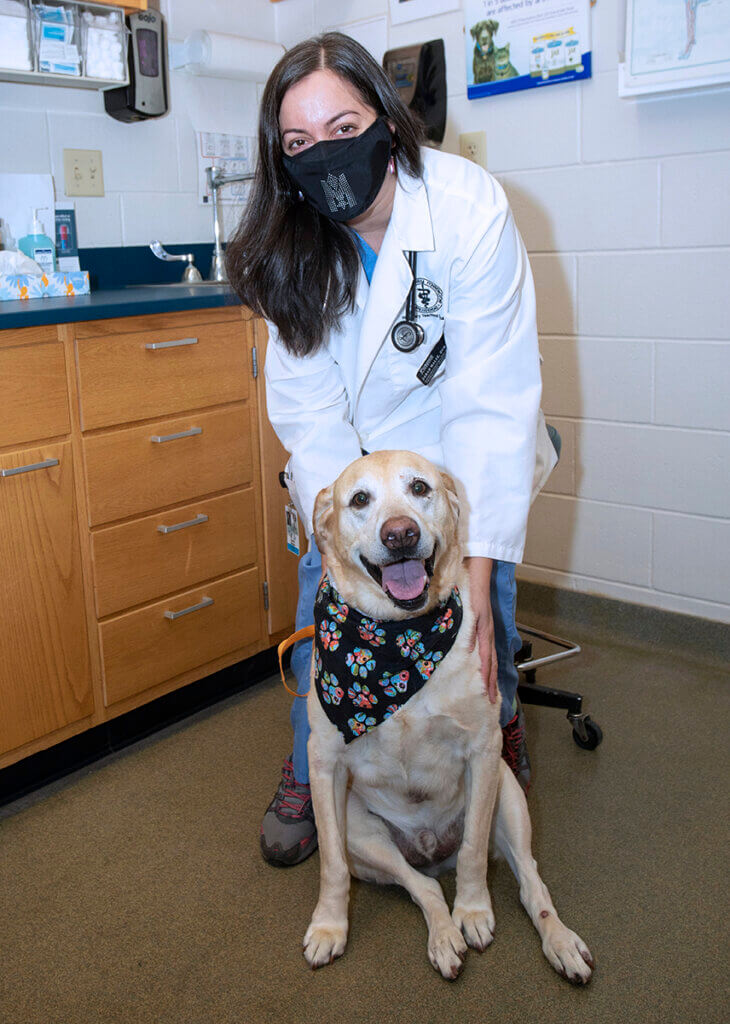 The next chapter of Cooper's adventure began in April 2018, when he returned to Purdue for spinal surgery after experiencing some back pain and trouble walking. At that appointment, he was diagnosed with instability in his spine associated with disk disease, as well as right elbow problems. His right elbow was treated successfully by arthroscopic surgery. However, after a few months of trying epidural steroid injections, his back issues did not resolve. So, Cooper returned to the Orthopedic Surgery Service and underwent surgery that removed the culprit disk and fused his spine where it was unstable.
Cooper came back once again in 2019 for another successful surgical intervention on his left elbow and in late 2020 for injections to alleviate growing arthritis pain. A recheck in February 2021 revealed that his arthritis in his elbows had stabilized.
Throughout his time as a Purdue University Veterinary Hospital patient, Cooper has experienced over 30 appointments ranging from surgeries for his shoulder and spine, and treatments for his elbows, as well as follow-up rechecks. His story illustrates how treatments in the hospital's Orthopedic Surgery Service can apply across the life span of a pet.
"Age is not a disease, it's the actual diseases that you get over time that are the problem," explained Dr. Sarah Malek, assistant professor of small animal orthopedic surgery. "We have many conditions in animals for which we now have treatment options and we are thankful for the opportunity to be able to provide those pets with the care they need," she added.
Despite his trials, Cooper is in good spirits and enjoys taking his owners on walks. He also enjoys physical therapy, especially exercising on the underwater treadmill, which is one of his favorite activities.
Rick and Mona were referred to the Purdue University Veterinary Hospital by their own veterinarians, Dr. Marcie Short (PU DVM '87) and Dr. James Ward (PU DVM '76) who are both Purdue graduates. At Purdue, Cooper's veterinary medical team has been able to work closely with his primary veterinarians to provide him with the best possible care, explained Dr. Malek.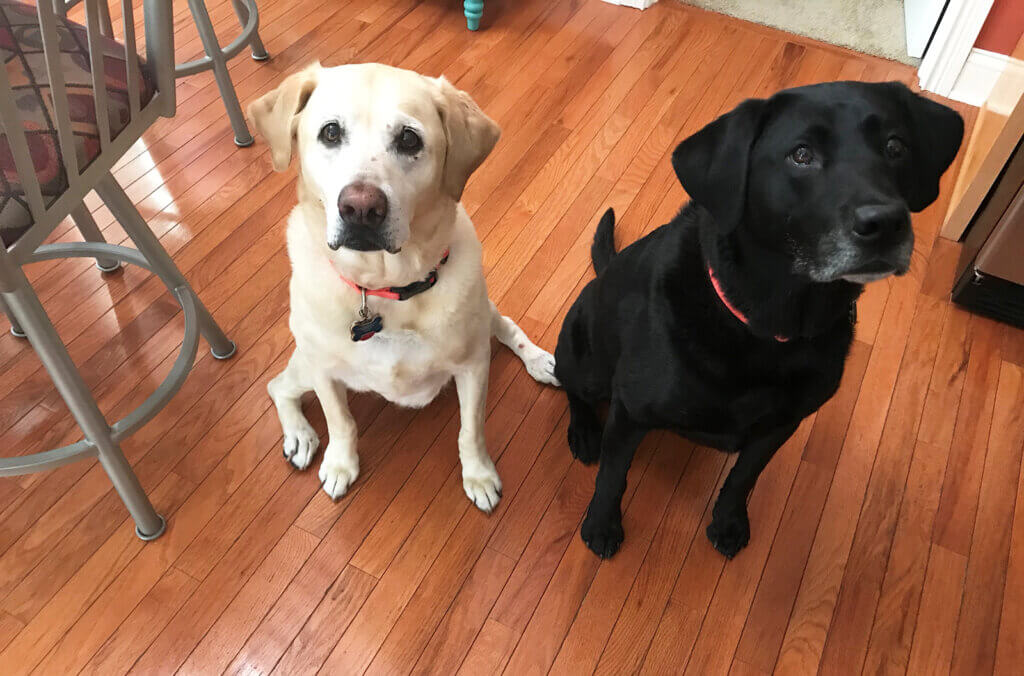 Reflecting on their experiences at the College of Veterinary Medicine, Rick praised the personal attention he and Mona received, including the interactions they were able to have with Dr. Malek and her colleague, Dr. Mark Rochat, professor of small animal orthopedic surgery. Even when Cooper was being evaluated by a resident or student, Drs. Malek and Rochat would always take time to talk with Rick and Mona during their visits.
The Hansens recalled that when they took Cooper to his first back surgery, they were told he would be lucky to see one or two more years, which has at this point been miraculously proven wrong. "Every day we have with him now is a gift," said Mona.
Rick and Mona also praised the College of Veterinary Medicine for having a myriad of resources available. "You don't have to go from one place to another, if you have a dog with a serious condition," Rick said. "The Purdue veterinary medical team is willing and able to do anything, and are great at keeping our regular veterinarians up-to-date with any necessary reports and information. Having everyone on the same page is helpful and important," he added.
Writer(s): Jonathan Martz, PVM Communications Intern, and Kevin Doerr | pvmnews@purdue.edu