Lake County K9 Officer Airlifted to Purdue VTH after Interstate Car Chase
Friday, February 2, 2018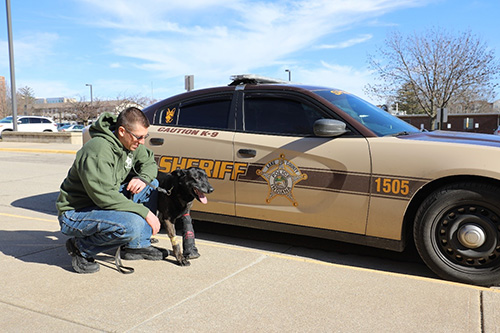 Deputy Doug Parker of the Lake County Indiana Sherriff's Department with Rocky, a six-year veteran K9 officer that was injured in an interstate car chase in Northwest Indiana. Rocky was brought by helicopter to Purdue University, where he received emergency treatment at the VTH for a broken bone in his left paw.
By Lauren Bruce
A Lake County Indiana Sheriff's Department K9 officer injured during an interstate car chase was airlifted by helicopter to the Purdue University Veterinary Teaching Hospital for emergency treatment last Thursday, January 25. The chase started when police in Lake County began pursuing a stolen car that Thursday morning, according to Illinois State Police. The suspects drove to South Holland, Ill., where they exited the car and fled on foot. A statement from the Sheriff's Department said, as Deputy Doug Parker and his dog, Rocky, got out of their police car to pursue the suspects, they were hit from behind by another vehicle.
Despite suffering minor injuries himself, Deputy Parker refused to leave Rocky's side until the K9 was stabilized. Rocky, a six-year veteran of the Lake County Sherriff's Department, was rushed to his primary care veterinarian in Lake County, where he was stabilized, and preliminary testing showed that he had sustained injuries to the metatarsals on his front left limb, and might also have damage in his hips. The decision was made to transport Rocky by helicopter to the Purdue Airport so he could be taken to the Purdue VTH for treatment.
"I heard Rocky really enjoyed the helicopter ride despite his injuries, and sat up in the helicopter to look outside," said first-year Animal Emergency Service resident Becky Zaremba, who helped treat the police K9. The Purdue Animal Emergency Service team, led by Dr. Elizabeth Thomovsky, clinical associate professor of small animal emergency and critical care, and Dr. Zaremba, continued stabilizing treatment upon Rocky's arrival, while Purdue paramedics transported Deputy Parker to IU Health Arnett Hospital for treatment. With the help of Dr. Mark Rochat, clinical professor of small animal orthopedic surgery, who evaluated Rocky further for other potential bone issues, the veterinary team diagnosed and treated the broken metacarpal bone in the left forepaw.
"He was lucky and only sustained a straightforward break," said Dr. Zaremba, adding that the injury is expected to heal in four to five weeks with rest.
"I'm just glad to have him back," said Deputy Parker.
Writer(s): Purdue Veterinary Medicine News | pvmnews@purdue.edu