Keep Your Pets Safe with This Winter Holiday Survival Guide
Friday, December 6, 2019
Between colder weather, noisy visitors, rich eats and unusual treats, the holidays can bring special risks to your pets. Whether you leave them at home or travel with them during the holidays, planning is necessary to ensure they stay safe. Dr. Suma Rao of the Purdue Veterinary Teaching Hospital's Small Animal Primary Care service, who is a clinical assistant professor in the Department of Veterinary Clinical Sciences, provides the following pet safety tips for the holidays.
Managing the Hustle and Bustle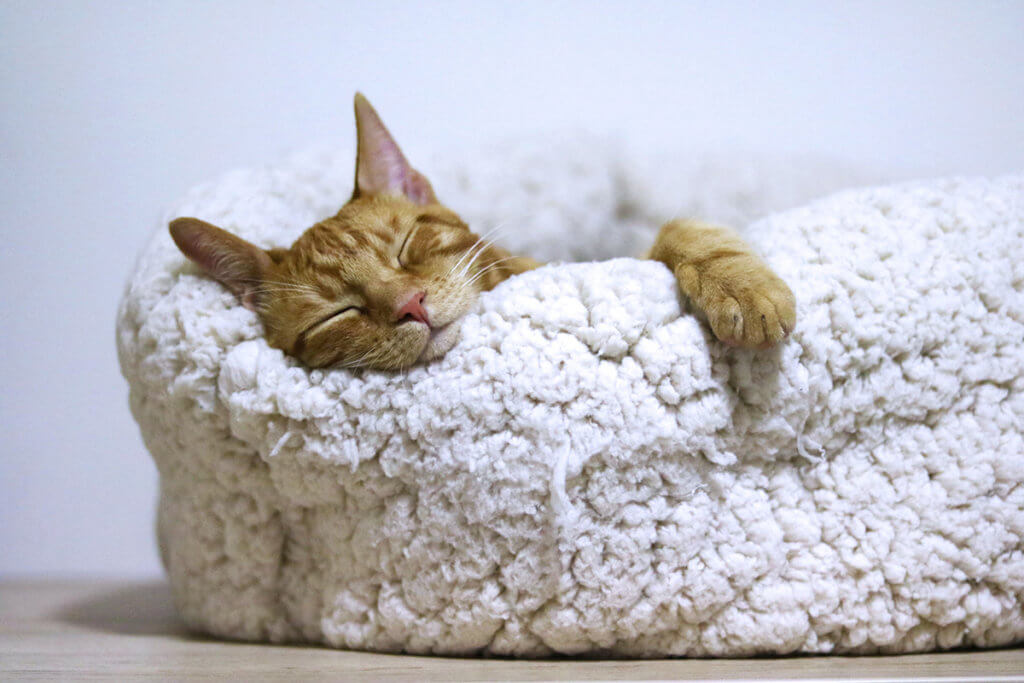 "Holidays can be stressful to pets due to the high volume of visitors, loud noises, and parties," Dr. Rao explains. "Try to keep your pets' daily routine as close to normal as possible. Let them do their normal activities that they are used to, in order to help reduce stress." You can help by keeping your pet in a quiet part of the house and making sure they have a safe retreat from children and well-intentioned visitors if needed.
Watching Out for Overindulgence
People are not the only ones who sometimes indulge in too much of a good thing. Table scraps, garbage raiding, and counter surfing can add up to lots of rich food in a pet's stomach, which may lead to stomach upset. Even worse, too much rich food can lead to serious inflammation of the pancreas, which can be life-threatening. Keep pets on a normal diet even though they may try to persuade you not to.
Being Mindful When Decking the Halls
Novel decorations like candles and greenery, and cat teasers like tinsel and cords, should be set up with your furry friends in mind. Pets don't understand the words "breakable," "family heirloom," or "sentimental value." Rambunctious dogs, cats, and ferrets have been known to topple many an ornament and knick-knack, and sometimes even whole Christmas trees.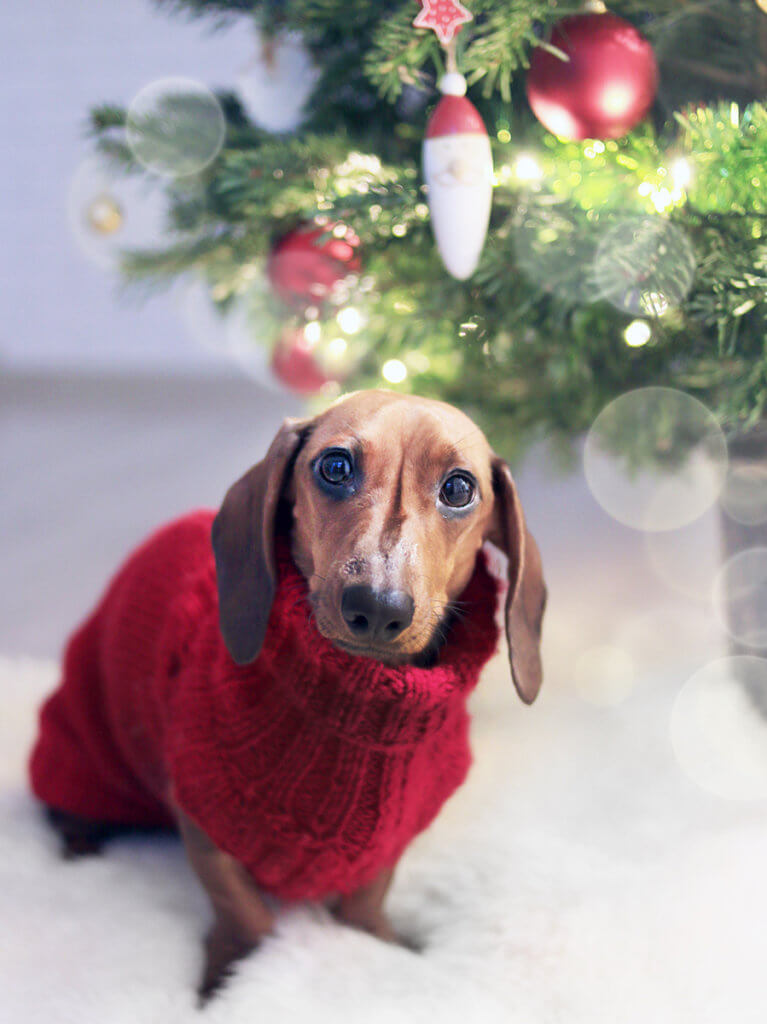 Help prevent tree mishaps by keeping larger and weightier ornaments close to the floor, and valuable ornaments out of reach from curious mouths, noses, and wagging tails. Keep knick-knacks on shelves inaccessible to your animal companions. Also, make sure Christmas trees are tethered to a nearby wall or window frame if you have ferrets or cats fond of climbing.
Dancing flames and shadows thrown by candles are tantalizing to pets. But disaster can strike in an instant if a curious animal topples a candle, or worse still, ignites itself. In addition to making sure candles are never left burning unattended, make sure wagging tails and curious paws are kept a safe distance away from lit candles.
Long, skinny pieces of plastic or string can be very dangerous to our furry friends. Cats and kittens seem to find shiny tinsel especially appealing. If eaten, thin pieces of string or tinsel can cause the intestines to bunch up and can even cut through the intestinal wall. Either situation could be fatal and would certainly necessitate a trip to the veterinarian.
Some animals, especially puppies, may chew cords and put themselves at risk of serious burns or electric shock. An animal that has been electrocuted may appear normal immediately after the injury. However, approximately 1-36 hours following the chewing incident, pulmonary edema starts to develop. This means that the lungs begin to fill with fluid and the animal displays very labored breathing, with an increased breathing rate and coughing. It looks like the animal can't catch its breath. Another clue that a pet has been chewing on an electrical cord is that the tongue or lips may have a white or seared area across it.
Plants and greenery like holly, ivy, poinsettia, pine, cedar, balsam, amaryllis, and mistletoe can be very toxic if a pet eats them as an evening snack. For pet owners who choose to decorate with a live Christmas tree, Dr. Rao explains that Christmas tree water is toxic when fertilizer is used. Visit the ASPCA website for a full list of poisonous plants. If you have an emergency, you can call the Animal Poison Control hotline at 1-888-426-4435.
Vacationing is Snow Laughing Matter
A holiday vacation means deciding whether to board your pets or take them with you. Depending on your pet's personality and the details of the trip, it may be better to board your pets or hire a pet sitter. Your veterinarian and pet-owning friends can provide recommendations for reputable boarders and sitters, but keep in mind that you should make reservations in advance, as facilities fill up early for the holidays. To be boarded, your pet will need to be up-to-date on all required vaccinations at least two weeks before boarding. You should also ensure they are collared with identification tags in case they manage to get loose from the boarding facilities.
Additionally, keeping vaccinations current is important if you chose to travel with your pet. You also may want to have a note from your veterinarian that your pet is in good health, just in case of emergency. Take along current medications, water, and bedding, and again make sure to have your pet collared with an ID tag. If traveling by vehicle, it is safest to confine your pet to a carrier. Animals that travel with you might need a mild sedative to help prevent anxiety and carsickness.
With the help of these tips, Dr. Rao says both people and pets can enjoy a safe and happy holiday season. If a pet does get sick or injured during the holidays, the Purdue University Veterinary Teaching Hospital's Animal Emergency Service is available 24/7. For emergencies, call or text 765-494-1107.
Writer(s): Lauren Bruce | pvmnews@purdue.edu