It's the Most Wonderful Time to Follow These Holiday Pet Tips
Friday, December 10, 2021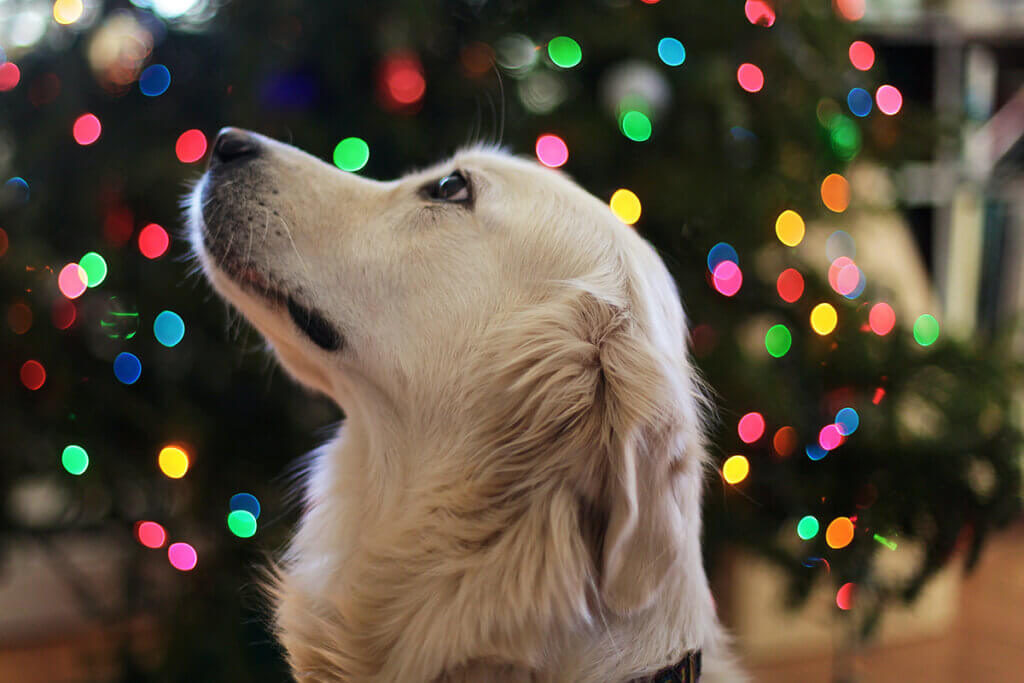 It's the most wonderful time of the year! The winter holidays bring loads of cheer as the warm smell of baked goods and treats fill the house, lights cast a warm glow over freshly-lain snow, and loved ones gather near. Although these staples of December bring loads of joy to many, they pose potential risks to our furry companions if not handled properly. Have a holly, jolly Christmas for you and your pet by following these holiday pet tips!
Cups of Cheer
Christmas cookies for Santa resting upon the fireplace, hot cocoa in warm mugs, candy canes galore, and other wonderful desserts make the holidays a tempting time with treats for people and pups alike. But remember that while these scrumptious treats may be safe for Santa, they can be harmful to our furry companions. Some savory foods may be dangerous, as well. During the holidays, most animal ER visits are due to pets eating something that is unhealthy or toxic for them. Christmas cheer and your pets' expertise in begging may make it tempting to share, but too much rich food consumed by a pet can lead to serious inflammation of the pancreas, which can be life-threatening. Your pets will feel a lot jollier if they stick to their normal diet.
Keep trash cans secure at all times – many items used in meal preparation can become dangerous if thrown away carelessly. When cleaning up after a meal, keep all leftovers securely sealed behind a pet-proof door.
Deck the Halls Safely
It's beginning to look a lot like Christmas! Decorating may be the most exciting part of the holidays, but keep in mind that some of these cheery decorations may be dangerous to pets. Decorative plants, such as mistletoe and holly, can cause vomiting and lilies are often deadly to cats. Ribbons and tinsel are especially attractive and hazardous to cats and other curious critters. Display these decorations off the floor and out of reach of your furry friends.
Keep an eye on electrical cords to ensure puppies and kittens don't chew on them. An animal that has been electrocuted may appear unharmed immediately following the injury. However, approximately 1-36 hours after the incident, pulmonary edema begins to develop – a condition in which the lungs begin to fill with fluid and the animal displays very labored breathing, with an increased breathing rate and coughing. White or seared areas on the tongue or lips of your pet are other signs they have been chewing on an electrical cord.
Cats and other agile pets may be tempted to climb Christmas trees. Be aware of any breakable ornaments that may become a hazard and avoid garnishing your tree with any open-flame candles. Hang the heaviest ornaments at the base of your tree. Keep any valuables and candles on shelves out of reach of your furry friends to avoid heartbreaking incidents that can be the fault of an excited, wagging tail.
Many families carry on the tradition of choosing a live Christmas tree for their home. If this applies to your family, be aware that Christmas tree water is toxic when fertilizer is used. If an emergency occurs and your furry friend ingests toxic fertilizer, call the Animal Poison Control hotline at 1-888-426-4435.
Walking in a Winter Wonderland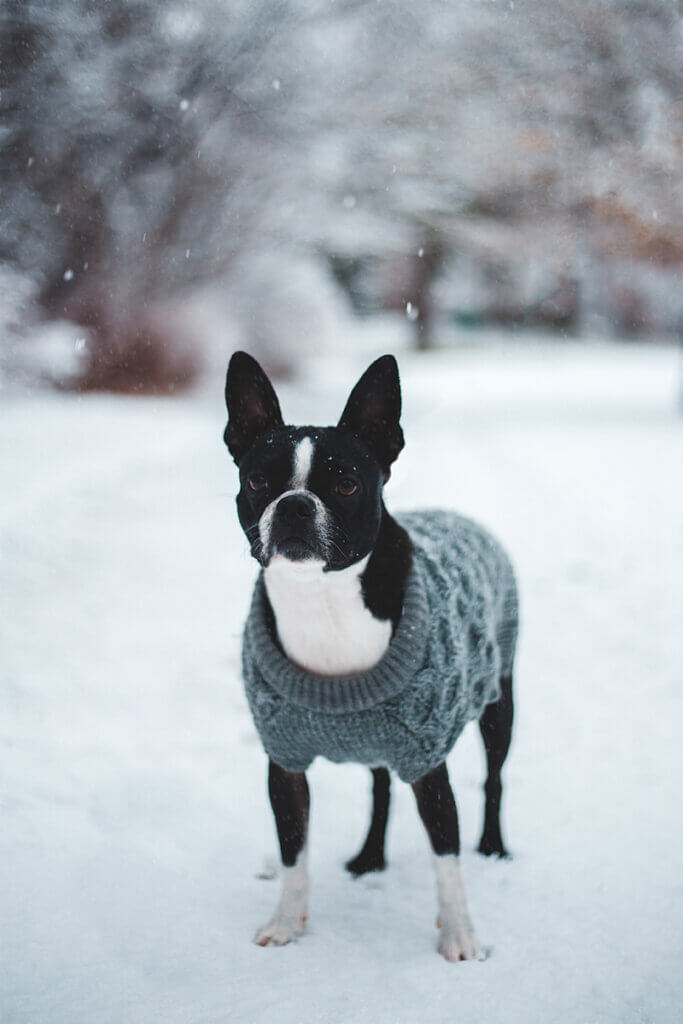 When the weather outside is frightful, salt on roads and sidewalks may be caustic (cause burning or corrosion) to pets' paw pads – be sure to wipe their feet after a walk or consider providing them with protective paw booties. Small pets are especially vulnerable to the frigid air – don't be afraid to bundle them up in a festive sweater of their own!
Dr. Steve Thompson, clinical associate professor of small animal primary care, provides an additional piece of advice about venturing out into the snow, alerting everyone to be aware of stray cats, as some will hide under a warm car hood. "It is a good idea to tap on the car hood a couple times in the morning along with your routine of scraping frost from your windshield," Dr. Thompson said. "This should startle a sleeping cat by your engine and get them out of harm's way prior to starting your car in the morning."
New pets are often welcomed into homes for Christmas – who wouldn't want to be surprised with a new puppy or kitten? Unfortunately, the holiday excitement of toys, treats, music, and laughter can be overwhelming for new members of the household, especially young animals. It's best to wait until after the holidays to introduce new pets into your home in a safe, quiet environment.
This excitement may even become stressful for pets that have been acclimated to your home for quite some time. "Social pets who enjoy visitors love the holidays," said Dr. Thompson. "However, timid or independent cats and dogs often need a back room or favorite crate to find their own space when new visitors come." Although it's never easy to say goodbye to your furry friend for the evening, keep your pet's comfort in mind by providing them with a safe space if the holiday cheer becomes overwhelming.
Many choose to escape the snow and travel somewhere warm over the holidays. If this is the case, you may need to decide whether to board your pets or take them along for the ride. If you choose to board your pet, make reservations for reputable boarders and sitters in advance, as spaces fill up quickly this time of year. To be boarded, your pet must be up-to-date on all required vaccinations at least two weeks prior to being dropped off. It is wise to ensure your pets are collared with identification tags in case they manage to escape from their temporary home. If traveling by vehicle, it is safest to keep your pet comfortable in a carrier. Animals that travel with you might need a mild sedative to help prevent anxiety and carsickness.
Have a plan in case your pets consume food that is toxic to them, get injured, or escape on Christmas – or any other day. Know the phone number and location of your local veterinarian along with their daily hours of operation. Many veterinary clinics do not take after-hours emergencies, but refer them.
The Purdue University Veterinary Hospital Emergency Service, however, takes emergencies 24 hours a day, 365 days a year. You can contact the Small Animal Hospital Emergency Service at 765-494-1107.
About the Purdue University Veterinary Hospital Small Animal Primary Care Service
During regular business hours, the Veterinary Hospital's Small Animal Primary Care Service provides full-service primary veterinary care to pets, emphasizing communication, education, and service to clients, while operating as a model of private small animal practice to allow veterinary medicine and veterinary nursing students to gain experience in primary veterinary care and client communication. The service provides veterinary care for dogs and cats as well as a variety of other exotic animal species including birds, fish, rabbits, ferrets, reptiles, and more. To schedule an appointment, call the Veterinary Hospital at 765-494-1107.
Writer(s): Madeline Brod, PVM Communications Intern | pvmnews@purdue.edu