Indiana's Top Dog, Henry Holcomb, Tours Purdue University Veterinary Teaching Hospital
Friday, May 31, 2019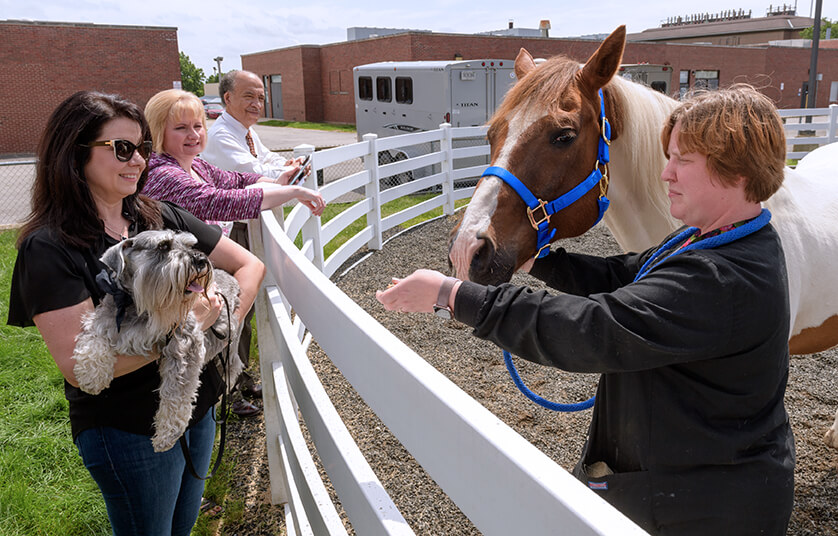 The Purdue University College of Veterinary Medicine was graced with the presence of a celebrity May 23, when the First Dog of Indiana, Henry Holcomb, toured the Veterinary Teaching Hospital with his mom, Indiana First Lady Janet Holcomb. Henry is a seven-year-old Miniature Schnauzer and social media star (@FirstDogHenry) whose job as First Dog of Indiana includes touring the state to meet the many people and animals of Indiana. Henry was interested learning more about the Veterinary Teaching Hospital after realizing that his dad, Governor Eric Holcomb, helped PVM get state funding toward construction of new hospital facilities when he signed the new state budget bill into law.
Henry meets PVM's Henry, Dr. Henry Green, associate professor of cardiology. (Photo courtesy of Henry Holcomb)

Dean Willie Reed shows Henry the hospital's computed tomography (CT) unit. (Photo courtesy of Purdue University/John Underwood)

Jessica Bowditch, RVT, CCRP, rehabilitation and neurology technician, greets Henry Holcomb as he visits the Physical Rehabilitation service. (Photo courtesy of Purdue University/John Underwood)
Henry and Mrs. Holcomb had the opportunity to meet with clinicians, veterinary nurses, students, and even patients, as they took a guided tour with Dean Willie Reed through portions of the Small and Large Animal Hospitals. Henry enjoyed seeing many friendly faces, human and animal alike. He and Mrs. Holcomb also met student representatives from the Vet Up! College program, as well as members of the various hospital service teams, including Cardiology, Medical Oncology, Hemodialysis, Physical Therapy, Priority 4 Paws, Bovine Ambulatory, Large Animal Surgery, Equine Community Practice, and Emergency and Critical Care. Henry even got to meet Zippy and Ethel, the PVM teaching horse and cow.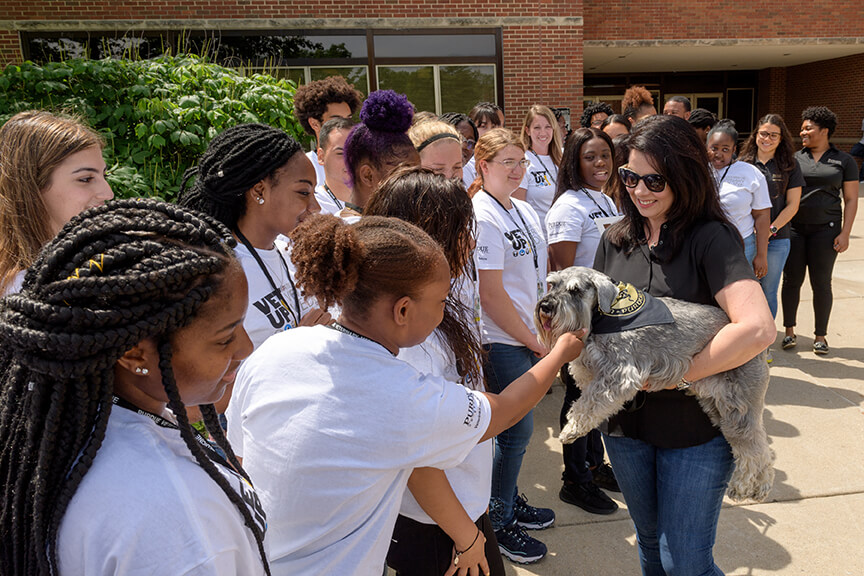 "No dog loves going to the vet," said Janet Holcomb, reflecting on Henry's visit. "He was a little nervous at first, but I think he finally figured out that he was not going to be receiving any shots or vaccinations… he's already had those for this year." The First Lady said Purdue Veterinary Medicine is Henry approved.
The visit was covered by WLFI-TV and Mrs. Holcomb expressed excitement about the new facilities during an interview with TV 18 personality Demie Johnson. "These upgrades are going to revolutionize the facilities here. Obviously the school has grown and the capabilities of veterinary medicine have changed [over 60 years]," Mrs. Holcomb said.
Thank you to Susan Xioufaridou, Lee Ann Happ, and Lauren Bruce for organizing the press tour, and to all of the hospital faculty and staff who helped convey the story of the hospital's mission to Henry and the governor's office.
To see more coverage of Henry's visit to PVM, see our Instagram Story @PUCVM and our Facebook photo gallery documenting the tour. Henry Holcomb also posted a detailed photo gallery of his visit on his Facebook page.
Writer(s): Lauren Bruce | pvmnews@purdue.edu