In Memory: Dr. Jerry Buening (PU DVM '64; PhD '69)
Friday, October 1, 2021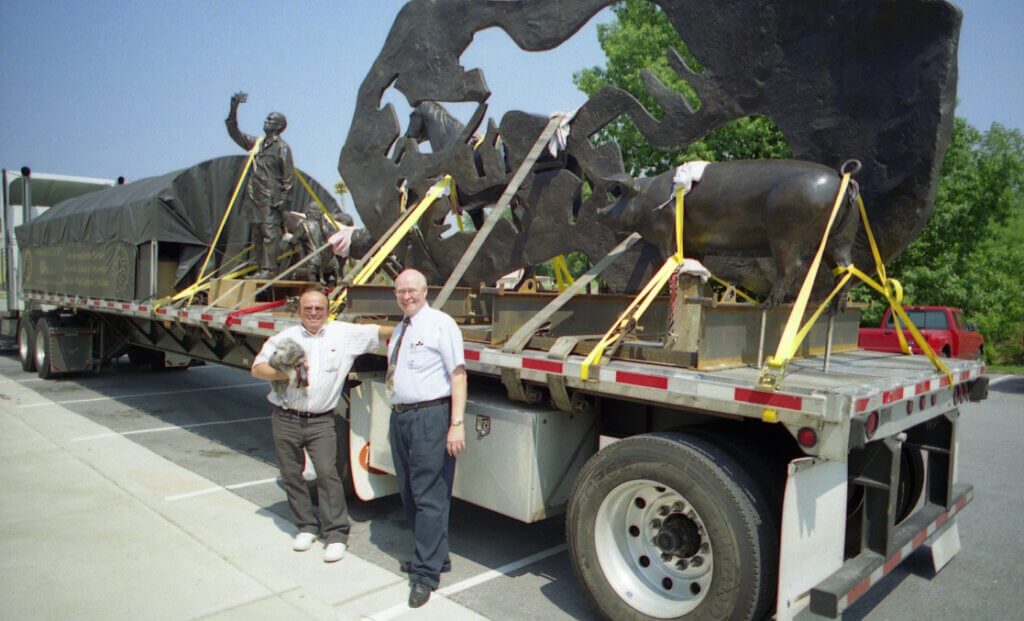 The Purdue family mourns the loss of Dr. Jerry Buening of Columbia, Mo., a member of the College of Veterinary Medicine's second graduating class, who passed away Wednesday, September 22, at his home. He was 81.
A native of Greensburg, Ind., Dr. Buening enrolled in the College of Veterinary Medicine one year after it opened and earned his DVM degree in 1964. After graduating, he continued his studies at Purdue, earning his PhD degree in 1969 when he began working at the University of Missouri College of Veterinary Medicine as a faculty member in veterinary pathobiology and in later years as an administrator. During his tenure, as a loyal Purdue alumnus, he was instrumental in hosting a special event at the college in 2000 for the Continuum sculpture as the artwork was being transported on an open flat-bed trailer from the Pacific Northwest, where it was created, to Purdue University for its installation and dedication in front of Lynn Hall. As part of the trek across the country, the sculpture passed through Columbia and made a stop at the University of Missouri College of Veterinary Medicine, where people were invited view the sculpture figures. Dr. Buening was Purdue Veterinary Medicine's key contact for that event. (Click here to view a historical article that mentions the sculpture transportation and preparations for the sculpture installation).
Dr. Buening retired from his full-time faculty position in 2002 but continued working at the college in a part-time capacity through 2005. After retirement he adopted several hobbies including weaving, woodworking and carving, tie-dying, and pottery, skills that resulted in several creations that he gave to his children and grandchildren. He also worked with Habitat for Humanity building houses for several years and was active in Toastmasters along with his wife, Carolyn.
Dr. Buening is remembered as a very kind and loving husband, dad, and grandpa. He will be greatly missed.
A funeral service was held Wednesday, September 29 at Memorial Funeral Home in Columbia, Mo. Memorial contributions may be made to the American Diabetes Association, P.O. Box 7023, Merrifield, VA 22116-7023.
Click here to view the complete obituary.
Writer(s): Kevin Doerr | pvmnews@purdue.edu