Hybrid White Coat Ceremony Honors Purdue Veterinary Students Entering Clinical Year
Friday, May 14, 2021
The Purdue University College of Veterinary Medicine continued a beloved tradition with a twist as, for the first time in history, it hosted the annual White Coat Ceremony as a hybrid event on the eve of the third-year veterinary students' transition to their clinical training. In keeping with the provisions of the Protect Purdue Pledge, the students were able to participate in-person along with guest speakers, including Professor of Large Animal Surgery Nickie Baird, who was selected by the students to share words of advice, as the students' friends and families watched online.
When the ceremony began at 1:00 p.m., on Saturday, May 8, over 250 households logged on to YouTube Live to watch as members of the DVM Class of 2022 received their white coats from Purdue Veterinary Medicine Dean Willie Reed. The program marked the 20th year for the annual White Coat Ceremony, which honors the third-year veterinary students as they prepare to embark on their final year of the DVM curriculum. Numerous alumni and friend donors, the Indiana Veterinary Medical Association (IVMA), and Elanco sponsored the event.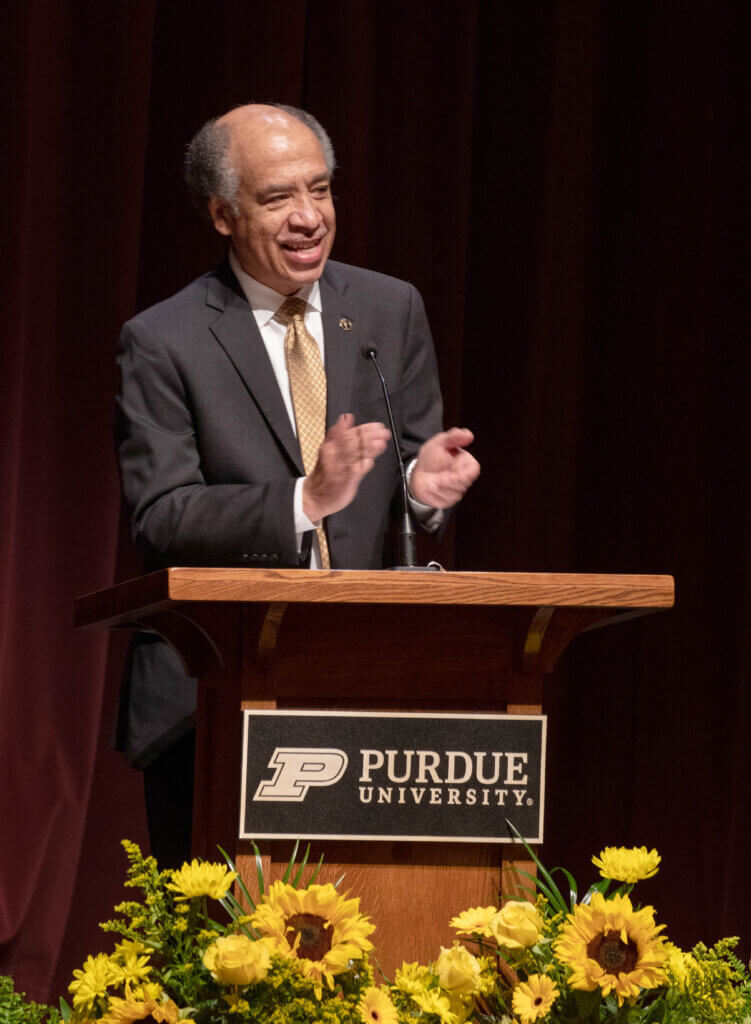 Dean Reed began the ceremony by thanking the many families, friends, and loved ones who attended the special occasion virtually. "It is now time to celebrate this rite of passage for our third-year veterinary students," Dean Reed said, as he explained how the ceremony marks the students' passage from the classroom into the clinic. "The white coat indicates your acceptance of your great responsibility toward your patients and clients, your commitment to show compassion and empathy, and to make a positive difference in the life of every animal and person with whom you come in contact," Dean Reed said.
The students then heard from Dr. Nickie Baird, professor of large animal surgery and chief of staff for the Large Animal Hospital, who offered a clinician's insights regarding the journey ahead for the students. Dr. Baird taught the students during large animal surgery courses and will instruct them during the coming year in their large animal surgery rotations. He was selected to speak at the ceremony by a vote of the third-year class members. "Thank you for honoring me with the responsibility to share a few words during this exciting occasion – an occasion where I'm choosing to say it's the beginning of many great things ahead," Dr. Baird told the students. "I do truly consider this an honor and without a doubt a highlight of my recent professional life." Referring to his association with multiple veterinary colleges during his career, Dr. Baird noted, "You are my 37th graduating class – nearly 4,000 veterinarians from four different universities." He then encouraged the class by saying, "Starting tomorrow morning, you have the opportunity to become the best graduating class I've ever had."
As for advice, Dr. Baird suggested, "Between today and starting clinics: get lots of sleep, hydrate, put on a few pounds to cover losses during the next year, stock up the pantry and tell your loved ones you will see them next May." Dr. Baird also encouraged the students by explaining that they will enjoy their clinical year and learn a lot while being surrounded by faculty and clinicians concerned for their physical and mental health, as well as their education. He concluded, "We are all so excited to watch you all grow during this clinical year."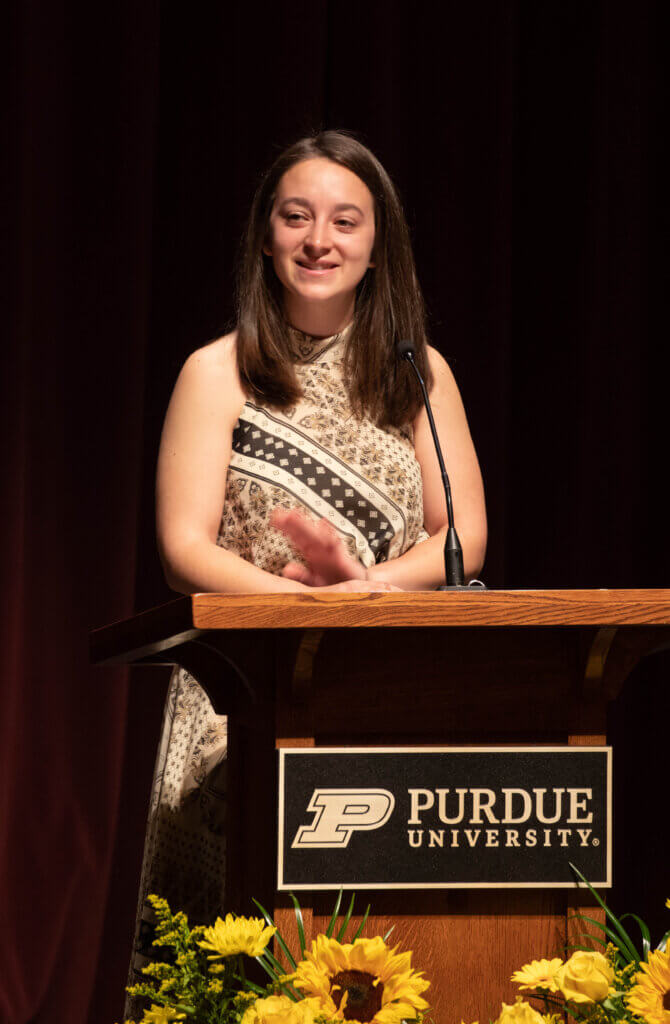 After Dr. Baird's address, a fourth-year student, Sarah Stram, shared words of wisdom as a member of the DVM Class of 2121 – the class that just finished its clinical year. Sarah began her remarks by asking the third-year students how many of them have counted down the days until they would become veterinarians. She then described the emotional highs and lows of treating patients and working with their owners, noting what a joy it is to identify a treatment plan for a pet and then find out that it is identical to the one prescribed by the clinician. One particular experience Sarah shared was interacting with an owner after a dog's cataracts were removed enabling the dog to see for the first time in many years.
Dean Reed then made his way across the stage to help the students don their white coats while Associate Dean for Academic Affairs Kathy Salisbury announced their names. Each white coat included a name badge provided by the Indiana Veterinary Medical Association that was pinned on the front.
The ceremony also included the presentation of awards recognizing individual members of the class for special accomplishments. The following award winners were honored:
Chris Williams – Dr. William W. Carlton Award for Aptitude in Veterinary Pathology, which recognizes a third-year student who has shown aptitude in the study of pathology
Emily Hess – Indiana Horse Council Equine Industry Award, which honors a veterinary student who has provided the greatest exposure of the equine industry to other students.
Timothy Brunner – Holly Watts Memorial Award, which honors a veterinary student with exceptional interest and proficiency in non-domestic animal medicine
Clint Peacock was recognized for his leadership as president of the Purdue student chapter of the American Veterinary Medical Association (SAVMA)
Dean Reed concluded the program by congratulating the members of the Class of 2022 on reaching this pivotal point in their training. "The coming year will be a phenomenal learning experience," Dean Reed said. "Immerse yourself in it so you can become the best veterinarian you can be, and have fun!"
Dean Reed also thanked the alumni and friends who sponsored the white coats and wrote encouraging messages that were included in packages mailed to students in advance of the event. The college sincerely appreciates the generous donors who supported this year's White Coat Ceremony and made it possible for each student to receive a note of congratulations and encouragement. In addition to the support provided by the IVMA and Elanco, White Coat Ceremony sponsorships were received from the following donors as of April 6, 2021:
Dr. Stephen (PU MS '78) and Mrs. Emalese Adams
Dr. James Blakemore, in memory of Jeannie Blakemore
Dr. Philip (PU DVM '75) and Mrs. Jill Borst
Dr. Deborah Buckner (PU DVM '83)
Mrs. Stacy Campbell
Mr. Reamond and Mrs. Rosemary Card
Dr. Tamara (PU DVM 2003) and Mr. Andrew Chastain
Dr. Roy Coolman (PU DVM '65)
Ms. Cassandra Cords
Dr. Karen Cornell (PU DVM '88)
Drs. Laurent Couëtil and Nathalie Duval-Couëtil
Crossroads Animal Hospital
Dr. Dawn Dinger (PU DVM '97)
Dr. Michael (PU DVM '86) and Mrs. Cathy Etter
Dr. David Fenoglio (PU DVM '76)
Ms. Leslie Ferguson
Dr. Marxa Figueiredo
Dr. Justine Gullaba Chaille (PU DVM 2017), in memory of Dr. David Huse
Dr. William Haines (PU DVM '65)
Dr. Michelle Hendrickson (PU DVM 2012)
Mr. Gary and Mrs. Michelle Henriott, in memory of Lary Troutner
Hobart Animal Clinic, Inc.
Dr. Frederic (PU DVM '76) and Mrs. Martha Hoerr
Dr. Ronald Hullinger
Paula Kinnamon
Dr. Brittany Kraft (PU DVM 2014), in memory of Dustin, former teaching dog, loved by all and dearly missed
Dr. Ronald (PU DVM '74) and Mrs. Linda Kraft, in memory of my wonderful classmates and friends who have passed on
Dr. David (PU DVM '79) and Ms. Emily Liggett
Dr. Maria Littles (PU DVM 2009)
Dr. Ellen Lowery
Dr. Michael Mawhorter (PU DVM '82)
Dr. Xanetta Miller (PU DVM 2017)
Dr. Jeffry Morrison (PU DVM '72)
Dr. Stephen Naile (PU DVM '71)
Dr. Sandra (PU DVM '80) and Mr. Frederick Norman
Dr. Niwako Ogata
Dr. Jesse Page (PU DVM 2013)
Dr. Toni Pellerin (PU DVM 2003)
Drs. Willie (PU PhD '82) and Dorothy Reed
Dr. Robert Rich (PU DVM '63)
Briana Harvey-Ross
Dr. Anthony (PU DVM '85) and Mrs. Hella Rumschlag
Dr. Paul (PU DVM '78) and Mrs. Janice Runnels
Mr. Larry and Mrs. Debra Rzepczynski
Dr. S. Kathleen Salisbury (PU MS '84)
Ms. Karen Schefmeyer
Dr. John (PU DVM '70) and Mrs. Barbara Schnarr
Dr. Roger (PU DVM '81) and Mrs. Nathalie Schrock
Dr. Jeffrey (PU DVM '89) and Mrs. Brenda Shelton
Ms. Joanne Troutner
Dr. Jim Weisman (PU DVM '97)
Dr. Loretta (PU DVM '93) and Mr. Gary Wernert
Mrs. Kathleen Widner, in memory of Molly Widner
Dr. Alice Stewart Wyatt (PU DVM 2009)
Dr. David Younts (PU DVM '68)
Congratulations to the DVM Class of 2022!
Writer(s): Susan Xioufaridou | pvmnews@purdue.edu