Honoring A Legacy – Retiring Large Animal Clinician Recognized by Equine Enthusiasts
Friday, March 19, 2021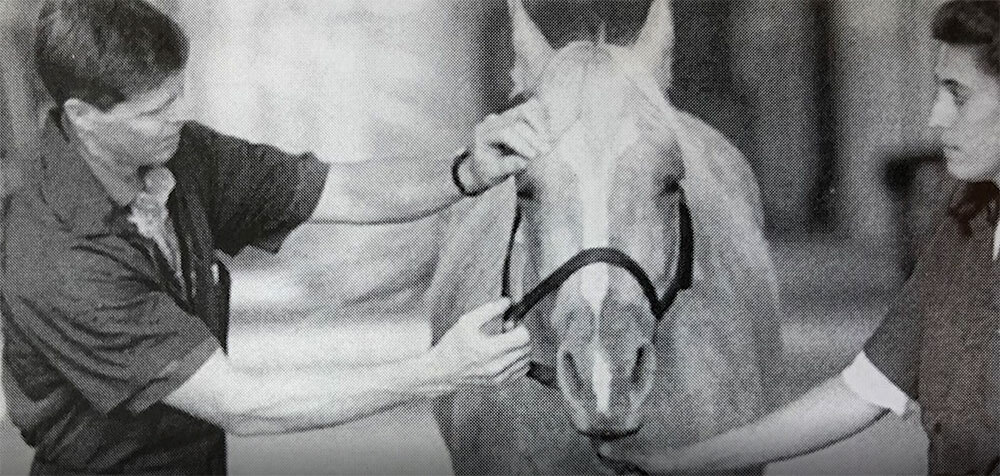 The 2021 Equine Wellness Forum provided a perfect opportunity for the Purdue University College of Veterinary Medicine to honor a legendary large animal clinician for his nearly 40 years of tireless service to animals and their owners. Dr. Stephen Adams, professor of large animal surgery, will retire this summer. In conjunction with a talk he gave during the virtual forum on February 6, clients and colleagues paid tribute to the specialist in equine surgery for his longtime Purdue career in which he served as a quintessential clinician, educator and researcher.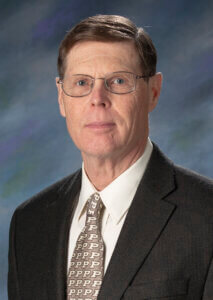 Dr. Adams began his experience in the world of veterinary medicine by helping raise Standardbred horses before earning his DVM degree in 1975 at Cornell University. He then came to Purdue where he completed his large animal surgery residency, earning his MS in 1978, and then joined the faculty as assistant professor of large animal surgery. In 1981 he became board certified by the American College of Veterinary Surgeons. Rising through the academic ranks, he was promoted to full professor in 1987.
During his time at Purdue, Dr. Adams has earned numerous teaching awards, including the prestigious Raymond E. Plue Outstanding Teacher Award. As a scholar, his research interests have focused on equine orthopedics/orthopedic infections, joint disease and lameness. Throughout his career, he has published numerous journal articles and written 20 book chapters, while also fulfilling national and international speaking engagements.
One of his most recent projects involved serving as a vital member of the team that launched the new Caesars Entertainment Equine Specialty Hospital in Shelbyville, Ind. He then became the facility's medical director. Dr. Adams also has been recognized as an Honored Mentor of the American College of Veterinary Surgeons. Furthermore, he has been praised for his ability to utilize new and innovative surgical techniques such as when he was involved with the first unilateral lung resection in an adult horse to treat an extensive granular cell tumor. Additionally, Dr. Adams has been recognized for his empathy and compassion toward his patients and for always making students' learning a top priority.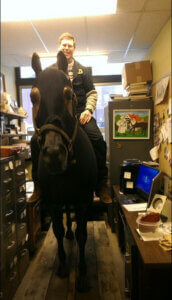 A native of upstate New York, Dr. Adams has been in Indiana long enough to be considered a "Hoosier." To celebrate his retirement, colleagues as well as Large Animal Hospital clients who have had their horses treated by Dr. Adams shared memories. Messages that were submitted for the tribute included several letters as well as a video showing Dr. Adams sledding with members of the PVM family.
One of the letters shared at the Equine Wellness Forum came from a client who wrote, "I am a relative newcomer to the Equine Clinic, but my experience has been better than I could ever have expected." The client, Liz Canty, continued, "I brought my 19-year-old Qu mare to the clinic for severe founder [laminitis]. Dr. Adams showed me a case study and gave me the necessary information so I could proceed with a bilateral tenotomy with confidence. She will turn 21 this spring, and has never been as sound as she is now. I can even ride her again, which was a gift I had not expected. Huge thank you to Dr. Adams and best wishes for a wonderful retirement!" Her message summed up the feelings of many who honored Dr. Adams virtually that day during the Equine Wellness Forum for his outstanding career and legacy of excellence in education, research and service. Click here to view the tribute video played during the forum, which includes the sledding video as well as some of the tribute letters.
Writer(s): Jonathan Martz, PVM Communications Intern | pvmnews@purdue.edu