Giant Leaps Home: 2021 Homecoming
Friday, October 1, 2021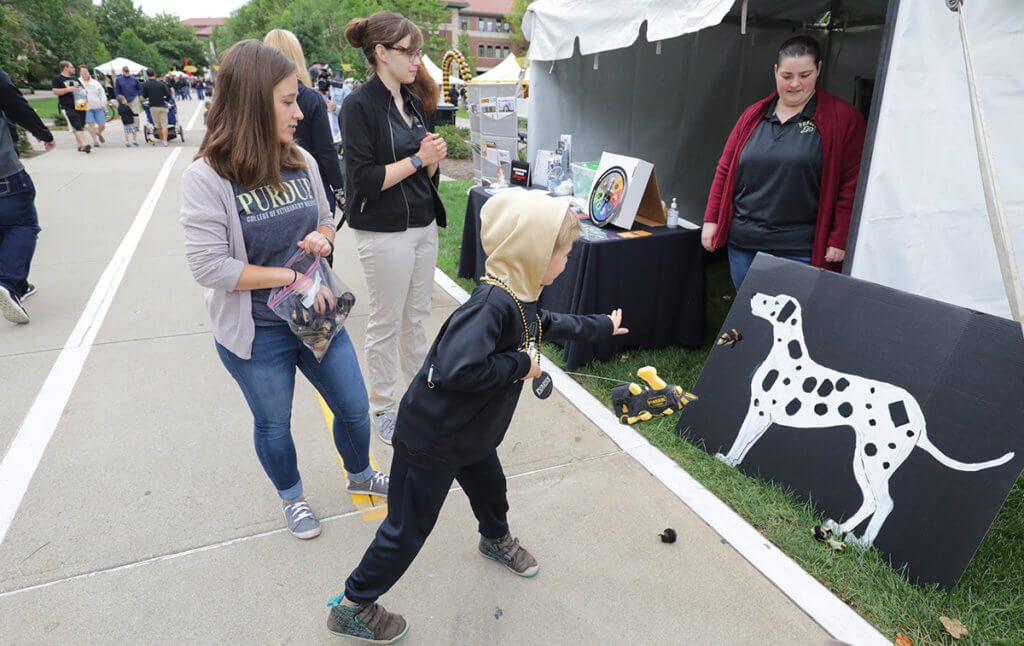 Boilermakers from the Purdue University College of Veterinary Medicine will be ready rain or shine to meet and greet Purdue alumni, football fans, and community residents on "Boilermaker Boulevard", during the family-friendly celebration on the Purdue Mall tomorrow morning (Saturday, October 2). The event will be held before kick-off for the Purdue Homecoming football game against Minnesota.
Purdue University Small Animal Hospital Primary Care Clinician Lori Corriveau (PU DVM '99) and PVM students will be on-hand at the college's tent to answer visitors' pet health questions, while armed with plenty of treats for dogs and cats. They also will provide information on the importance of flea and tick preventatives with additional fun activities including a "Wheel of Tick" trivia game, and a "Tick Toss" game, as well as opportunities for photo ops with dogs, cats, and pocket pets!
The family-friendly celebration is just one of many special events during Purdue's Homecoming Celebration. Join in the fun and stop by the College of Veterinary Medicine tent Saturday morning between 9:30 a.m. and 11:30 a.m. to say hi! The college's tent (#6) will be located in front of the Forney Hall of Chemical Engineering near the Engineering Fountain. In addition to over 30 tents representing colleges and organizations across the University, other Boilermaker Boulevard activities include a football toss (next to the PVM booth), Boiler Beer Garden, Purdue Food Co., backdrops for photo ops, and more! Click here to plan your visit to Boilermaker Boulevard.
Homecoming festivities will conclude with the Boilermakers taking on the Minnesota Golden Gophers at 12:00 p.m. in Ross Ade stadium. Boiler up!
Writer(s): Susan Xioufaridou | pvmnews@purdue.edu