Families Advised, "Don't Give Dental Care the Brush-off" at PVM Family Program Series
Friday, March 22, 2019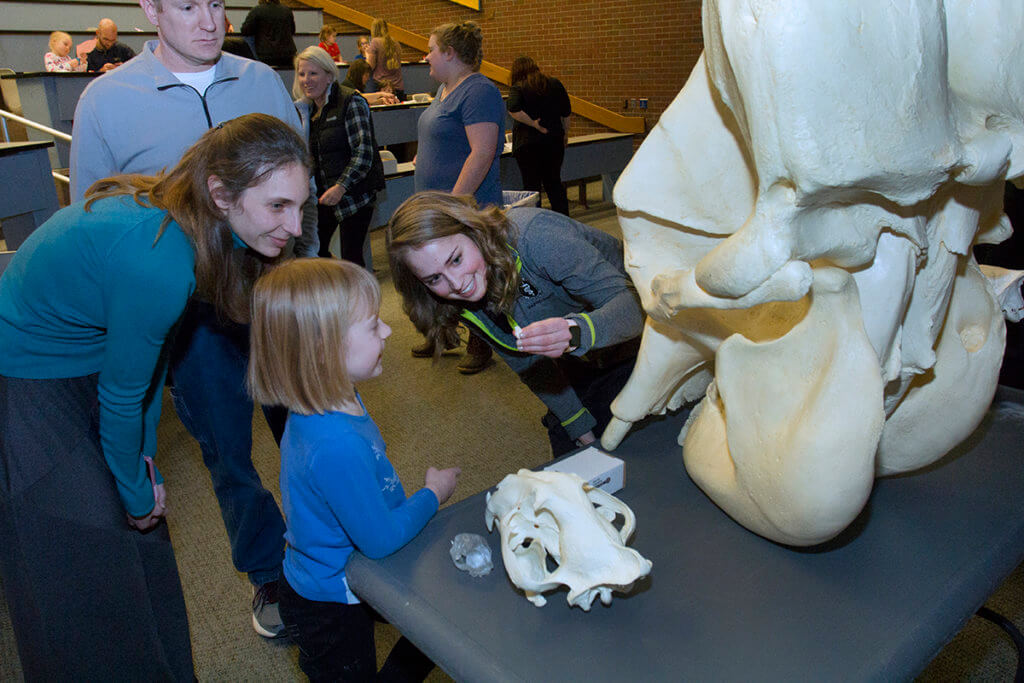 Purdue Veterinary Medicine hosted its final Family Program Series interactive session of the semester on March 7 with the topic "Don't Give Dental Care the Brush-off". Liane Shaw, RVT, diagnostic imaging instructional technologist in the Purdue University Veterinary Teaching Hospital, led the exciting evening focusing on dental hygiene for pets. Liane emphasized the importance of understanding why pets should receive dental care like humans do, and how pets' teeth are cared for. Attendees were able to talk about the differences in the teeth of various animal species and learned how they could help care for their pet's teeth at home.
Participants enjoyed making paper hand puppets with marshmallow "teeth" during the final PVM Family Program Series event of the semester entitled, "Don't Give Dental Care the Brush-off."

Samantha Thompson, of the Veterinary Nursing Class of 2021, shows off a hand puppet to the audience at the PVM Family Program Series event on dental care for pets.
The event offered opportunities for children to gain hands-on learning experiences related to dental hygiene for both humans and animals. Children were able to look at large models of human teeth and practice brushing techniques and take a look at teeth in animal skull models.  For example, canine teeth models helped the children gain a better understanding of dental hygiene for dogs and compare a healthy canine dental model to an unhealthy model. The young people in attendance also learned about dental care through an activity in which they each were able to glue marshmallows onto a hand puppet made from a bag to replicate teeth on an animal face.  Each student left with a toothbrush for themselves, the book "Donkeys Need Dentists, Too", and a dental chew for their dog.
The PVM Family Program Series is designed for families with young children who are interested in learning more about the veterinary profession. The program offers sessions in both spring and fall and is set to resume this coming October. Click here for more information on the PVM Family Program Series.
Writer(s): Amanda McCormick, PVM Communications Intern | pvmnews@purdue.edu