DVM Student Wins National Award for Essay on Wildlife Rehabilitation
Friday, March 6, 2020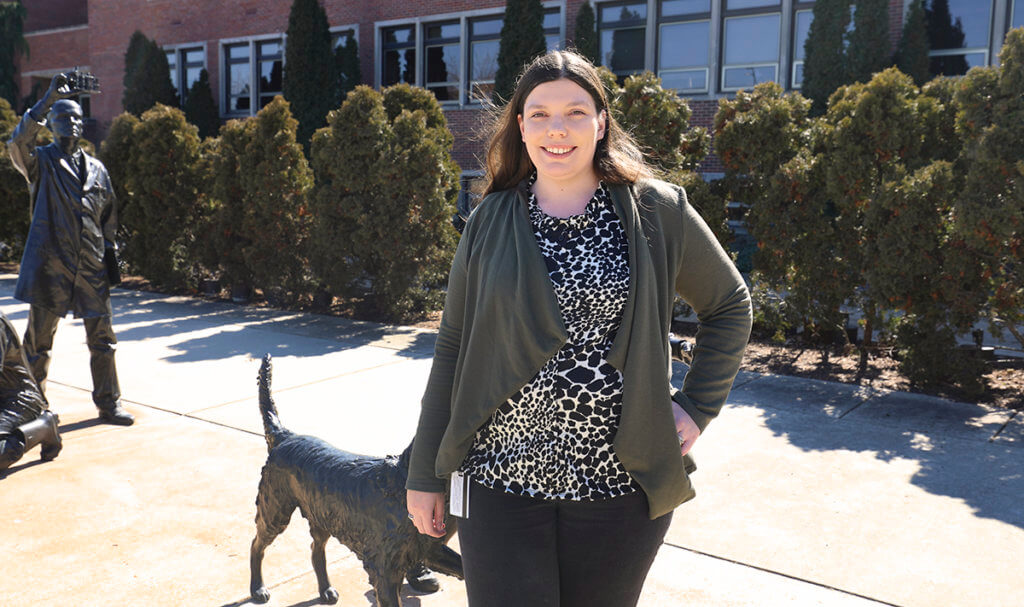 Shelbie Dell, a member of the Purdue DVM Class of 2021, is one small step closer to her goal of become a wildlife veterinarian, thanks to a major scholarship award from the National Wildlife Rehabilitators Association (NWRA). Shelbie received the scholarship for an essay she wrote highlighting the importance of species conservation during rehabilitation of chelonians.
The NWRA works to improve and promote wildlife rehabilitation and preservation of natural ecosystems. The organization offers only two scholarships for veterinary students to attend their annual symposium. Shelbie received the Ed Hiestand Memorial Veterinary Student Scholarship, which provided her with the opportunity to present her paper at the meeting and have the paper published in a peer-reviewed journal. Another benefit is being able to network with professionals in the field of wildlife rehabilitation. The scholarship award included registration for the NWRA Symposium, which was held last week, February 25-29, on South Padre Island, Texas, and $1,000 to defray travel expenses.
Entitled, "Release and Medical Considerations in the Rehabilitation of Chelonians," Shelbie's paper explored why it is important to consider the methods by which diseases are spread among turtle and tortoise species and how to prevent such occurrences through responsible rehabilitation practices. In addition to presenting her essay at the symposium, Shelbie also shared a poster on zoonotic disease prevention in the rehabilitation setting and assisted with several workshops.
Shelbie has been involved in wildlife rehabilitation for a number of years. While pursuing her DVM degree, she has also become a Certified Wildlife Rehabilitator through the International Wildlife Rehabilitation Council. She has a particular interest in avian rehabilitation and conservation and hopes to complete an internship in wildlife medicine after graduating in May 2021.
Writer(s): Maya Sanaba, PVM Communications Intern | pvmnews@purdue.edu