DVM Class of 2023 Marks First of Many PVM Traditions at Stethoscope Dinner
Friday, September 13, 2019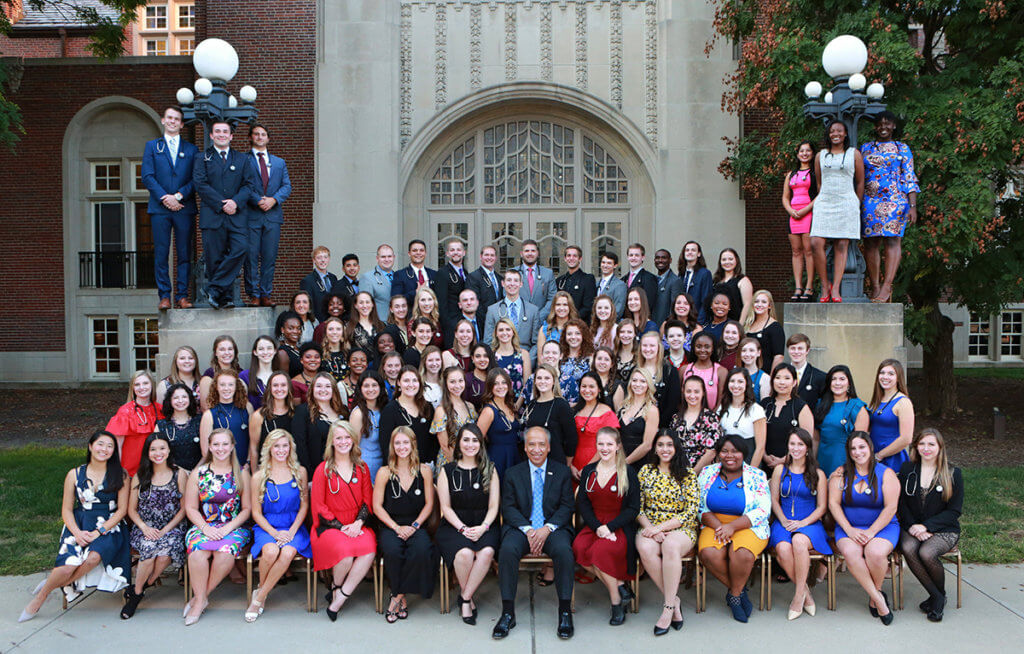 First-year veterinary medicine students reached a milestone last week when they received their stethoscopes at the annual DVM Stethoscope Dinner. The event on Thursday, September 5, was co-sponsored by the Purdue Veterinary Alumni Association (PVAA), the Indiana Veterinary Medical Association (IVMA), and Patterson Veterinary Supply.
Held at the Purdue Memorial Union's West Faculty Lounge, the dinner included remarks by Dean Willie Reed, who offered his congratulations and well wishes. "You will forge many lifelong friendships during these four years, so cherish every moment," Dean Reed said. He also thanked Patterson Veterinary for providing the stethoscopes, as well as the IVMA for its support, noting, "This dinner really is a reflection of the partnership, interaction, and cooperation that exists between the PVAA, the IVMA, and our college."
Dr. Matt Cantrell (PU DVM 2010), president of the IVMA, also spoke and described the IVMA's journey alongside the students throughout their four years in veterinary school. "Tonight we sponsor your stethoscopes, next year we put on a wellness session for you, in your third year we sponsor your white coat ceremony and name tags, and in your final year in veterinary school we provide career opportunities, proficiency awards, scholarships, and help with accreditation day and graduation." Dr. Cantrell added, "There is much good to be found in the collegiality, commiseration, and collaboration that comes with being an active member of your veterinary association."
Speaking on behalf of the PVAA, the association's president, Dr. John Feutz (PU DVM 2005), welcomed the students to the Purdue Veterinary Medicine family and advised them to achieve a good balance between their academics and personal lives. Rob Fulkerson, of Patterson Veterinary, wrapped-up the remarks by acknowledging the difficulty of going through veterinary school and emphasizing the importance of having a strong support system during veterinary school and beyond.
The event concluded with PVM staff members Suzanne Kennedy and Susan Xioufaridou handing out the stethoscopes to students, who then gathered for a celebratory group picture outside the Purdue Memorial Union.
Writer(s): Maya Sanaba, PVM Communications Intern | pvmnews@purdue.edu