DVM Class of 2022 Interviews Underway
Friday, January 19, 2018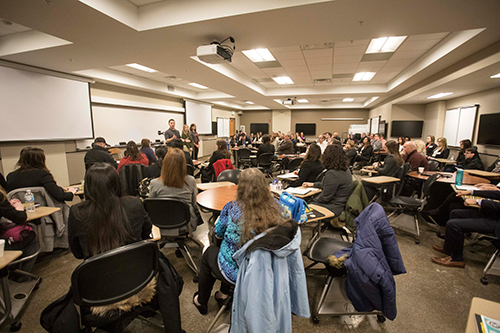 Prospective student interviewees and their families listen intently to an interest table discussion on "Life as a 1st Year Veterinary Student" with first-year Purdue Veterinary Medicine students Matt Schiffman, Brooke Matusiak, and Kayla Hoenert as part of the DVM Interview Day in Lynn Hall.
Purdue Veterinary Medicine is abuzz today as future veterinarians-in-training navigate Lynn Hall during the first of two interview days. About 260 prospective Purdue veterinary students are visiting Lynn Hall today and next Friday (January 26) for admissions interviews. They are being greeted by a number of volunteers at welcome tables in Lynn Hall. Feel free to stop by G210, which is used as a reception area, to welcome these students and their families to Purdue.
The interviewees come from all across Indiana and the U.S. to participate in this phase of the admissions process. In addition to the personal interviews, the prospective students are able to take tours and participate in discussion sessions about various topics including international programs, "Life as a Veterinary Student," and the Food Animal, Equine and Mixed Animal tracks. Each interview day will conclude with the Interviewee Banquet, which includes a student panel discussing "What's it really like at PVM?" in the Purdue Memorial Union North Ballroom.
Thank you for helping our guests feel welcome on this very important day in their lives and in the life of our College. If you have any questions about the interview process, please feel free to stop by the Student Services office (LYNN 1185).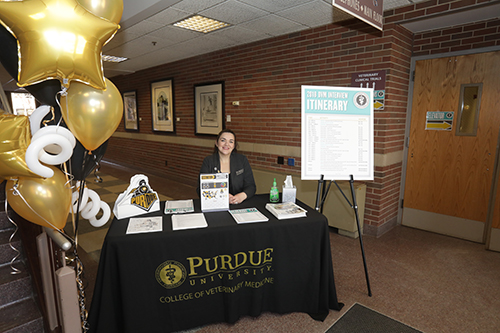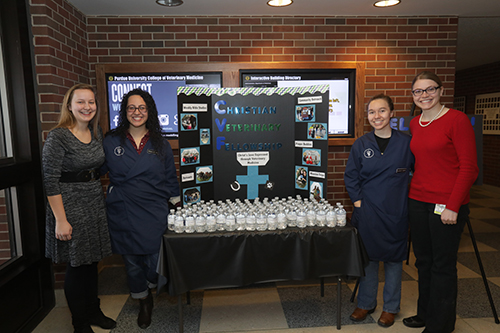 Members of the Christian Veterinary Fellowship student organization host a display table with water for visiting families (left-right): Hannah Clinton, CVF president; Jessica Linder, treasurer; Katelyn Gnegy and Emily Christenson, social and mission chair.
Writer(s): Purdue Veterinary Medicine News | pvmnews@purdue.edu