Dr. Sandra San Miguel Selected to Receive Purdue Jefferson Award for Community Service
Friday, January 11, 2019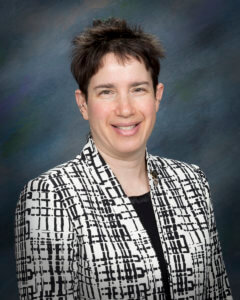 Purdue Veterinary Medicine Associate Dean for Engagement Sandra San Miguel has been chosen as one of three exemplars of Purdue's commitment to engaging the community who will receive the Jefferson Award through Purdue's partnership with the Jefferson Awards Foundation.  The University has joined in the foundation's Champions program as part of the partnership, announced in April. Along with the recognition carried by the awards, the program helps people at participating businesses and educational institutions engage with youth and use co-branding opportunities to strengthen community outreach.
Joining Dr. San Miguel as the first employees to receive the Jefferson Award through the partnership are Dr. William Harper, professor emeritus of health and kinesiology, and Dr. Gloria Sachdev, clinical assistant professor of pharmacy practice. Up to three Purdue honorees are to be recognized in each fall and spring semester, totaling up to six per year. Announcement of the spring nomination period will be forthcoming.
Dr. San Miguel, professor of veterinary clinical sciences, was nominated for her creation of the "This is How We 'Role'" program, which uses games and books to show grade school children what veterinary work is like and to inspire their interest in sciences. The program, which arose from her 2013 initiative to provide after-school and summer camp programming with Hanna Community Center, has been adopted in at least 17 other U.S. locations with the help of a grant from the National Institutes of Health.
Dr. San Miguel's nominator emphasized her passion for science, her dedication to children, and her effectiveness as a role model with children – one who also inspires students in the College to join in and become role models. In addition, the nomination states, she has directed her efforts at a population that is diverse and often not envisioning any rewarding science-based career. Her dedication to serving extends also to leadership in professional associations.
Founded in 1972, the Jefferson Awards Foundation is the nation's most prestigious and longest-standing organization dedicated to powering and celebrating public service. The organization honors thousands of grassroots unsung heroes each year, partners with champions to engage their employees and communities in service, and gives young leaders confidence in their ability to make a difference and the skills they need to do it well.
Writer(s): Kevin Doerr | pvmnews@purdue.edu