Dean Willie Reed Featured as part of AAVMC Black History Month Focus
Friday, February 8, 2019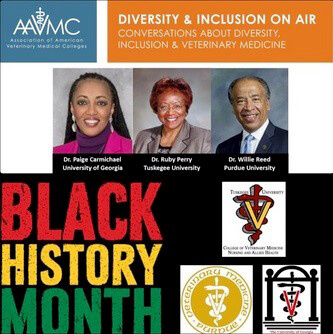 February is Black History Month, and Purdue Veterinary Medicine joins the Association of American Veterinary Medical Colleges (AAVMC) in emphasizing how this occasion presents a great opportunity to reflect upon the many contributions made in academic veterinary medicine by African Americans. In recognition of Black History Month, the AAVMC is spotlighting Episode 20 of its "Diversity & Inclusion on Air" podcast. During that episode, Dr. Lisa Greenhill, AAVMC senior director for institutional research and diversity, interviewed three prominent leaders in academic veterinary medicine, including Purdue Veterinary Medicine Dean Willie Reed.  Joining Dean Reed on the program were Dr. Ruby Perry, dean of the Tuskegee University College of Veterinary Medicine, and Dr. Paige Carmichael, professor of pathology at the University of Georgia College of Veterinary Medicine.
Click here to hear the podcast and learn more about their experiences, thoughts, and perspectives.
Note: the recording includes a sound quality issue on some of Dr. Carmichael's sections, due to technical difficulties with her microphone.
Writer(s): Kevin Doerr | pvmnews@purdue.edu