Coppoc One Health Lecture Brings Public Health Specialist to Lynn Hall
Friday, October 12, 2018

The 5th annual Coppoc One Health Lecture, to be held November 1 in Lynn Hall, will feature a talk on "Antimicrobial Stewardship and One Health" by Dr. Jeff Bender, of the University of Minnesota, who is a veterinarian and public health practitioner with over 20 years of experience. Dr. Bender is a professor in the Division of Environmental Health Sciences at the University of Minnesota School of Public Health and director of the USAID One Health Workforce Project.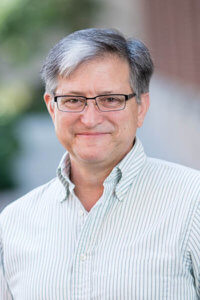 The Coppoc One Health Lecture Series was established as a yearly campus-wide lectureship in 2014. The event focuses on the symbiotic relationship between veterinary and human medicine and its worldwide impact. Dr. Bender's talk will begin at 3:30 p.m., in LYNN 1136. The lecture is free and open to the public. A reception will immediately follow in the Continuum Café.
Dr. Bender's expertise focuses on epidemiology, infection control and prevention, designing and evaluating surveillance programs, and development of educational outreach programs. He has researched zoonoses and emerging diseases, food safety, antimicrobial resistance, infectious disease surveillance, and infection prevention and control. His research is multidisciplinary, requiring collaborations with government, industry, and commodity organizations. Collaborators include scientists in academia, the NIH, Minnesota Department of Health, Minnesota Department of Agriculture, Department of Natural Resources, and private industry. Dr. Bender also has served on policy-making bodies designing programs to address emerging issues in public health.
Writer(s): Kevin Doerr and Amanda McCormick | pvmnews@purdue.edu