Celebrating the Career of a Vet Tech Veteran
Friday, November 20, 2020
Pat Navarre Retires After More Than Four Decades of Service to Purdue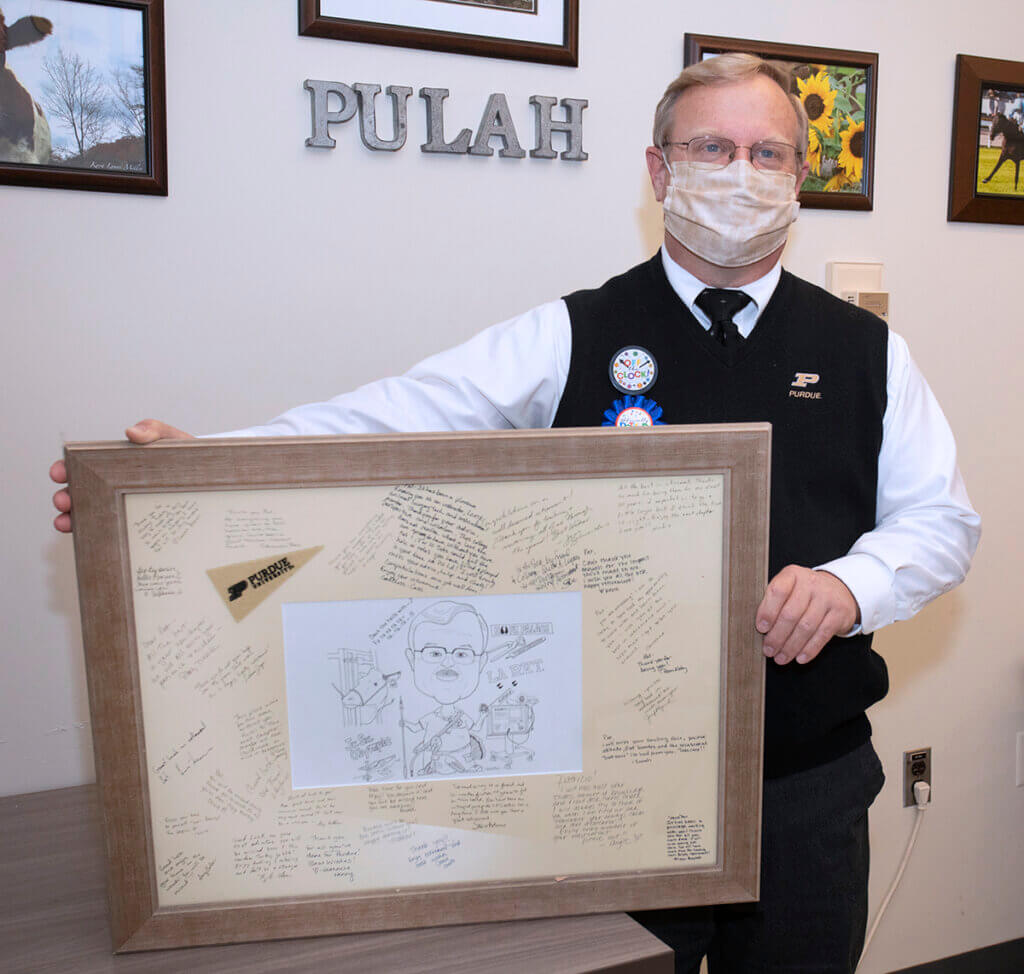 Faculty and staff in the Purdue University College of Veterinary Medicine bid adieu to a very familiar figure in the Veterinary Hospital's Large Animal Hospital during a virtual retirement reception honoring longtime Chief Large Animal Technologist Pat Navarre, RVT. The Zoom reception celebrating Pat's retirement and enduring legacy was held on his last day on the job, Friday, November 13, 44 years after he started his Purdue Veterinary Medicine career.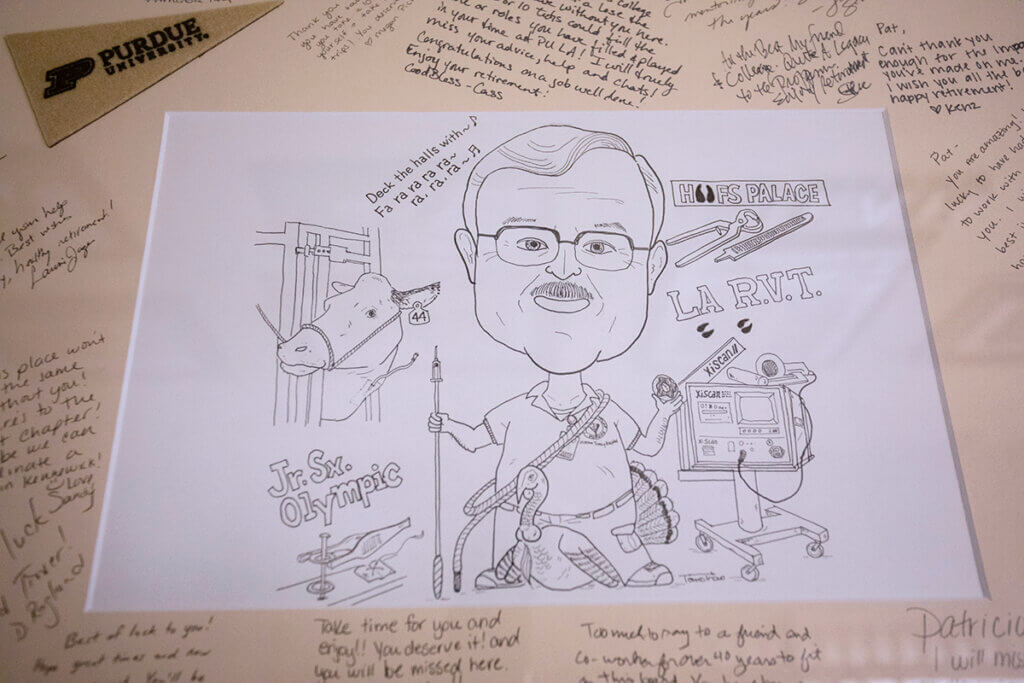 For Pat, the occasion provided opportunity for reflection on an era during which he says he "… had a blast!" Looking back, Pat recalled how his interest in being a veterinary educator developed during his time as a veterinary technician student at Michigan State University and while he worked at a private practice near Chicago. When word got around that the Purdue University College of Veterinary Medicine was starting a new Veterinary Technology Program, Pat jumped at the chance to become involved and, thankfully, the college was in need of staff for the Large Animal Hospital. "I was fortunate enough to land this job and am happy to have never left it," Pat said.
Pat described his position as a dual responsibility. First of all, he served as a veterinary technician in the Large Animal Hospital with a focus on surgery. Secondly, he worked as an instructor in the Veterinary Nursing Program (formerly Veterinary Technology). "What I liked best about this position is that it met my career goal of being an educator. It allowed me to watch students enter the field with no veterinary nursing skills and mentor them throughout the process of graduating and becoming competent veterinary technicians," Pat explained.
Pat started at the college in October of 1976. Three months later, he was given responsibility in the Large Animal Junior Surgery class by then Professor of Large Animal Surgery Jack Fessler – a responsibility he continued to shoulder for many years. This role provided Pat with his first experience in mentoring students – an opportunity that eventually blossomed into interacting with students from their first year in the college all the way to their senior year and sometimes even on to graduate study.
Pat also said he appreciates how, throughout his career, the college has been incredibly supportive of his professional development in and outside of his role at the university. Particularly special to Pat is the experience he had serving as the executive director of the National Association of Veterinary Technicians in America (NAVTA) for 20 years.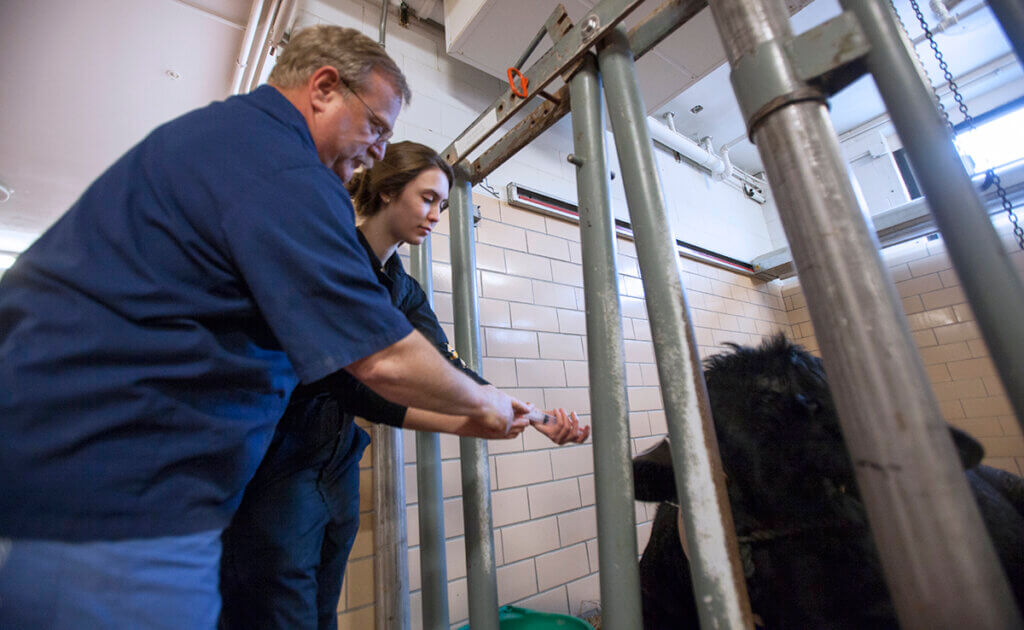 When it comes to adventures throughout his career, an experience that stands out in Pat's memory involved a time when he assisted a veterinary dentist who was going to perform a root canal on a lion from the Columbian Park Zoo in Lafayette. The lion's name was Linus and his anesthesia was slowly wearing off by the time the team from the zoo arrived with him at the Large Animal Hospital. Pat described the procedure that followed as a "…scary, but thrilling experience."
For this the last semester of his Purdue career, Pat is thankful that the college was able to resume in-person instruction in August. Precautions implemented to protect students, faculty, and staff (like mask wearing), actually are not all that unusual, Pat notes, explaining that students always have had to wear masks for surgery sessions.
When asked what he will miss about Purdue, Pat replied that mostly it's the interactions he has shared with students and watching their skill set, knowledge, and confidence grow. He explained that an assignment given to veterinary nursing students is conducting an interview with a veterinary technician in the hospital. Pat says one of the questions the students always asked him was, "Looking back at your career is there anything you would change?" Pat explains he was happy to respond to that question by saying, "No, I wouldn't change any part of where I've been, what I've done, or what I've accomplished."
Pat's PVM colleagues who participated in the Zoom reception commended Pat for his positive influence on students and staff, and his national leadership role in the veterinary medical profession through his longstanding involvement in NAVTA. Dr. Laurent Couëtil, professor of large animal internal medicine, remembered Pat's calm demeanor and the way he interacted with students. "Your patience and dedication made a huge difference," Dr. Couëtil said.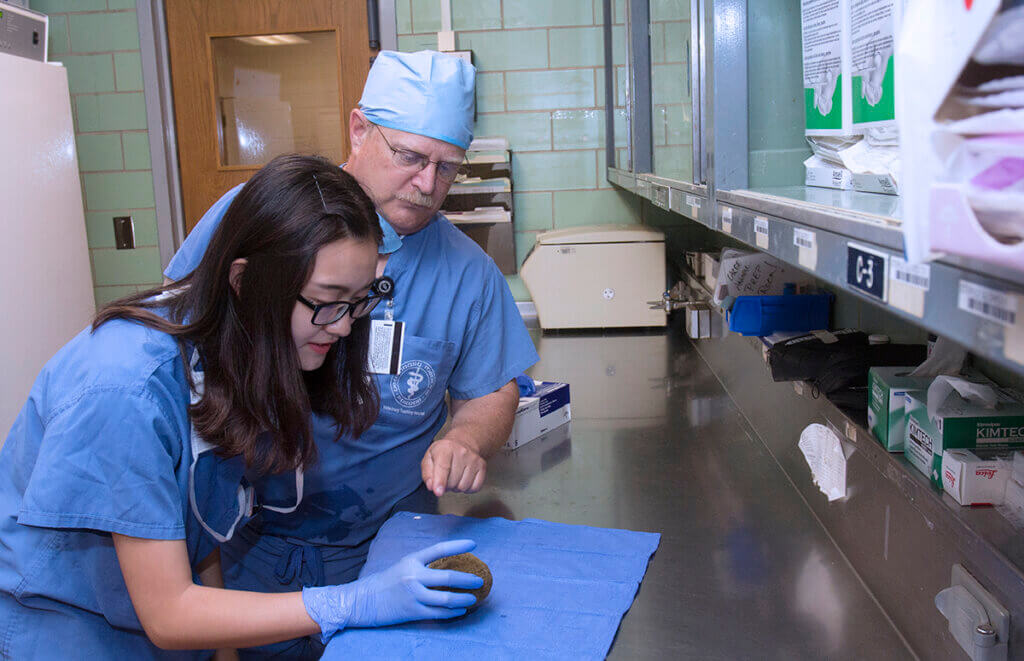 PVM's director of global engagement, Will Smith, noted Pat's support for international students who visited the college. "You're their favorite," Will said, adding, "You really welcomed them and showed them what it means to be a Boilermaker."
Dean Willie Reed and Associate Dean for Academic Affairs Kathy Salisbury also praised Pat for his many contributions to the college. "You have been a wonderful teacher over all these decades, and touched the lives of so many students to help them grow as professionals," Dr. Salisbury said. "Thank you for your dedication, persistence, and your caring."
Among the recognition items Pat received on the occasion of his retirement is a hand-drawn caricature by his colleague, Dr. Tomohito Inoue, a continuing lecturer in anesthesiology. The art was framed with a mat autographed by co-workers. Along with assurances that he will be greatly missed, Pat received hearty congratulations and best wishes for a happy retirement during the Zoom reception, as staff and faculty bid a fond farewell to this legendary veterinary technologist, mentor, educator, and friend.
Writer(s): Jonathan Martz, PVM Communications Intern, and Kevin Doerr | pvmnews@purdue.edu