BMS Scholar J. Paul Robinson Among Six Purdue Innovators to Receive Trask Innovation Funding
Friday, January 15, 2021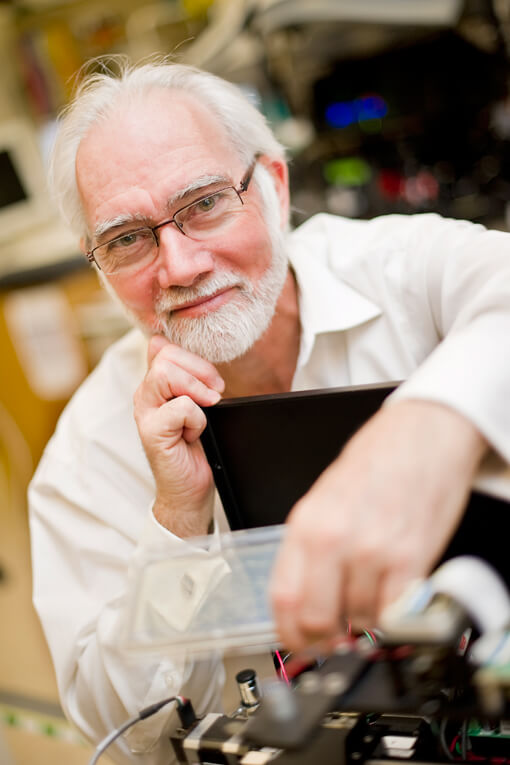 Dr. J. Paul Robinson, the SVM Professor of Cytomics in the College of Veterinary Medicine's Department of Basic Medical Sciences, is one of six Purdue University researchers receiving a total of nearly $209,000 from the Trask Innovation Fund to help their labs commercialize their innovations. The fund is a development program established to support projects that advance the commercial value of Purdue intellectual property.
Dr. Robinson holds a joint appointment in the College of Veterinary Medicine and the Weldon School of Biomedical Engineering.  He is receiving Trask funding for a handheld device for real-time detection of pathogens, toxins, and contaminating chemicals for biodefense and food analysis.
The Trask Innovation Fund makes awards twice a year to aid faculty and staff with their patented innovations that are being commercialized through the Purdue Research Foundation Office of Technology Commercialization (OTC), which is housed in the Convergence Center in the Discovery Park District.  There are three Trask Innovation Fund tracks: Innovation Sparks for Life Science, Innovation Sparks for Physical Sciences, and Commercialization Partner Spark.  Dr. Robinson is receiving support through the physical sciences track. 
The other five Purdue researchers receiving funding this round are:
Dr. Jean Chmielewski, Alice Watson Kramer Distinguished Professor of Chemistry (track: life science)
Dr. Arun Bhunia, professor of food science (track: life science)
Dr. Luna Lu, ACPA Professor of Civil Engineering (track: commercialization)
Dr. Pedro Irazoqui, Reilly Professor of Biomedical Engineering and professor of electrical and computer engineering (track: commercialization)
Dr. Jeffrey Youngblood, professor of materials engineering (track: physical sciences)
Click here to view a news release with further details about the other funded innovations.
"Even during a global pandemic, researchers created many technologies worthy of OTC's investment to develop solutions through the Purdue commercialization ecosystem and Purdue's growing Discovery Park District," said Abhijit Karve, director of business development for OTC.  Purdue inventors who are prepared to move their innovations to market have until February 19 to apply for funding through the Trask Innovation Fund.
All Purdue faculty, staff, and researchers who have submitted a disclosure to OTC are eligible to submit proposals.  To learn more about these and other Purdue technologies, contact OTC at otcip@prf.org or visit the OTC Inventions page at inventions.prf.org. The Purdue Research Foundation Office of Technology Commercialization operates one of the most comprehensive technology transfer programs among leading research universities in the U.S. Services provided by the office support the economic development initiatives of Purdue University and benefit the university's academic activities through commercializing, licensing, and protecting Purdue intellectual property.
Writer(s): Chris Adam, Purdue News Service | pvmnews@purdue.edu