BMS Faculty Member Named as New Director of Center for Paralysis Research
Friday, January 17, 2020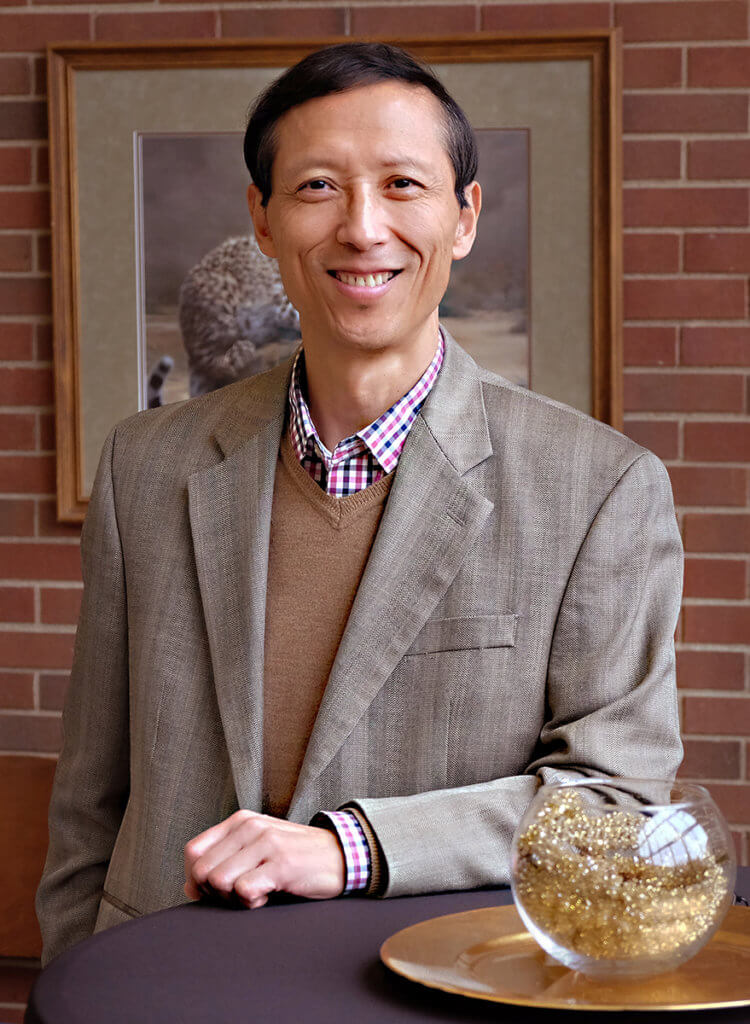 Purdue Veterinary Medicine congratulates Dr. Riyi Shi, professor of neuroscience in the Department of Basic Medical Sciences (BMS), on his appointment as the new director of the Center for Paralysis Research (CPR) in the College of Veterinary Medicine. The appointment, which was announced by Dean Willie Reed, took effect December 1, 2019.
In addition to his role as a BMS faculty member, Dr. Shi holds a courtesy professorial appointment in Purdue University's Weldon School of Biomedical Engineering. Originally trained as an orthopedic surgeon specializing in spinal cord treatment, Dr. Shi has served for more than 20 years on the Purdue University faculty, focusing his research on developing new treatments for neuronal trauma and degenerative brain diseases.
After earning his MD degree at the Shanghai Jiao Tong University School of Medicine in Shanghai, China, Dr. Shi went on to earn his master's degree in neuropathology at the University of North Texas and then came to Purdue, where he earned his PhD in neurobiology in 1994. Afterward, he worked for two-and-a-half years as a postdoctoral research associate in the Division of Neurosurgery at the University of North Carolina before returning to Purdue as a faculty member at the Center for Paralysis Research, becoming a full professor in 2009. In addition to his work at Purdue, Dr. Shi also serves as a visiting professor at the Stark Neurosciences Research Institute at the Indiana University School of Medicine and as an adjunct professor for the Institute of Trauma and Orthopedics at the Shanghai Jiaotong University School of Medicine.
"Dr. Shi's diverse background in basic sciences and clinical neuroscience will allow him to develop a new vision of leadership for the CPR," said Dean Reed in announcing the new appointment. "He is anxious to develop internal and external collaborations that will advance the College's neuroscience research and graduate programs."
Dr. Shi said the director position will give him the opportunity to reinvigorate the Center for Paralysis Research and revitalize its mission to provide the University with a robust and broadly impactful portfolio of neurotrauma research, through innovative and translational research. He added that, with this new energy, he hopes to form strong and lasting collaborations between the CPR and other departments and institutions, both within the College of Veterinary Medicine, and beyond. "I hope to strengthen connections and cultivate synergies between the CPR and Purdue University, not to mention the rest of the country and world," said Dr. Shi. Utilizing this interdisciplinary and collaborative approach, Dr. Shi aims to transform the CPR and usher in a new age of ingenuity, allowing Purdue to stand out as a world leader in central nervous system (CNS) trauma research.
"We are researching a variety of methods for achieving better treatment strategies in CNS trauma, including working with the Department of Defense and National Institutes of Health to develop novel and effective diagnostic and treatment strategies for spinal cord and brain injuries, both for our soldiers and civilian populations," said Dr. Shi. "Not only are we working on treatment improvements for severe CNS trauma, but even mild cases of injury, which have been shown to significantly impact individuals and can be particularly insidious due to the lack of proper diagnostic tools." Dr. Shi added, "As such, we are closely examining the underlying mechanisms of 'mild' brain injury and methods for improved CNS trauma diagnostics, such as the use of audiometric tests and even urine tests as diagnostic tools for ascertaining mild brain injuries."
Dr. Shi's aspirations regarding the future of the CPR don't end there, however, as he has other research goals to "…understand how head injuries can trigger neurodegenerative diseases, such as Alzheimer's and Parkinson's – an urgent knowledge gap, and one that has become an increasingly hot research area – and how we can arrest such injuries, curtailing the onset of post-trauma chronic neurological disorders." With each of these critically important issues to address, Dr. Shi hopes for a future in which the CPR is a critical player in the frontier of neurotrauma research. By providing leadership and working with the excellent team of faculty, staff, and students within the CPR, Dr. Shi says he aims to provide a complete picture of CNS trauma and gain the knowledge necessary to improve the unfortunate lack of both treatment and diagnostic strategies for these devastating injuries and diseases.
Please join Dean Reed in congratulating Dr. Shi on this new leadership opportunity.
Writer(s): Maya Sanaba, PVM Communications Intern, and Kevin Doerr | pvmnews@purdue.edu