Another Cold Snap Presents More Potential Hazards for Pets
Friday, January 12, 2018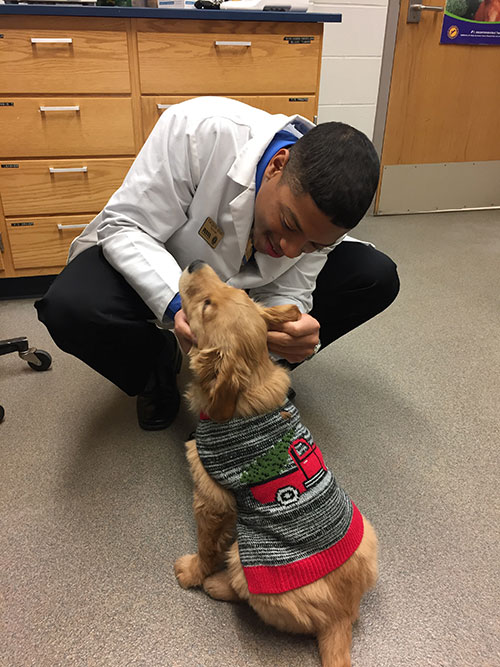 PVM student Vacques Hines, of the DVM Class of 2018, examines Gertie, a Golden Retriever puppy outfitted with a sweater by her owner, PVM Communications Specialist Allison Carey.
By Megan Huckaby, Purdue News Service
It's easy to let your dog outside in the backyard for a few minutes to get some exercise or use the bathroom. But, during the winter months, cold spells or deep freezes could be hazardous. "As temperatures drop below freezing, it is important to be aware of whether a dog has been spending lots of time outside in the fall, which would make it more acclimated to the cold weather, or whether it is primarily indoors," said Dr. Steve Thompson, Purdue Veterinary Medicine clinical associate professor of small animal community practice.
As the temperature drops below 20 degrees, the amount of time a dog spends outside should be limited. Dr. Thompson said that dogs should be out no more than a half hour and progressively less time as the temperature drops. He also said that any clothing, even the cute sweaters from the pet store, can help in the cold weather. However, owners must make sure the clothing articles stay dry lest they lose their insulating ability. There is no harm in leaving the sweaters on inside either, as long there are no strings or attachments the dogs could get a hold of and eat or get tangled up in their feet or jaws. Actual cold weather gear, like neoprene vests, is available for dogs that are working in the cold weather.
In addition, Dr. Thompson said to make sure that there is a dry area near the door so that a dog's last step is not in melted snow from shoes. "If their pads get wet just prior to heading outside, this can be much more painful when stepping on ice or walking through snow." Snow salt should be removed when the dog returns inside to limit skin irritation and to prevent them from ingesting it.
Additional information about pet safety in cold weather is available from the American Veterinary Medical Association (AVMA).
Writer(s): Megan Huckaby, Purdue News Service | pvmnews@purdue.edu