Center for Animal Welfare Science
Our Mission: To promote animal welfare through science-based information and education to advance socially responsible decisions concerning animal care.

Our Goal: To facilitate interdisciplinary collaborations in order to identify animal welfare challenges, strategies to alleviate them, and education to aid implementation.
Highlights
CAWS Students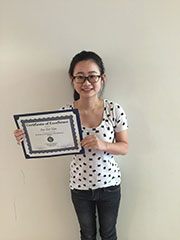 Feifei Yan received the Certificate of Excellence for Presentation at the annual  Poultry Science Association meeting, 2015.  Feifei was awarded a 2015 CAWS graduate student travel scholarship to attend the meeting.  Her research, done under the direction of CAWS member, Dr. Heng Wei Cheng (USDA ARS LBRU) and Patricia Hester (An SC), focuses on the effect of dietary supplementation of probiotics on performance and skeletal health of laying hens.  Congratulations to Feifei and her advisors on this notable achievement! Read more about Feifei's research here.
CAWS Members
CAWS member, Dr. Heng-Wei Cheng and his collaborators study thermal perches as cooling devices for reducing heat stress in caged laying hens. Read more about his work here.
News & Events

New: Establishing science-based standards for the care and welfare of breeding dogs
Read more about how the newest project from CAWS!
CAWS Members to Lecture at Purdue Veterinary Conference
Drs. Croney and O'Haire, as well as other CAWS members, are scheduled to give lectures on animal welfare science topics. Visit here to learn more about their talks and the conference.
Save the Date for the CAWS Spring Symposium
The second annual CAWS Spring Symposium will be held on May 18th, 2016 at Purdue University. Save the date and we hope to see you there.
Spring Travel Grant
Congratulations to our Spring Travel Grant Awardees: Chris Byrd, Jiaying Hu, Shankar Yadav, and FeiFei Yan!

Current Center Newsletter