VTH's Animal Behavior Clinic Curbs Aggressive Behavior in Pets
January 27, 2017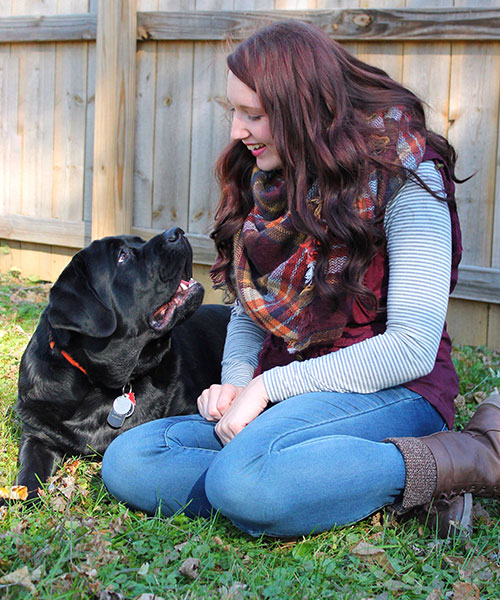 Hunter, a four-year-old black Labrador Retriever, gazes lovingly at his owner, Jessica Rohwer.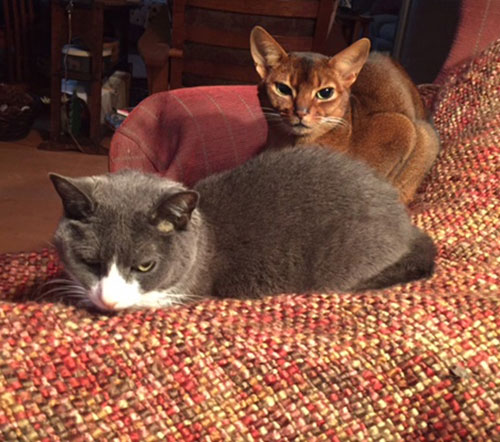 Meigs, a 14-year-old female domestic short-haired cat, cuddles with four-year-old Ozzy, a male Abyssinian cat.
The Animal Behavior Clinic at Purdue Veterinary Medicine's Veterinary Teaching Hospital is making a major impact on the lives of pet owners by helping them with behavior evaluations (even for kittens and puppies), behavior modification, and pharmacological treatment. Led by Assistant Professor of Animal Behavior Niwako Ogata, the Animal Behavior Clinic team includes Dr. Amanda Rigterink, who is completing a behavior residency, and Behavior Technician Mindy Cotton, RVT. Dr. Ogata said the team has had noteworthy success treating both cats and dogs that were experiencing aggressive tendencies, including three pets named Hunter, Ozzy, and Meigs.
Hunter is a four-year-old black Labrador Retriever that was adopted by Jessica Rohwer as an outgoing and loveable eight-week-old puppy. After a few months, Hunter began experiencing gastrointestinal issues and severe allergies. "After eliminating many foods, reducing any possible environmental allergies, and starting allergy injections, Hunter began to show improvement," explained Jessica. "Then, around two years of age, we observed a sudden change in Hunter's behavior and personality. He began reacting with bursts of sudden onset aggression. Our naturally sweet and loveable puppy was now a highly agitated and anxious dog."
After consulting with Hunter's primary veterinarian and veterinary specialists in Aurora, Ill., and at the University of Illinois College of Veterinary Medicine, Jessica decided to make an appointment with the Animal Behavior Clinic at Purdue. "We chose Purdue for a few reasons. Most importantly, it is a teaching school. Knowing our journey and Hunter's complicated case, I wanted to be sure that others could learn from our experiences." Jessica said working with the Animal Behavior Clinic team, including various students, has been outstanding and that Hunter has made significant improvement since beginning therapy with Dr. Ogata. "We are continuing to work closely with his medical team to provide Hunter with the best possible lifestyle, including any accommodations he needs," Jessica said. "We are thrilled to report that Hunter is now once again able to interact closely with our family and with his canine sister, Memphis. We feel blessed to be celebrating Hunter's fourth birthday with our once again outgoing and loveable dog."
Jessica and her family have worked diligently to treat Hunter's aggression, and want others to know that a pet's aggressive tendencies do not always end in heartbreak. "It is up to us to be responsible pet owners, take aggression seriously, get help, and learn how we can change our behaviors to better interact with our animals who have special needs," Jessica explained. "I hope that Hunter's life will serve as an example of the success that can come from working with an animal behaviorist and save the lives of other dogs out there like him."
The Animal Behavior Clinic also works with cats, such as 14-year-old Meigs and four-year-old Ozzy. Both have made significant strides since beginning behavioral therapy combined with medication to calm them. Tim and Karen McDonald brought Ozzy and Meigs to PVM's Animal Behavior Clinic from southwest Michigan to address an issue with intercat aggression. After visiting their primary veterinarian and running a few tests with the hope of being able to bring the two cats together in the same room, they were referred to Purdue. "Intercat aggression can be a very difficult issue to deal with," explained Dr. Ogata. "Generally speaking, cats are not as social as dogs. I had to warn the McDonalds that the prognosis cannot be 100 percent positive when it comes to intercat aggression."
Ozzy and Meigs have made significant strides since beginning behavioral therapy combined with medication to reduce their anxiety about being around each other. "Dr. Ogata diagnosed Ozzy with Feline Hyperesthesia Syndrome, which causes episodes of aggression in domestic cats, after Ozzy's primary clinician at Purdue at the time, Dr. Kathryn Hill, conducted a series of tests and cultures that eliminated other physical conditions," explained Karen. "Beyond making Ozzy's diagnosis, Dr. Ogata had us bring Meigs in for observation and determined she was timid and likely needed to build her confidence. Dr. Ogata and Mindy, the behavior technician, provided ideas and instructions to 'reintroduce' the cats over time." Karen added that though Ozzy still occasionally has an aggressive episode, he can now be calmed quickly. "I don't think they will ever be best buddies, but they roam the house at will, sit by the fire together, and will often sit near each other when we are reading or watching TV," said Karen. "Modifying behavior in cats is challenging. You have to be committed and patient, and recognize that there will be a financial cost. We could not have accomplished this reintroduction without Dr. Ogata's instructions and counsel. She and her behavior team were there for us via email if we had a concern during this process and she would proactively reach out to us to see how things were going." Dr. Ogata explained that changing animal behavior is a two-way street. "A lot of credit goes to the dedicated owners," said Dr. Ogata. "The McDonalds were extremely patient as the cats slowly made progress."
Both families are pleased with the support of the Animal Behavioral Clinic team and the progress their pets have made. "We owe Hunter's life and legacy to his amazing medical team," said Jessica Rohwer. "While working with Purdue, we have always felt that our perspective is welcomed and vital to Hunter's diagnostic process and treatment planning. We have been strongly supported between office visits and countless check-ins with Dr. Rigterink remotely. The behavior team is understanding of our long commute from Illinois and works well to ensure we get the best care possible. We appreciate that Drs. Ogata and Rigterink take time to ensure that they are not only addressing Hunter's needs, but helping us to accomplish goals for our family as well."
Karen and Tim McDonald also spoke highly of their positive experience working with the Animal Behavior Clinic. "Dr. Ogata, Dr. Hill and Mindy, took the time to observe Ozzy and then Meigs, explain what she was seeing and answer our questions patiently and thoroughly," said Karen. "After each appointment, Dr. Ogata provided very clear next steps and identified what we should expect, which enabled us to better monitor the situation. Email response was also incredible. Once we had established the relationship and Dr. Ogata got to know Ozzy, whenever we saw a new behavior— positive or concerning— we could send her an email to find out if this was expected or something we should monitor. Dr. Ogata and the staff at the Purdue Animal Behavior Clinic were extremely supportive and responsive to our questions and concerns."
Click here for more information about the VTH's Behavior Medicine services.
Writer: Kelsey Johnson, pvmnews@purdue.edu