New Comparative Pathobiology Department Head Named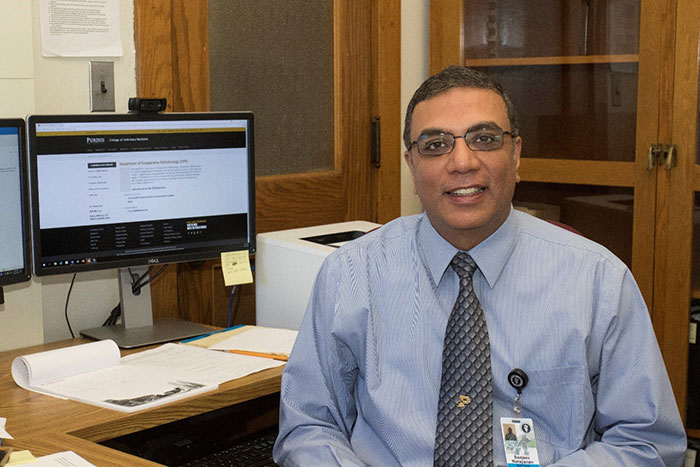 By Kevin Doerr
Dr. Sanjeev Narayanan joined the Purdue Veterinary Medicine family as the new head of the Department of Comparative Pathobiology, effective August 1. Dr. Narayanan comes to Purdue from the Kansas State University College of Veterinary Medicine where he served as professor of diagnostic medicine and pathobiology. He earned his BVSc degree at Madras Veterinary College in India in 1994 and his MS and PhD degrees at Kansas State in 1997 and 2001, respectively. A diplomate of the American College of Veterinary Microbiologists (virology and immunology) and the American College of Veterinary Pathologists, Dr. Narayanan completed postdoctoral studies at the University of Texas Southwestern Medical Center at Dallas. His research focuses on studying the virulence and antimicrobial resistance of gut bacteria.
Dean Reed said Dr. Narayanan brings extensive leadership experience at the college, university, national and international levels. Dean Reed also expressed appreciation to Dr. Suresh Mittal for his excellent service as interim department head during this period of transition. "Dr. Mittal did a superb job in managing all aspects of the department and I am grateful for his dedication and commitment to the College," Dean Reed said.
Dr. Narayanan said he is excited to join the Purdue Veterinary Medicine team. "I have had several opportunities to become familiar with our College and to gain an appreciation for its excellent reputation," Dr. Narayanan said. "I look forward to working with the outstanding faculty in the Department of Comparative Pathobiology and guiding the department forward, while also contributing as a member of the Dean's Senior Leadership Team."
---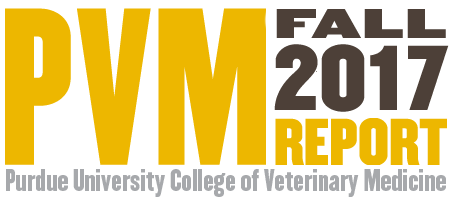 This story is part of the 2017 Fall PVM Report.