PVM's Large Animal Hospital Helps Baby Horse Learn to Walk
Purdue veterinarians help Jet the foal walk.
By Megan Huckaby, Purdue News Service
When "Chalee's Dream Jet," just Jet for short, was born without complication at Purdue Veterinary Medicine's Large Animal Hospital, everyone involved breathed a sigh of relief, if only for a minute. As time passed, it was apparent that Jet was having trouble standing and walking.
Josie, Jet's mother, is an 18-year-old mare that was brought to the hospital as a precaution. She had an ovarian tumor removed by PVM veterinarians in 2013 and the family trusted the team to make sure Jet, her first foal, arrived safely.
The reddish brown foal was born in May and would spend the first three months of his life at Purdue learning how to walk properly, said Dr. Gillian Haanen, PVM large animal internal medicine resident. "Unfortunately, when Jet came out, his hind limbs were a bit malformed. He had flexural limb deformity," Dr. Haanen said.
This condition caused Jet to walk on the backs of his hind legs instead of standing on his hooves. His veterinary medical team at the Large Animal Hospital fitted him with special shoes that propped him up and helped strengthen the ligaments in his legs. Soon, he was walking fairly normally and growing stronger, according to Dr. Haanen. After months of treatment, Jet was able to go home on August 6. Click here to view a video of Jet learning to walk.
Jet, indeed, is a special horse for the family. It was Susan and Robert Gilliland's daughter's dream — for Josie to have a baby — one she never got to see. Chalee, 11, passed away on September 22, 2012, from complications caused by cystic fibrosis. "Horses and barrel racing were her physical therapy and life support," Susan Gilliland said. "They set her free."
Josie belonged to Chalee. "They raced and grew together," Susan said. "Josie has a history at Purdue. She had an ovarian tumor removed at the hospital and we knew that if there were any complications with the birth, Purdue was the only place able to do a cesarean section."
Jet will never be ridden, but the Gillilands don't mind. They are just happy he is with them. "We don't mind that Jet isn't a barrel racer," Susan says. "This is what Chalee would have wanted. Jet is a blessing."
Chalee's parents founded the Chalee Gilliland Foundation to "inspire and empower individuals with cystic fibrosis by providing financial and emotional support to them, the barrel racing community, and animal organizations," according to their website. "We founded the Chalee Gilliland Foundation after Chalee passed away to carry on her giving nature and to be able to help others with cystic fibrosis," Susan said. "We had met a dear friend who also had CF. He rode horses, too. He needed a lung transplant and had to come up with $30,000. We decided to put on a charity barrel race for him, and the foundation was born."
To learn more about the Gilliland's and their foundation go to http://www.chaleegillilandfoundation.com/.
---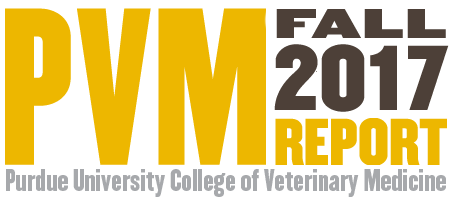 This story is part of the 2017 Fall PVM Report.