Title IX Distinguished Service Award Presented to Dean Willie Reed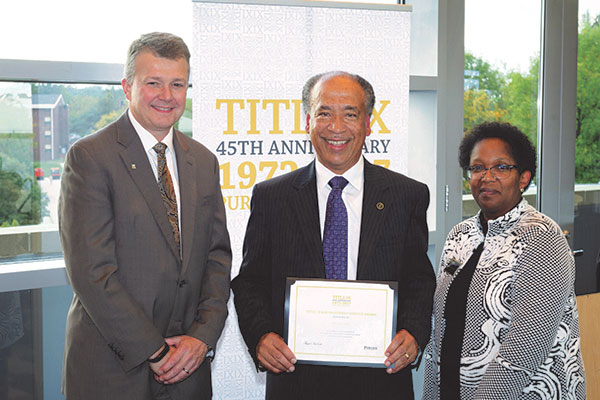 PVM Dean Willie Reed with Purdue's Provost Jay Akridge and Vice President for Ethics and Compliance Alysa Rollock at the Title IX Distinguished Service Award ceremony.
By Kevin Doerr and Helen Thimlar
Purdue Veterinary Medicine Dean Willie Reed was recognized October 5 as a recipient of Purdue University's 2017 Title IX Distinguished Service Award for his major contributions to the advancement of gender equality in education.  Purdue Vice President for Ethics and Compliance Alysa Rollock presented the award at a ceremony celebrating the 45th anniversary of the enactment of Title IX.
Rollock commended Dean Reed for his contributions in expanding the range and quality of the female student experience at Purdue, as well as his role in providing local and national leadership on issues related to gender equity and education at all levels. "Dr. Reed has worked tirelessly throughout his career to promote gender, ethnic, and racial diversity in the veterinary medical profession," Rollock said.  "During his term as dean, there has been substantial progress in increasing the number of and support for female faculty.  He was recognized for his work at the national level in 2011 when he received the Iverson-Bell Recognition Award, which is given by the Association of American Veterinary Medical Colleges."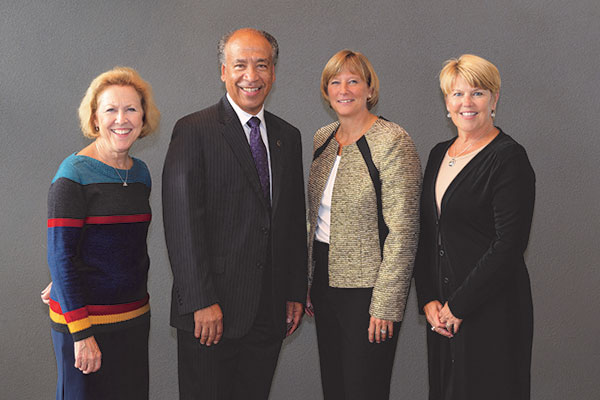 Dean Willie Reed with fellow Title IX Distinguished Service Award recipients (left-right) Charlene Sullivan, Purdue Krannert School of Management associate dean of undergraduate programs and associate professor of management; Sharon Versyp, Purdue women's basketball head coach; and Catherine Wright-Eger, Purdue Intercollegiate Athletics/John R. Wooden Leadership Institute leadership advisor. Not pictured: Carole Oglesby, Temple University professor emerita, and private psychology and sports development consultant.
"I'm almost speechless," Dean Reed said as he accepted the award. "These accomplishments are not things I've done by myself. We have great faculty, department heads, and senior leaders who have made a difference, and so I am pleased to accept this award on behalf of all the faculty, staff, and students in the College of Veterinary Medicine."
Dean Reed said he's proud that about 60 percent of the College's senior leadership team members are women, which is not typical in veterinary medicine. Noting that the veterinary profession is the least diverse of all the healthcare professions, he recalled that when he became dean in 2007, he wanted to make a difference by developing a diversity program in veterinary medicine. "At the time, only about six percent of the veterinary students were underrepresented minorities. In the last several years, that number has risen to 20 percent. In fact, 35 percent of the most recent class that we admitted are underrepresented minority students," Dean Reed said.
While significant progress has been achieved in increasing diversity among veterinary students, Dean Reed said much less has been accomplished in terms of elevating women to leadership positions. "In fact, nationally, only about 20 percent of women hold leadership positions, and of the 30 veterinary colleges, only six are led by women." Dean Reed said he has put a special emphasis on leadership opportunities for the College's women faculty and on encouraging veterinary students to become leaders in the profession. "We want our new graduates to have a vision for becoming veterinary practice owners, for getting involved and aspiring to become presidents of national organizations. And some of them have done that," Dean Reed said. "I am very happy that we have encouraged people, women especially, to achieve their full potential. And that's really what it's all about; everyone achieving their full potential."
Dean Reed was one of five award recipients recognized at the ceremony.
---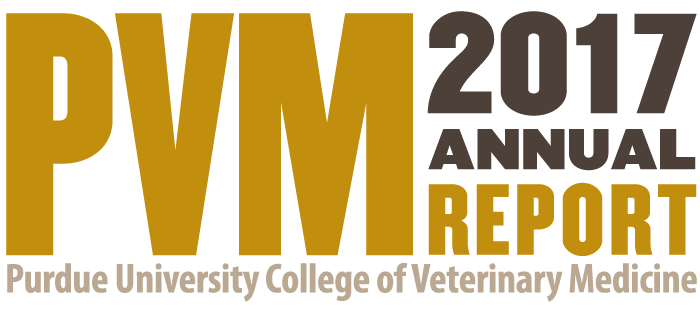 This story is part of the 2017 Annual PVM Report.