In Memory: Class of '64 Alumnus and Civic Leader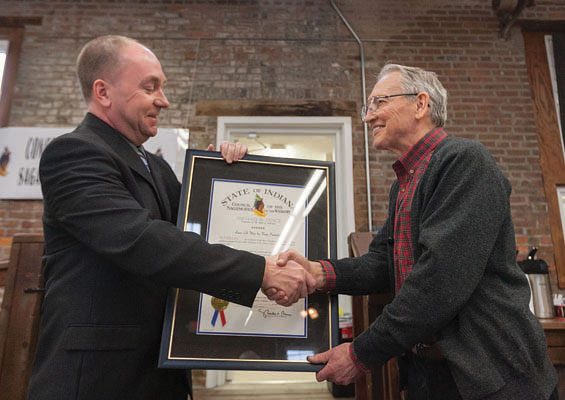 Dr. Philip Michal, former Crawfordsville mayor and member of the Purdue DVM Class of '64, receives the Sagamore of the Wabash Award from the current Crawfordsville mayor, Todd Barton, in 2014. (Photo courtesy of the Crawfordsville Journal Review)
Dr. Philip Michal, (PU DVM '64), former mayor of Crawfordsville, Ind., died October 9. He was 77.  After earning his Purdue DVM degree in 1964, Dr. Michal and his family moved to Montgomery County where he had a veterinary practice near Wingate. In 1969, he built the Northwest Veterinary Hospital just outside Crawfordsville and remained in private veterinary practice there until retiring in 2013.  Dr. Michal also actively served his community, most notably for three terms as mayor of Crawfordsville.  Additionally, he served 14 years on the Montgomery County Board of Health and ten years on the Crawfordsville City Council. During his tenure as mayor, he chaired the Solid Waste District Committee for West Central Indiana and was an active participant in the Indiana Association of Cities and Towns.
Dr. Michal also volunteered with several community and charitable organizations, including the Crawfordsville Kiwanis Club; First Christian Church; the Court Appointed Special Advocate Program for juveniles in the Montgomery County court system; the Youth Service Bureau Juvenile Mentoring Program; and as a Red Coat at Franciscan Alliance Hospital in Crawfordsville. Dr. Michal also worked to raise awareness and funds to help fight world hunger, serving as chair of the Montgomery County Church World Service/CROP committee and the state CROP committee, and helping lead 30 Montgomery County CROP hunger walks. He also participated in mission trips to Haiti, Jamaica, and the Navajo reservation in New Mexico. His many years of public service, leadership, and volunteerism were recognized in 2014 by then Governor Mike Pence who honored him with the Sagamore of the Wabash Award, the highest honor the Indiana Governor bestows.
In lieu of flowers, gifts in Dr. Michal's memory can be made to the First Christian Church Memorial Fund, Rock Steady Boxing of Brownsburg (Fighting Back Against Parkinson's Disease), or CWS/CROP.
---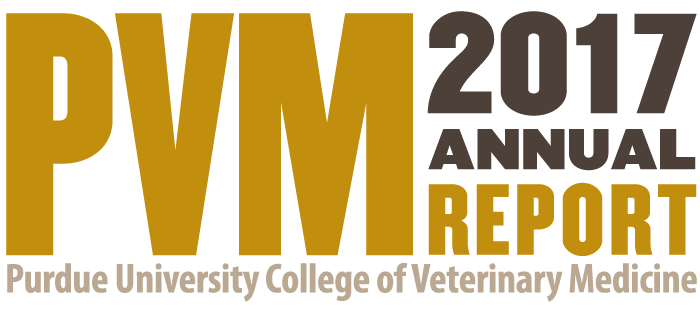 This story is part of the 2017 Annual PVM Report.