Legendary Purdue Alumnus Made Lasting Impact on PVM and Veterinary Profession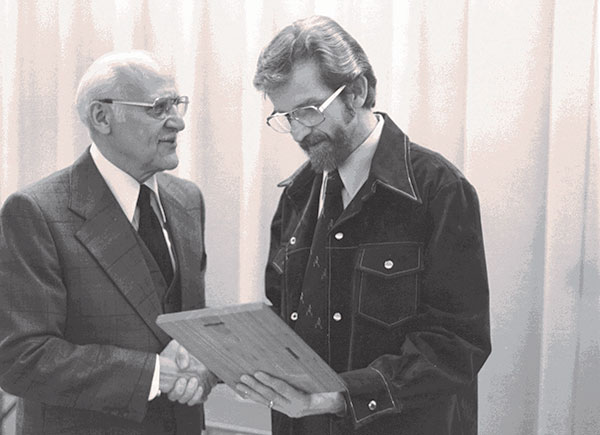 Dr. Carl Osborne accepts the PVM Distinguished Alumnus Award from then Dean Jack Stockton in 1979.
By Kevin Doerr
The Purdue Veterinary Medicine family and the veterinary medical profession lost a legendary alumnus and veterinarian this year when renowned veterinary urologist and University of Minnesota College of Veterinary Medicine faculty member Carl Osborne, of Roseville, Minn., passed away March 5. He was 76.
A member of the Purdue University College of Veterinary Medicine's second class, the Class of 1964, Dr. Osborne joined the faculty at the University of Minnesota the same year he graduated, and went on to earn his PhD degree there in 1970. He became a diplomate of the American College of Veterinary Internal Medicine two years later, and remained on the college's faculty 53 years.
A renowned specialist in nephrology and urology, Dr. Osborne chaired the college's Department of Small Animal Clinical Sciences and founded the Minnesota Urolith Center in 1981. Since then, the center has analyzed more than one million stones sent from around the world and continues to research the prevention of and cures for diseases of the urinary system in companion animals. Dr. Osborne also was highly regarded for his abilities in teaching as well as research, earning more than 50 teaching and research awards over the course of his career. He also received the inaugural Robert R. Shomer Award for outstanding achievements in veterinary medical ethics in 2005.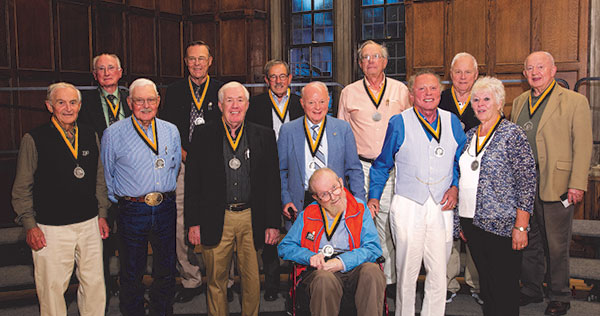 Dr. Carl Osborne joins his classmates for the Class of 1964's 50th reunion photograph at the Meet Me @ the Mixer Reception during the 2014 Purdue Veterinary Conference.
Dr. Osborne's influence stretched far and wide, touching the lives of countless people and animals. "Dr. Osborne was one of the leaders in veterinary urology who changed the focus of management of urinary stones from surgery exclusively to also include medical dissolution and prevention of stone formation," said Purdue Veterinary Medicine Professor of Small Animal Internal Medicine Larry Adams, a protégé of Dr. Osborne. Dr. Adams said Dr. Osborne was the department chair who helped recruit him and his wife, Dr. Laurie Adams, to Minnesota's internship program, and then served as his co-major advisor when he began his residency and PhD program there.
"Dr. Osborne was an effective mentor in helping me understand research design for clinical research," Dr. Adams recalled. "Dr. Osborne encouraged my love of teaching in the veterinary teaching hospital and he was at least partially responsible for me accepting a faculty position at Purdue University." Dr. Adams also remembered Dr. Osborne as a supportive Purdue alumnus. "He established the Phi Zeta clinical case report competition at Purdue."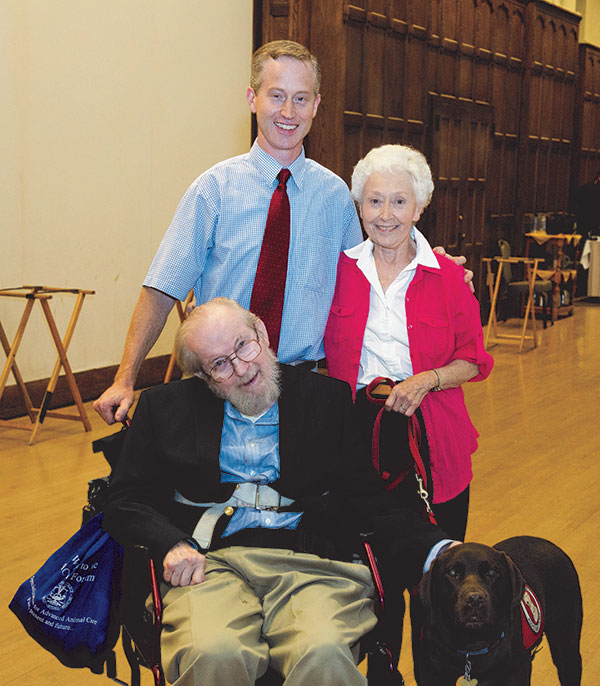 A loyal alumnus, Dr. Carl Osborne and his wife, Lynn, returned to Purdue with their son, David, and service dog, Chloe, in September 2014, for the Purdue Veterinary Conference and the celebration of the Class of 1964's 50th Anniversary.
PVM alumnus Willis Parker (PU DVM '64) remembered Dr. Osborne as the classmate whose name immediately preceded his in alphabetical order. "We were part of the chosen second class," Dr. Parker said. "During our veterinary school years, Carl was a very focused student. He was serious. He was disciplined to achieve, to be at the front of the line. He had a routine of going back to the dormitory to take a long nap, eat and study, study, study."
Dr. Parker also recalled the friendship that developed between Dr. Osborne and a laboratory technician named Lynn in the clinical pathology laboratory. "She was watching for four years. Soon thereafter, she and Carl were married."
Dr. Osborne also was regarded as one of the University of Minnesota College of Veterinary Medicine's One Health pioneers and innovators in comparative medicine. In recognition of his extraordinary career, the college created the Osborne-Hills Chair in Nephrology and Urology in 1998.
Dr. Osborne's loyalty to Purdue never wavered. He and his wife Lynn returned to the campus for class reunions and contributed financially in ways that reflected his desire to positively impact the College and its faculty, staff, and students. As an example, they gave the founding gift for establishment of the PVM Outstanding Staff Award, to recognize the excellence of endeavors by employees who are not faculty members. Begun in 1984, the award continues to be given annually to this day. In 1979, the College presented Dr. Osborne with the Distinguished Alumnus Award and in 1989, he received an honorary Purdue Doctor of Science degree.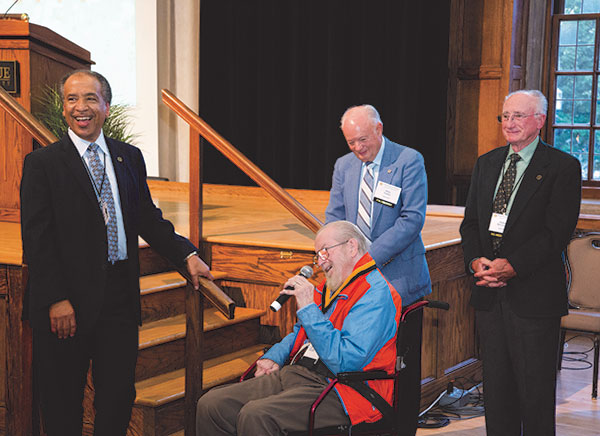 Dr. Carl Osborne shares a story during the 2014 Purdue Veterinary Conference Meet Me @ the Mixer Reception, accompanied by his classmates (center and right) Dr. Willis Parker and Dr. Frank McConnell, who joined him and Dean Willie Reed as the Class of 1964 was recognized on the occasion of its 50th reunion.
"A very caring individual, he always was looking for ways to make a difference, whether by just offering a word of encouragement, sharing an uplifting saying, offering a helping hand to those in need, initiating awards to recognize the achievements of others, or pursuing revolutionary breakthroughs in veterinary and human medicine," said Purdue Veterinary Medicine Dean Willie Reed.
Dr. Osborne died from complications of Parkinson's disease, surrounded by his family and his longtime service dog and best friend, Chloe.
"Carl, it was such a pleasure to rub shoulders with you," Dr. Parker said as he concluded a eulogy at the memorial service. "The public and its animals have been exceptionally served."
---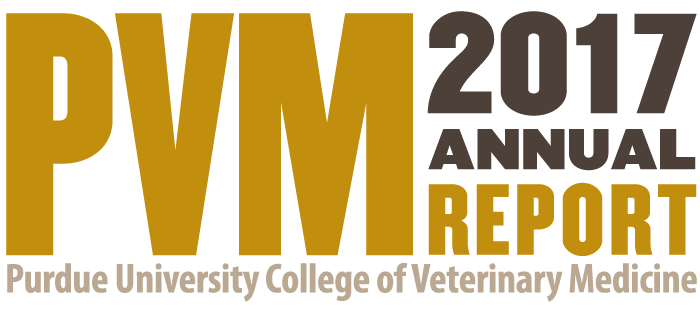 This story is part of the 2017 Annual PVM Report.