Canine Lymphoma Patients Go the Distance at the 45th Annual Dr. Skip Jackson Dog Jog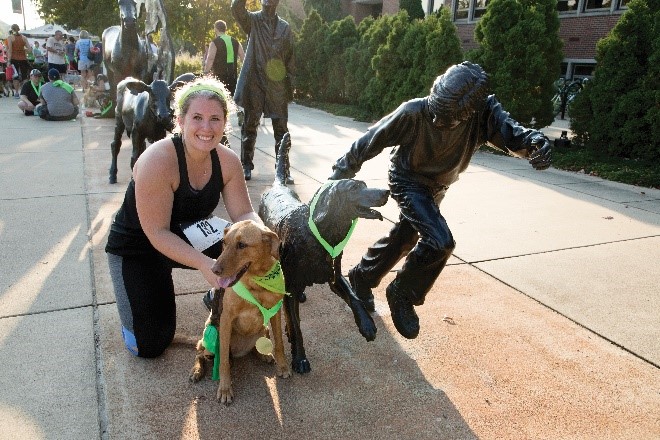 Caitlyn Vanderhoe, a third-year veterinary student at the Purdue University College of Veterinary Medicine, poses with Zoe next to the "Continuum" sculpture in front of Lynn Hall. Zoe is undergoing chemotherapy for diffuse large B-cell lymphoma at the Purdue University Veterinary Teaching Hospital.
By Lauren Bruce
Dozens of faculty, staff, students, alumni, and community residents and their canine companions participated in Purdue Veterinary Medicine's 45th annual Dr. Skip Jackson Dog Jog on Saturday, September 23. Awards were given to a number of joggers, human and canine alike, but two dogs, Zoe and Rascal, who ran in the 5K with their owners, got rewards of a different kind.
Zoe and Rascal were not the typical canine runners, because both are undergoing life-extending chemotherapy treatment for lymphoma at the Purdue University Veterinary Teaching Hospital (VTH). "It flies in the face of what we think chemo to be, that a dog undergoing treatment is feeling healthy enough to run a 5K," said Dr. Michael Childress, associate professor of comparative oncology at the Purdue University College of Veterinary Medicine. "But they do lead a normal life most of the time they're on chemo."
Lymphoma is a blanket term to describe several kinds of cancers that begin in infection-fighting cells found in the lymph nodes, spleen, bone marrow, and other parts of the body. There are many subtypes of lymphoma, and each lymphoma grows at a different rate and responds differently to treatment. As with humans, chemotherapy treatment can be very successful for dogs, adding years to the dog's life. And while dogs may suffer the same symptoms as a human patient undergoing chemotherapy, they generally maintain a high quality of life during their treatment for cancer, such as running a 5K at the peak of their chemotherapy treatment.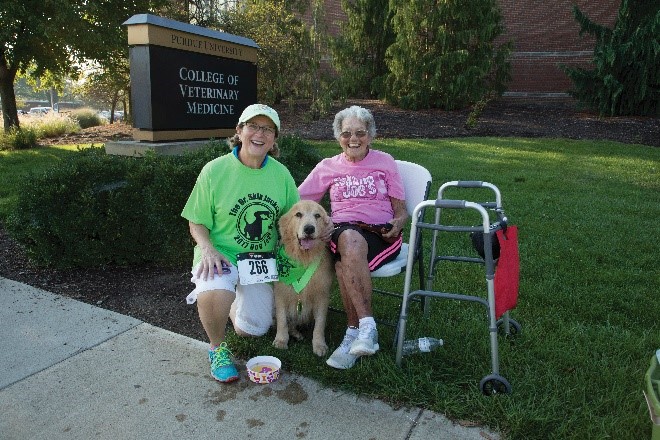 Dr. Lyn Freeman and her mother, Patricia Freeman, pose with their six-year-old golden retriever, Rascal, at the Dr. Skip Jackson Dog Jog. Rascal is currently undergoing treatment for thymic lymphoma at the Purdue University Veterinary Teaching Hospital.
Rascal, a six-year-old golden retriever, ran the 5K with his owner, Dr. Lyn Freeman, Purdue Veterinary Medicine associate professor of small animal surgery. "I didn't know exactly what was going on with him at first," Dr. Freeman said. Rascal first presented with unquenchable thirst and anxiety, symptoms that were consistent with thymic lymphoma. He began chemotherapy treatment in the spring of 2017, and Dr. Freeman began to see improvements right away. "He's a real sweetheart," she said.
"This is the third year we've run it," said Caitlyn Vanderhoe, third-year veterinary student and owner of Zoe. "It was great to see Zoe be so healthy and energetic." Zoe began treatment in May after a visit to the VTH emergency room. She presented with enlarged lymph nodes and lethargy, and generally not acting like herself, said Caitlyn. After an appointment with the VTH internal medicine and oncology services, Zoe started chemotherapy. She received her last dose of chemotherapy in November.
"Zoe's cancer is one of the most common we see in dogs," said Dr. Childress. "Diffuse large B-cell lymphoma occurs in humans as well as canines, and is almost always treated with chemotherapy. Upon treatment, the cancer becomes completely undetectable for several months in the dog, which we call 'complete remission'."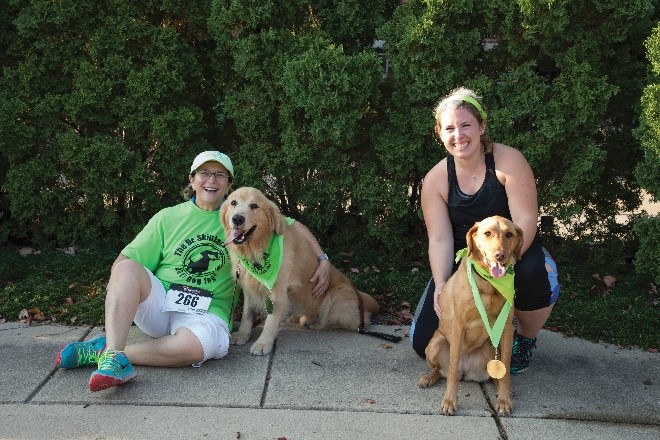 Dr. Lyn Freeman and Caitlyn Vanderhoe pose with their dogs after running in the 2017 Dr. Skip Jackson Dog Jog.
During remission, dogs are virtually symptom-free, but typically do not experience a complete cure. "We knock it down for a while, but it does eventually come back. With chemo, the life expectancy of the average dog is about a year, and without it's about three to four weeks. We try to strike a good balance between quality of life and life extension."
Many dog owners choose to treat their pets to maintain and extend their quality of life as long as possible, and it gives pet owners an opportunity to have some more positive experiences with their pet before they progress toward the end stages of cancer.
"She's done really well in chemotherapy," Caitlyn said. "From the get-go her energy came back and she has been bouncing off the walls. We won't be able to do the dog jog next year, so I'm glad we did it this time. It was so much fun."
---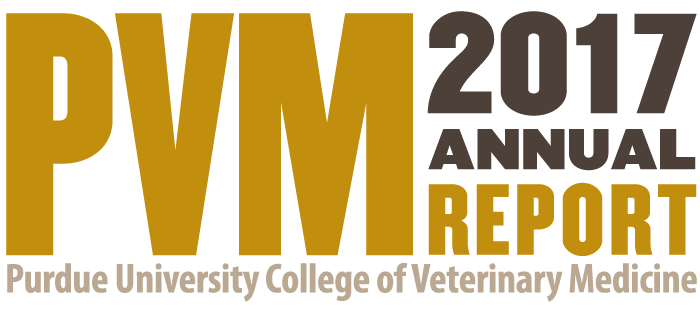 This story is part of the 2017 Annual PVM Report.