High School Students Discover Veterinary Medicine through AgDiscovery Program at Purdue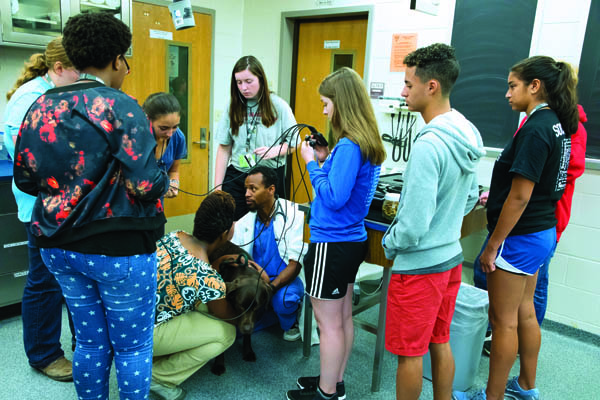 Dr. Henry Green, associate professor of cardiology, gives AgDiscovery participants a chance to listen to a dog's heartbeat as part of a session on cardiology in Lynn Hall.
By Kevin Doerr
The Purdue University College of Veterinary Medicine welcomed more than two dozen high school students from near and far to Lynn Hall this summer for three days of first-hand experiences designed to open their eyes to career opportunities in the veterinary medical profession. The visitors were participants in AgDiscovery, an outreach program of the United States Department of Agriculture (USDA) designed to help students learn about careers in animal science, veterinary medicine, agribusiness, and plant pathology.
Offered through the Office of Civil Rights, Diversity and Inclusion in the USDA Animal and Plant Health Inspection Service (APHIS), the program is hosted at 22 universities across the country. This year at Purdue University, the College of Veterinary Medicine teamed-up with the College of Agriculture to provide hands-on learning opportunities.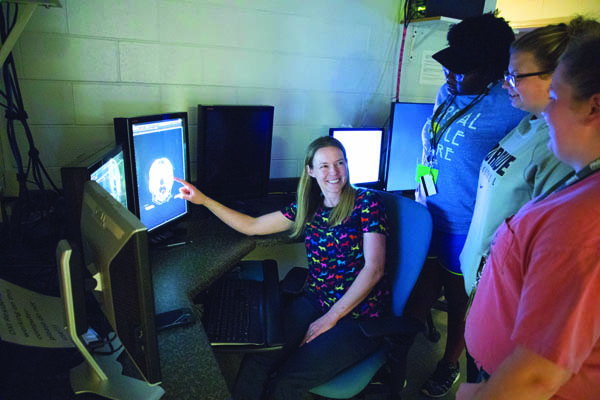 Dr. Carrie Fulkerson (PU DVM 2010), clinical assistant professor of diagnostic imaging, shows a CT scan to participants in the USDA AgDiscovery outreach program at Purdue.
A total of 15 attendees came to Purdue from high schools in Puerto Rico and nine different states, including Texas, Florida, Massachusetts, North Dakota, Illinois, and Indiana. The curriculum offered by the College of Veterinary Medicine was developed by Dr. Michael Hill, professor emeritus of swine production medicine, and Dr. Darryl Ragland, associate professor of food animal production medicine. A total of 16 faculty and staff and three veterinary students were involved in putting on sessions covering such topics as restraint, physical examination, and milking of a dairy cow; restraint and physical examination of dogs and horses; swine anatomy; poultry medicine; emergency and critical care; imaging and cardiology.
The Purdue AgDiscovery Program was organized jointly by Purdue Veterinary Medicine Assistant Dean for Diversity and Inclusion Kauline Cipriani and College of Agriculture Assistant Dean/Director of Multicultural Programs Pamela Morris. "This program represents a joint partnership based on the shared interests and missions of our two offices and the great need in both agriculture and veterinary medicine to increase diversity in our respective workforces," said Dr. Cipriani. As part of the partnership, the College of Veterinary Medicine was responsible to provide three full days of learning experiences involving veterinary faculty and staff. Given the success of the program, the College of Veterinary Medicine is planning to participate again in the 2018 Purdue AgDiscovery Program.
---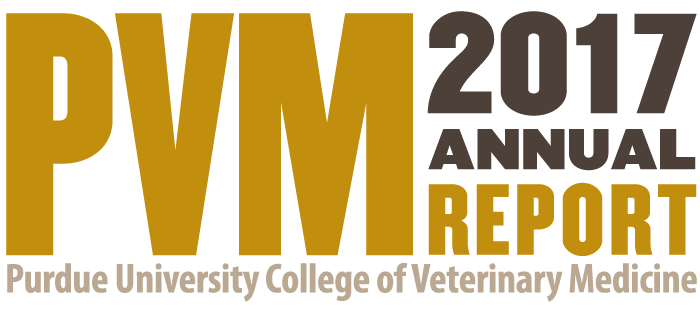 This story is part of the 2017 Annual PVM Report.