New Faculty Spotlight – Dr. Kari Ekenstedt
December 1, 2017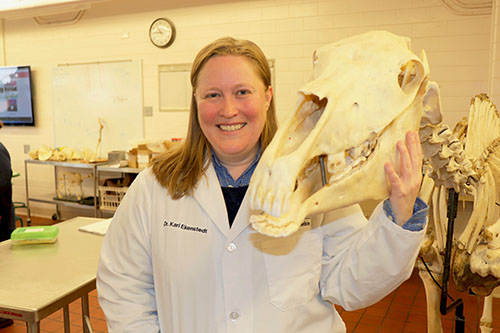 By Helen Thimlar, PVM Communications Intern
This week the Vet Gazette begins a series of stories on new Purdue Veterinary Medicine faculty members. In this issue, we'd like to recognize Dr. Kari Ekenstedt in our faculty spotlight! Dr. Ekenstedt joined the Purdue Veterinary Medicine Department of Basic Medical Sciences faculty in August and is excited to be teaching gross anatomy to first-year veterinary students and furthering her research on canine genetics and genomics.
Dr. Ekenstedt completed her bachelor's degree at the University of Wisconsin – River Falls and went on to earn her DVM and PhD Degrees at the University of Minnesota. Originally from Cumberland, Wis., Dr. Ekenstedt was drawn to Purdue because of its people. "Everyone here is fantastic, and I can really tell that PVM is a family," said Dr. Ekenstedt. "I was also very happy to stay in the Midwest, although I've already had to clarify to people here what I mean by "south," as Indiana will always feel south to this woman from northern Wisconsin!"
As a specialist in canine genetics and genomics, Dr. Ekenstedt studies naturally-occurring diseases that are relevant and informative as biomedical models for human diseases, focusing mainly on neurologic and musculoskeletal diseases. One of her goals for her research laboratory is to develop new genetic tests, which can then be used by breeders to plan matings that avoid producing affected offspring. Such tests also can serve as diagnostic tools for veterinarians. Dr. Ekenstedt wants everyone at PVM to know that there's now a canine geneticist here, and she's available to discuss potential genetic disease cases, both for hospital patients and collaborative research projects.
When she's not in the lab or teaching, Dr. Ekenstedt usually is deep into a book. She says she reads between 75-100 books each year of all kinds. In addition to being a bibliophile, she also has two cats with whom she spends a lot of time, chasing them off the kitchen counters, breaking up fights, and snuggling. Fun fact: Dr. Ekenstedt is a die-hard Green Bay Packers fan and even owns a [small] part of the team!
When asked if she has any advice for people looking to pursue a career in veterinary medicine, Dr. Ekenstedt said, "Vet school is like trying to take a sip of water out of a fire hose. Do not be surprised if you get knocked over at first! Be prepared to dig in your heels and work really hard. But it's worth it because this profession is the gateway to innumerable satisfying careers."
If you haven't done so already, be sure to say hello and give Dr. Ekenstedt a warm PVM welcome when you see her in the hallways!
Writer: Helen Thimlar, pvmnews@purdue.edu