Inaugural PVM MOAAR Symposium Reflects High Interest in Exotic Animal Medicine
December 1, 2017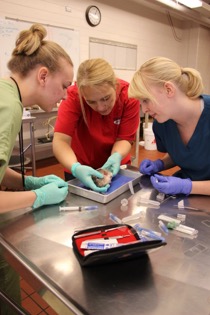 Dr. Lori Corriveau teaches MOAAR attendees about fish diagnostic methods during one of the wet labs focused on fish anesthesia, diagnostic methods, and necropsy techniques.
By Levi Smith (DVM Class of 2020), Exotics Club President-Elect
The Purdue Veterinary Medicine Exotic Animal Club successfully hosted its first Medicine of Aquatics, Amphibians, and Reptiles (MOAAR) Symposium in Lynn Hall during the first weekend in November. The event attracted more than 120 registrants including exotic animal veterinarians, veterinary technicians, and both veterinary and undergraduate students interested in exotic animal medicine. A total of nine different veterinary colleges, including Purdue Veterinary Medicine, were represented at the symposium. Other universities with students in attendance were St. George's, Ohio State University, University of Illinois, University of Tennessee, Lincoln Memorial University, University of Minnesota, Michigan State University, and Kansas State University.
Each day of the two-day symposium featured two concurrent lecture series – one covering aquatic animal medicine and the other covering herptile (reptile and amphibian) medicine. Both lecture series covered 14 different topics, ranging from wound management in herptiles and common diseases of food fish, to pinniped anesthesia and pain management in reptiles. Additionally, several exotic animal veterinarians conducted five wet labs, which gave attendees the opportunity to learn about and practice exotic animal hematology, reptile handling and necropsy methods, turtle shell repair, shark and ray necropsies, and fish anesthesia, diagnostics, and necropsy. With the vast array of topics covered, the symposium provided 14 continuing education units for veterinary professionals.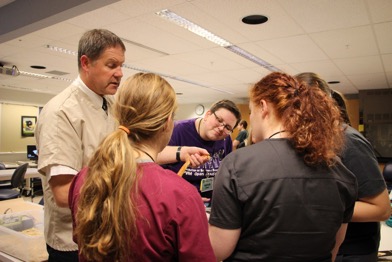 Dr. Steve Thompson shows attendees how to properly restrain a snake for a physical exam during a MOAAR Symposium wet lab on reptile handling and anatomy.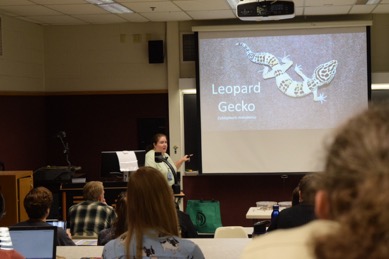 Angela Thomas, of the Hoosier Herpetological Society, discusses basic husbandry of gecko species during the reptile lectures on Sunday, November 5.
On Saturday evening, November 4, PVM Dean Willie Reed and Dr. Jim Weisman, assistant dean for student affairs and clinical associate professor, helped welcome the keynote speaker, SeaWorld Orlando veterinarian Claire Erlacher-Reid, a diplomate of the American College of Zoological Medicine (ACZM). Dr. Erlacher-Reid spoke to students about her career path; what it takes to become a zoological veterinarian; and the veterinarian's role in aquatic animal health and conservation. Dr. Erlacher-Reid also presented three other lectures. In addition, the MOAAR Symposium featured talks by three PVM faculty members: Dr. Christopher Fulkerson, clinical assistant professor of veterinary medical oncology; Dr. Steve Thompson, clinical associate professor of small animal community practice; and Dr. Lori Corriveau, small animal community practice wellness clinician.
Conceived initially as a symposium on exotic animal husbandry, the idea for the MOAAR Symposium grew into this very successful two-day event. The MOAAR planning committee hopes that this symposium will continue as a biannual event, in alternation with the PVM Pet Bird Symposium. The planning committee would like to thank Dean Reed and Dr. Weisman for all their help with the symposium, as well as Purdue Conferences, the symposium sponsors, and the entire PVM family for helping make this event a tremendous success. Plan to check back in 2019 for the second Medicine of Aquatics, Amphibians, and Reptiles Symposium!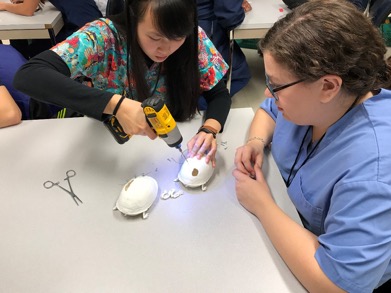 MOAAR attendees practice turtle shell repair methods during a wet lab led by veterinarian Laura Adamovicz, a wildlife fellow at the University of Illinois.
MOAAR planning committee members with the symposium keynote speaker, Dr. Clair Erlacher-Reid (center) of SeaWorld Orlando.
Writer: Kevin Doerr and Levi Smith , pvmnews@purdue.edu